Gaming components enhance a professional mobile workstation. MSI takes full advantage of the Kepler-class GPU. 
MSI Computer made a few tweaks to its popular high-end gaming mobile PC, the GT60, and launched the result as a new mobile workstation for technical and graphics professionals. The MSI Quadro Workstation stands apart from its gaming roots with the addition of the Kepler-class Nvidia Quadro K2000M as its GPU.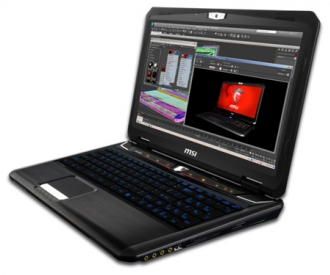 Quadro Workstation components include an Intel® Core i7 Quad Core processor, a Killer Intelligent Networking card, backlit keyboard, premium speakers, and MSI's Cooler Boost to optimize system temperatures.
This workstation takes full advantage of the Nvidia K2000M with features including:
Multiple Display Support—Use up to 4 independent displays, including the native display (notebook display);
sRGB Standard—For stable and vibrant colors at all ranges;
Nvidia Scalable Geometry Engine—Improves geometry performance across applications and enables the user to work interactively with large scale complex models and scenes;
Fast 3D Texture Transfer—Fast transfer and manipulation of 3D textures resulting in more interactive visualization of large volumetric datasets;
Hardware 3D Window Clipping—Hardware accelerated clip regions improve overall graphics performance by increasing transfer speed between color buffer and frame buffer;
16K Texture and Render Processing—Ability to texture and render surfaces up to 16K x 16K, particularly beneficial for applications that demand the highest resolution and quality image processing;
OpenGL Quad Buffered Stereo Support—A smooth and immersive 3D stereo experience for professional design applications.
Full Specs MSI Quadro Workstation:
Processor: Core i7-3630QM (2.5—3.4 GHz)
Operating System: Windows 8 Multi-language (EN+FR+SP)
Display: 15.6" FullHD 95% NTSC Non-reflection 1920×1080 (16:9)
Hard Disk Drive: 750 GB (7200 RPM)
Optical Drive: DB Burner
LAN / Bluetooth: Killer Gaming Network Card, 10/100/1000
Wireless: Jackson Peak 2×2 (802.11 b/g/n)
Card Reader: SD/SDHC/SDXC/XD/MSPRO/MS/MMC (Supports SE 3.0)
USB: USB 3.0 x 3; USB 2.0 x 1
HDMI: HDMI 1.4
Webcam: 720P HD Webcam
Speaker: Speakers 2x + Subwooferx1
Keyboard: Backlit 102 keys
Touchpad: MultiTouch
Dimensions (WxDxH): 14.97"x10.24"x1.77"
Weight (w/battery): 7.7 lbs.
MSRP: $2,099.99