Revenue was up 10% in constant currencies. Weakness of the Euro prevented an even stronger quarter.
Dassault Systèmes (Euronext Paris: DSY.PA) reported a robust first quarter of 2012, with new license revenue up by 17% year-over-year in constant currencies. The weakness of the Euro (which slid from $1.45 to $1.31 during the quarter) put a damper on what might have been an even better quarter for the French software developer. During the conference call with analysts to announce results, Dassault also announced an acquisition and the establishment of a new brand; details below.
Total revenue for the quarter (ending March 31, 2012) was €462.4 million ($610.5 million), up 13% in Euros and up 10% in constant currencies, year-over-year. Software revenue was €418.9 million ($553.1 million) up 10% in constant currencies. Services and other revenue was €42.5 million ($56.1 million), up 11% in constant currencies.
Net income in the quarter was €73.2 million ($96.6 million) up 14.5% in Euros from 1Q2011.
Breaking down software revenue further, PLM revenue (primarily the Catia, Enovia, and Delmia divisions) was €321.5 million ($424.5 million), up 9% in constant currencies, year-over-year. Dassault singled out the Enovia data management division, which posted 17% revenue growth in constant currencies. SolidWorks revenue was €98.4 million ($129.9 million), up 13% in constant currencies. Most years SolidWorks has a great first quarter while PLM products do best in the fourth quarter.
Dassault says recurring software revenue from all sources increased 6% in constant currencies. Dassault sold 13,408 new commercial seats of SolidWorks during the quarter, an increase of 11% year-over-year.
Revenue by geographies:
Americas: €126.4 million ($166.9 million), up 8% in constant currencies;
Europe: €204.1 million ($269.5 million), up 8% in constant currencies;
Asia: €131.9 million ($174.2 million), up 15% in constant currencies.
Software revenue in "high growth countries" was up 17% year-over-year in constant currencies, with notable strength in China, India, and Korea.
Cash per share on March 31, 2011 was $14.48, up from $12.45 three months earlier and $13.39 six months ago.
Dassault acquires mining software specialist
Today Dassault Systèmes also announced the acquisition of geological modeling and simulation software vendor Gemcom Software International, based in Vancouver, BC, Canada. The purchase price is approximately $360 million. Gemcom is considered a leader in software for mining exploration and infrastructure. Dassault says it will use the acquisition to create a new brand for natural resources called Geovia. "By leading the new Geovia organization, Gemcom's management will champion the further development of Dassault Systèmes' strategy of modeling the natural world," says the company in announcing the acquisition. Gemcom also has offices in Australia, South Africa, Chile, Kazakhstan, Mongolia, Indonesia, and Russia which will become Dassault offices.
Eight of our custom charts follow.
L. Stephen Wolfe, P.E., a contributing analyst for Jon Peddie Research, provided research for this report.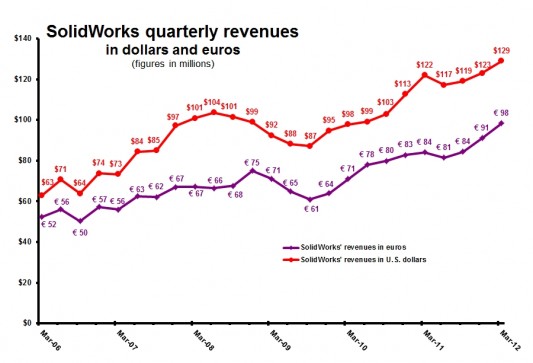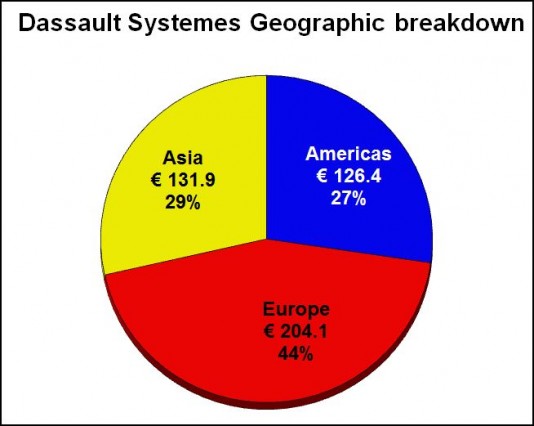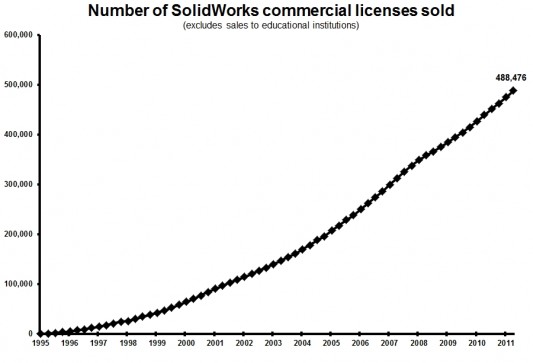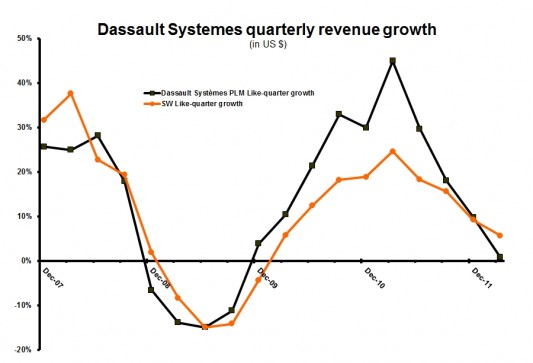 Randall S. Newton is the former Managing Editor of GraphicSpeak. He has been writing about engineering and design technologies for more than 25 years.