Their new build of the Collab Viewer Template for Unreal Engine comes in two flavors customized for Architecture and Manufacture.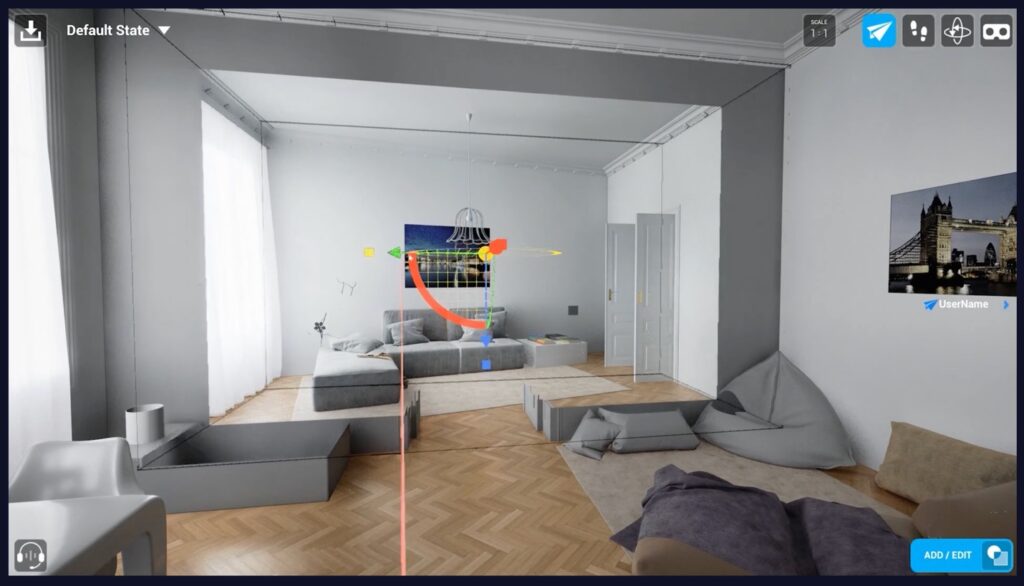 Epic Games has released a new version of their Collab Viewer Template, a tool in Unreal Engine used by designers to streamline the design process and make collaboration easier with their team or clients within a shared experience. Recognizing that various types of users need different types of tools, Epic is now offering two industry-specific templates for teams in manufacturing as well as architecture.
Epic originally released Collab Viewer Template two years ago. The templates weren't polished; Epic designed them to be a first step towards hosting multiple-user experiences in Unreal Engine that companies could develop for their specific needs. Slowly, new releases integrated more features and functionality. Now with the latest release, manufacturing and archviz companies can use distinct versions with newly added controls geared to these users to better streamline their workflow. The archviz version, for example, includes the section tool to cut away parts of a design for improved visibility, while the scale tool enables the user to make easy visual adjustments. Epic Games plans on rolling out more features as the templates evolve.
Every person in a Collab Viewer session has the option to use a standard mouse and keyboard or a VR headset to explore their virtual space. Everyone in a session can move objects, change objects for sight lines, make annotations, and view one another's changes during the session. Virtual collaboration tools often encounter common snags like establishing connections and replicating presence information between different computers, but Collab Viewer Template works around these issues by using one instance as a starting point for a session. Sessions mean less time addressing connectivity and more time actually being connected.
Unreal Engine will become more important to Web3 developers as metaverses start to take hold in the market. Unreal Engine might be best known for creating high-quality games like Fortnite and Street Fighter V, but the tool is also becoming increasingly popular across a wide range of industry segments for its real-time capabilities as well as for designing virtual spaces and digital twins. HoloLens 2 used Unreal Engine to expand mixed reality and make holograms. Using headsets, HoloLens 2 re-created the moon landing with photorealistic holograms that users could interact with and see in physical space.
What do we think?
More and more industries are waking up to the fact that 3D tools aren't just for entertainment. By simulating a car or structure, design teams can review their plans and save more money before committing resources.
Epic Games spent years developing the Unreal Engine to go beyond game development and be used in different industries. Epic's Collab Viewer Template is another step forward for incorporating virtual spaces into other industries. It's a standard feature in the engine, unlike the proprietary tech that companies previously had to make in order to create collaboration sessions—the architectural visualization companies that have used Unreal Engine in the past had to develop their own collaboration tools. This opens up the door to change how people interact with virtual spaces and can turn simple presentations into interactive experience demos. The way people interact and communicate is changing, and tools like this are helping users do just that.