JPR's Market Watch suggests it's all three, and bots too.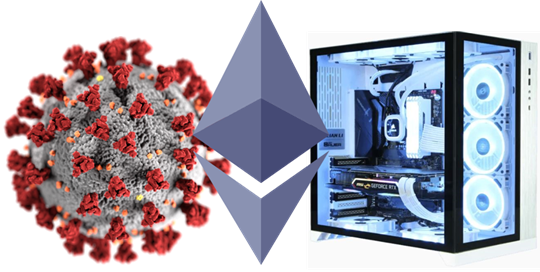 We've been tracking GPU and before that graphics control shipments for decades, and we think we have a sense about their trends and seasonal behavior.
Our Market Watch report for Q3 2020 reveals unusual buying patterns for graphics boards. So, what's up?
Look at the following chart that shows shipments for the past 15 years.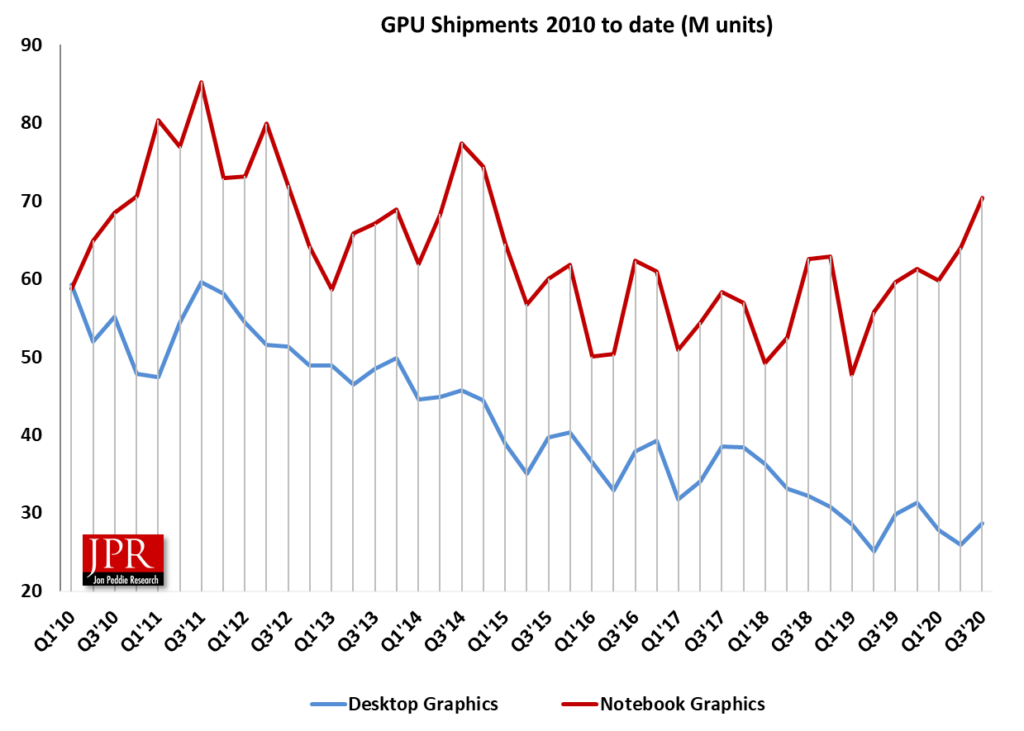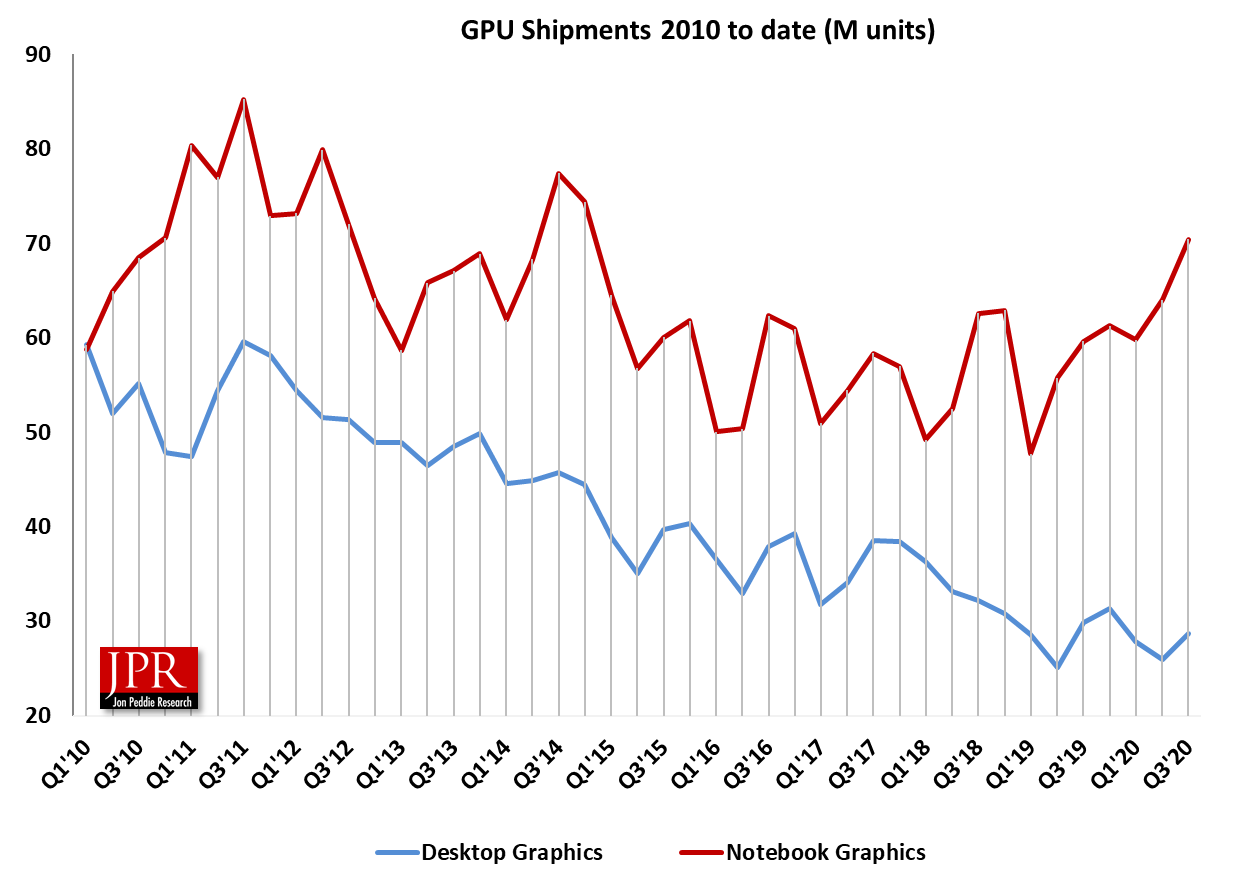 What we observe from this is that there is a certain seasonality to shipments, which has been distorted from time to time by factors such as recessions and crypto-mining. If we look at the past 6 months we see dramatic rise in sales of notebooks and  the re-establishment of  seasonality in desktops. Both phenomena could be attributed to COVID and working at home.
If we segment the view to just discrete GPUs, we get a different perspective.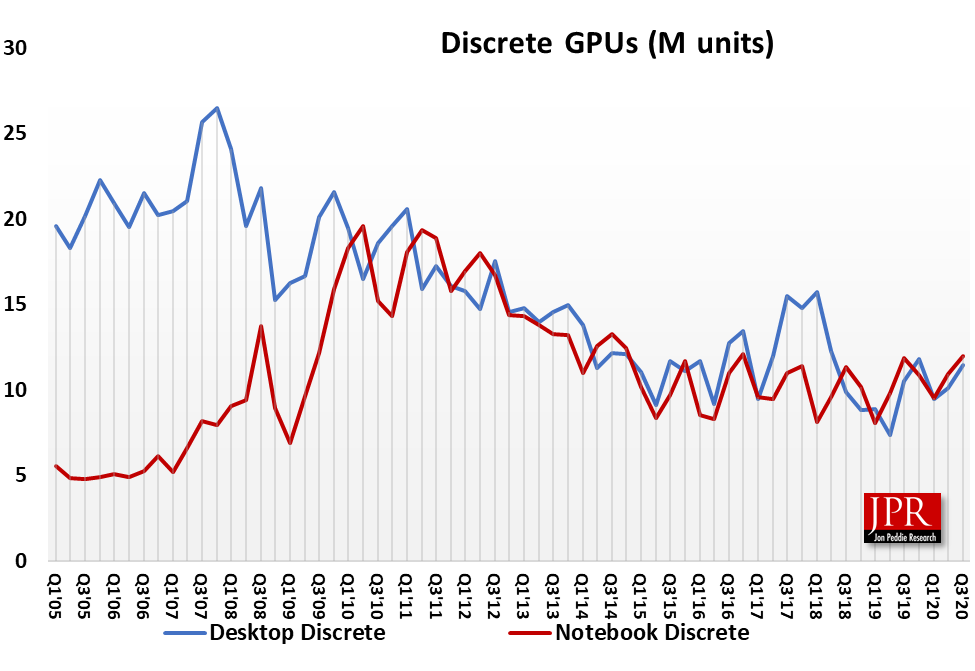 This chart indicates a growth in desktop dGPUs for Q2 and Q3 2020, and that is not normal seasonality. The notebook increase in shipments can be attributed to COVID. The desktop can be attributed to COVID, and/or gaming, and/or Crypto-mining. Looking back, you can see the Crypto surge in desktop dGPUs in 2017 and 2018 and the following crash pretty clearly. The question is, are we headed into another coin-rush now?
One element of suspicion is the immediate buy-up of the new AIBs when AMD and Nvidia announced new GPUs in Q3 and Q4 of 2020. Automated buying bots grabbed all the AIBs that were available at various on-line retailers. The suspicion is that the AIBs were being horded and sold on the secondary markets at an inflated price. What's more, the people who were buying them at those higher prices were miners. Miners have been willing to spend the extra money for their equipment when the value of coins rises. In 2020, the dollar equivalent value of coins has jumped in the past four months.
As part of our ongoing research on the PC graphics market, we recently released our Market Watch report for the third quarter of 2020. Before 2020, the PC market was showing signs of improvement and settling into a new normal. The pandemic has distorted all models and predictions. Our Market Watch report confirms that trend for the third quarter of 2020, but with mixed results for this very unusual year.
AMD's market share from last quarter increased 1.3%, Intel's decreased by -1.4%, and Nvidia's market share increased 0.09%, as indicated in the following chart.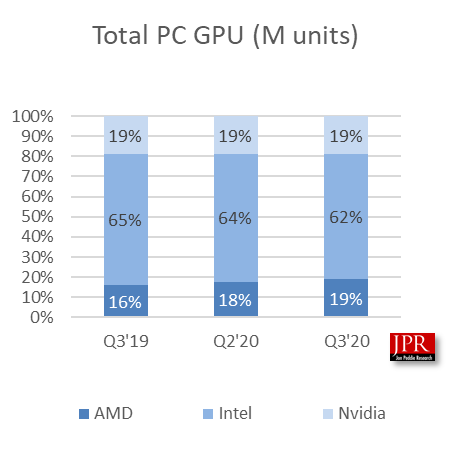 Overall GPU shipments increased by 10.3% from last quarter, AMD shipments increased 18.7%, Intel's shipments rose 7.8%, and Nvidia's shipments increased 10.8%.
Quick highlights
AMD's overall unit shipments increased by 18.7% quarter-to-quarter, Intel's total shipments rose by 7.8% from last quarter, and Nvidia's increased 10.8%.
The GPU's overall attach rate (which includes integrated and discrete GPUs, desktop, notebook, and workstations) to PCs for the quarter was 122%, up 0.6% from last quarter.
The overall PC market increased by 9.75% quarter-to-quarter and increased 9.47% year-to-year.
Desktop graphics add-in boards (AIBs that use discrete GPUs) increased by 13.44% from the last quarter.
Q3'20 saw an increase in tablet shipments from last quarter.
The third quarter is typically the strongest compared to the previous quarter. Q3 2020 was no exception, showing healthy growth.
GPUs are traditionally a leading indicator of the market since a GPU goes into every system before the suppliers ship the PC.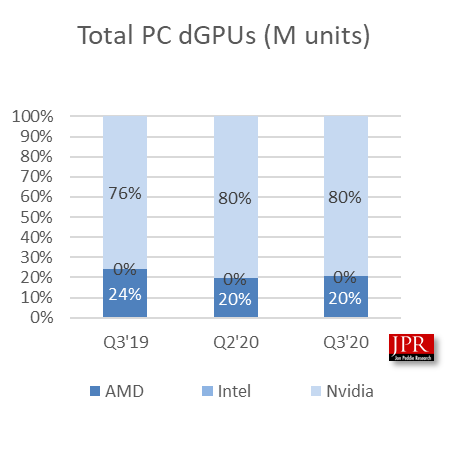 The third quarter behaved seasonally as it has in the past, with the quarter-to-quarter change of 10.3%, Q3 2020 outperformed the 10-year average growth for graphics shipments of 9.7%.
The quarter saw shifts in market shares from the previous quarter and year-to-year. In the third quarter, AMD and Nvidia showed outstanding results, with Intel remaining steady.
Factors influencing the robust sales of AIBs in the past two quarters have clearly been increasing growth in gaming, and the need to outfit home offices due to COVID. There has been speculation that there might be a renewal in demand for AIBs due to crypto mining. Anything is possible, but the power consumption of AIBs greatly diminishes the payoff for crypto-mining. Ethereum, the best-suited coin for GPUs, is forking into version 2.0 very soon, GPU mining obsolete … eventually.
Most of the semiconductor vendors are guiding up for the next quarter by an average of 1.25%. Some of that guidance is based on normal seasonality, but there is also a Coronavirus impact factor as people invest in notebooks for remote work. A vaccine may be on the way, but many remote workers have made it clear that they'd prefer a hybrid approach for the future.
JPR also publishes a series of reports on the graphics Add-in-Board Market and PC Gaming Hardware Market, which covers the total market including system and accessories, and looks at 31 countries.