Advances in products for construction and manufacture bring in added revenues.
It's not news to anyone that cloud-based workflows are booming, but it's good news for Autodesk that its customers are buying into SaaS models. In addition to rising revenues, the company says it's becoming more engaged with its customers as strategic partners.
In his call to investors, CEO Andrew Anagnost says the company has signed some of its largest deals ever including one described as a 9-digital deal. The future is looking pretty bright. Not only is the company seeing some of its largest deals, but it is seeing multi-year commitments from its customers.
Autodesk reported $952 million in income for the quarter ending October 31, 2020, an increase of 13%. The company raised its operating margins 5 percentage points to 18%. The company reported its income at $132 million.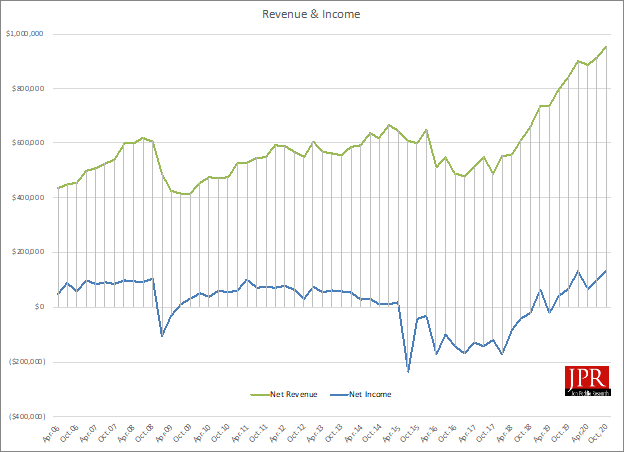 Looking at the trends in Autodesk's cloud business, Anagnost repeated his observations from past financial reports—business is following the path of the pandemic. Over the period of Autodesk's third quarter, business returned to pre-COVID levels in countries where the virus was better controlled: China, Korea, Japan, and most of Europe. The U.S. and the U.K., says Anagnost, have not returned to pre-COVID levels, but they have stabilized in the U.S. and the U.K. is seeing growth.
Autodesk is seeing the affects hit hard in new business, "but the diversity of our revenue stream and customer base is helping us deliver strong results, Anagnost said in the financial call.
Autodesk's subscription plan revenue is growing by 24%. Scott Herren, Autodesk's current CFO who is leaving to be CFO at Cisco, said that the company had offered payment terms to companies early in the pandemic. They're seeing payment terms return to normal and business is improving.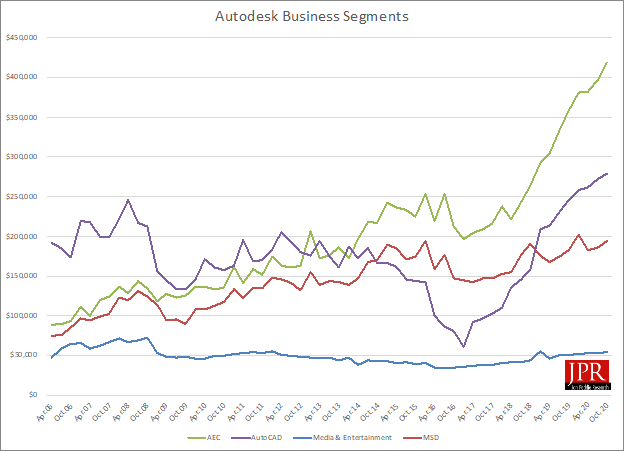 Autodesk's AEC business has grown dynamically over the past year through the company's acquisitions for cloud-based construction management tools. As the chart shows, Autodesk's AutoCAD business is growing right along with it.
This year at AU 2020, Autodesk says its manufacturing segment is going to see new growth as the company adds more extensions to the Fusion 360 family. Using extensions, companies can add on capabilities as they need them and only pay for what they use as long as they use it. So, for instance, the company is offering extensions for CAM, generative design, and additive build. This year, they've added extensions for simulation, nesting, and data management.
Autodesk's M&E business is a smaller business that benefits from the dominant position of its Maya 3D modeling and animation tool and, to a lesser degree, it's more mainstream Max tool. At AU this year, the company says it's working with Nvidia on an Omniverse strategy. Right now, Omniverse is more of an idea than a product. The companies envision something like a game engine but with considerably less capability at the moment. Support for USD and MDL enables collaboration on data across software platforms. It supports multi-GPU ray tracing through Nvidia's IP and, in that department, Nvidia also adds support for simulation with its physics technology. Depending on how much the involved companies are able to push the technology forward, Omniverse is a promising technology for dynamic and interactive workflows for customers who have signed on for Nvidia GPUs.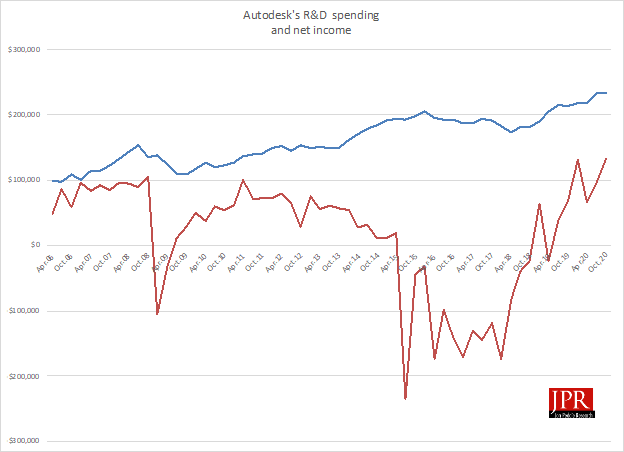 Looking ahead
So, Autodesk is predicting continued growth. In the fourth quarter, the company expects total revenue between $999 million and $1,014 million. For the year, Autodesk says revenues will grow 15%. They're predicting a range of $3.5–$3.8 billion.
To go back to where we started, when looking at the future, Anagnost warns against comparing the U.S. to other regions where there was a predictable ramp up after the virus began to recede. He says the U.S. has seemed to stall. Right now, of course, the cases of COVID-19 are growing in the U.S. and a lot more than Autodesk's sales seem to have stalled. The entire U.S. is in a wait-and-see mode and so that's what we all will do: wait and see.
What do we think?
We don't know who will be replacing Scott Herren. The company says they're initiating a search and they'll let us all know. His last investor call was a love fest and Herren leaves on a high note.
Design and engineering software vendors are proving the soundness of subscription and the cloud during this year of pandemic. Revenues are growing. But, let's talk about the effect of customers becoming strategic partners which is also an emerging pattern. Subscription revenues potentially bring customers, especially large customers into closer contact with their vendors. Autodesk's EBA deals give customers insight into how they're spending their money with the company. This quarter, Autodesk revealed an EBA deal with a security, defense, and aerospace company who signed on with Autodesk to transition to 3D print for one-third of the components in their new jet.
Rockwell has signed on as a strategic partner with Autodesk in a deal that seems similar to the deal they have worked out with PTC. Rockwell and Autodesk are combining factory layout tools with Rockwell's factory simulation tools to sell to mutual customers. In the case of PTC and Rockwell, the two companies teamed up for factory automation and IoT. In both cases, the companies are finding mutual benefit by combining products.
There's new business in old partners. At AU, Autodesk was selling insight—a by-product of connected businesses and it is insight that leads to these deals.