Kraken Pro Tier asset manager offered to studios and agencies.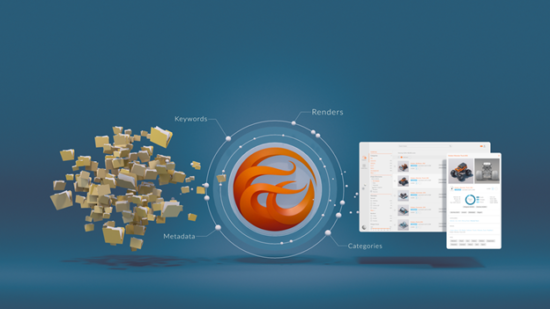 Might as well get the dorky lead out of the way: TurboSquid has released the Kraken. Kraken Pro, that is. Kraken is the company's brand for its management system built to handle tens of thousands of 3D models. Last year, in June, TurboSquid introduced Kraken Enterprise, built for large businesses, big box stores, and retailers to support a range of formats and enable companies to organize the data and serve it up to the people and organizations who need it in the proper format. TurboSquid offers the Enterprise version of Kraken as a service to suit the specific needs of their Enterprise customers.
Now, TurboSquid Pro is a turnkey asset management tool that companies can use to manage their own libraries of models.
The company's cute demo explains the problem. (Source: TurboSquid)
The company's user base has heavy representation in marketing, retail, and content creation. After the release of Kraken Enterprise, the company says they were contacted by studios ad content creators who needed help managing their own content.
The company says content in the Kraken system is secured by AWS's security.
"The same tech we use to organize 800,000 models in our stock 3D marketplace is now available to anyone working with 3D," said Matt Wisdom, CEO of TurboSquid. "2D asset managers are prevalent, but they struggle with the needs of 3D. Kraken gives teams working in fields like advertising, archviz, VFX, retail, and broadcast access to something specifically designed for the 3D workflow."
Customers can upload their libraries of content, and TurboSquid says their AI system can automatically organize and tag the content for customers. The tool can create categories, keywords, tags, and preview renders during import. Currently, the company says they support 3ds Max and Maya with Cinema 4D and more formats coming soon.
This is a continuing project for TurboSquid. The company has developed PixelSquid to enable spinning 3D models and PNG stills with transparent backgrounds. The company's StemCell tool enables models to be structured and correctly formatted by people submitting content.
Kraken Pro is priced for companies with big libraries. The starting price is $599 per month for 10,000 models and 50 users.
Yet another win for glTF and Khronos
If all this sounds familiar, especially the part about retailers needing a way to display their content in a consistent way and with a consistent format, there's a reason for that and that reason is the broad acceptance of glTF.
TurboSquid updated StemCell with glTF support in 2018, following Microsoft's use of the format for their '3D For Everyone' initiative. Microsoft's embrace of glTF has extended to its Hololens program, making glTF a standard format for use in AR/VR and other immersive content. StemCell, meanwhile, gives content creators a specification for building content to ensure it will work well in their marketplace but the broadening use of glTF means the models will work on other sites supporting glTF.
TurboSquid is also part of the Khronos 3D Commerce Initiative, which is a coalition of companies including Target, Google, Adobe, Ikea, and many others that are working together on glTF for online commerce.
Read more…