Submitted for fast track approval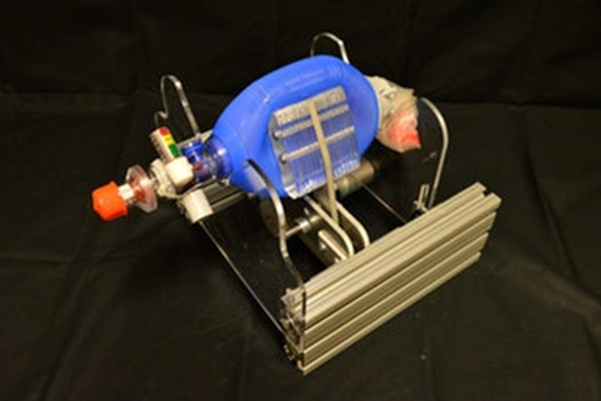 An MIT design has resulted in the E-Vent respirator-design that can be brought online quickly using available valve bag masks used by EMTs and others in emergency situations to ease breathing problems. The advantage of the design, says the MIT team, is that the masks are approved components. The MIT design automatically squeezes the respirator bag.
UPDATE 3-30-20: MIT will publish the plans for this ventilator stand-in. Says it can be manufactured for $100.
The E-Vent design has been submitted for approval to the Food and Drug Administration for rapid review under Emergency Use Authorization and the team is now planning to test the device.
The original design was a 2010 project by MIT students led by Dr. Jussi Saukkonen of Boston University. It was envisioned as a tool that can be employed in rural areas or developing nations when no expensive ventilators are available in an emergency. The design now makes sense as the need for ventilators escalates in response to severe Coronavirus cases.
All this really has nothing to do with graphics or design, but it is another example of the raft of projects ramping up to meet the demand for respirators. GfxSpeak will look at what's being done in response to the worldwide health emergency happening as a result of Covid-19.
UPDATE: New York City is turning to bag valve masks. According to the CNBC story, the bags are being operated by hand.
In other useful information
The community of CAD designers and engineers have mobilized about the issue of ventilators and 3D printing. MIT's E-Vent team has published a list of "key ventilation specifications" to ensure that the hard work people are doing can be accepted according to already established guidelines. So, anyone working on this problem might want to check in on this site to be sure they're meeting the requirements.
https://e-vent.mit.edu/clinical/key-ventilation-specifications/
Read more…
Graebert offers extended trial of Ares Kudo
Company hopes to promote its cloud-based workflows as people are forced to work from home.
Manufacturing hardware and software companies step into the breach
Additive manufacture maybe be able to ramp up quickly enough to supply desperately needed components for protective gear and ventilators.
Vuforia Chalk: telemedicine for the industry
Tools designed for remote service and maintenance open up doors in telemedicine. PTC's Remote Assistance with Augmented Reality (RAAR) enables people to communicate more effectively using Chalk. The company is offering free access to Chalk until June 30 or longer if the threat of Covid-19 continues.