A global architecture, design, and planning firm, Gensler says it believes in creating a better world through the power of design. Gensler has developed a proprietary set of digital design tools around information metrics and geometry form-finding, which they're branding as their inFORM ecosystem. The company says this work boosts their design capabilities.
Blox is the first software release in the inFORM ecosystem. Blox software has been designed to balance form, function, and business insights using project-specific metrics created by designers. The system can create a design according to the included specifications and deliver a preliminary cost estimation.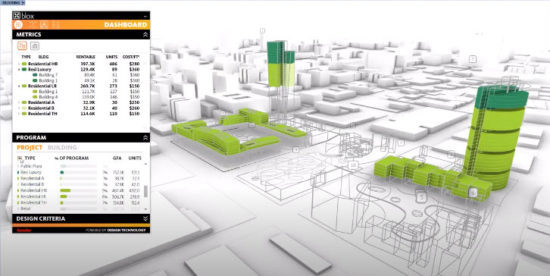 Joseph Joseph, Global Director, Design Technology Studio at Gensler, says that human creativity combined with design technology can achieve infinite possibilities for complex AEC problems.
A LinkedIn blog post by Joseph highlights the features of blox:
Data-rich computational intelligence
Advanced form-sculpting and data assignment schemas
Heads up display (HUD) with dynamic and realtime metrics
Design at the building(s), city block(s) and masterplan levels
Agile design optioneering to study and compare design trade-offs
Sophisticated algorithms with realtime compute of complex geometry and metrics
Blox uses a dashboard to list all the metrics, live data, project assets and financials, realtime adjustable inputs, etc. Following are some metrics that help in designing at scale and give dynamic client experience:
Program Design Metrics: Gross floor area (GFA), zoning, floor area ratio (FAR), rentable/usable metrics
Smart Parking Logic: Client defined parking metrics above and below ground
Programmatic Ratios: Slice and dice the program-based ratio definition metrics
Construction Costs: Defined/computed at building(s), floor(s) and program levels
Proforma Projections: Client defined income, rentable ratios, and yield percentages
Blox gives Gensler a time-saving tool for flexible design. There are applications available in the market. Envelope is a tech-enabled zoning services firm. Its SaaS products help real estate industry professionals visualize and run scenarios on development potential under zoning. The company says it can create architecture-quality visualization for complex cities anywhere in the world. Modelur for SketchUp is a parametric urban design software tool for creating conceptual urban massing.
Instead of announcing the blox release on Gensler website, the company has decided to write about it on LinkedIn, which is not a very large platform to send out this type of news. Gensler says tools like blox give it the flexibility and adaptability that can give its customers more options. It may be Gensler is using LinkedIn to connect more directly with clients. LinkedIn is not a bad place to let clients and potential employees know about Gensler's creative tools and development directions.