Great but not great quarter, $1.4 billion in sales, $380 million GAAP profit for the quarter, sales and profit up from last year.
AMD reported its quarterly results for calendar Q4 2018, revenues and operating income were up year-over-year as well as its graphics and compute groups revenue and profits.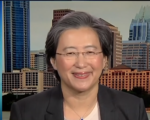 "We delivered our second straight year of significant revenue growth, market share gains, expanded gross margin and improved profitability based on our high-performance products. Importantly, we more than doubled our EPYC processor shipments sequentially and delivered record GPU data center revenue in the quarter," said Lisa Su.
The company announced revenue for the fiscal year 2018 of $6.48 billion, operating income of $451 million, net income of $337 million and diluted earnings per share of $0.32. For the fourth quarter of 2018, the company reported revenue of $1.42 billion, operating income of $28 million, net income of $38 million and diluted earnings per share of $0.04.
Revenue of $6.48 billion was up 23% year-over-year primarily driven by higher revenue in the Computing and Graphics segment. Gross margin was 38% compared to 34% for the prior year. Gross margin expansion was primarily driven by the company's new Ryzen EPYC and Radeon products. Operating income was $451 million compared to $127 million in the prior year. The company said the operating income improvement was primarily due to higher revenue and gross margin expansion partially offset by higher operating expenses.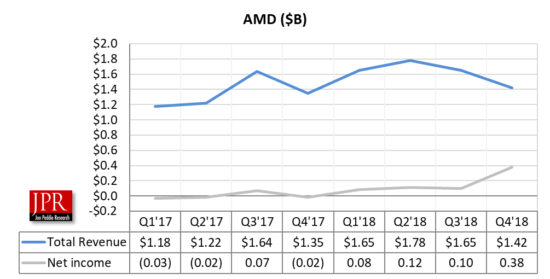 R&D expenses were $371 million (or 26% of revenue), up $70 million Y/Y, and $8 million Q/Q. MG&A expenses were $138 million (10% of revenue), up $5 million Y/Y and $10 million Q/Q.
Graphics group
Computing and Graphics segment revenue was $986 million, up 8.6% Y/Y, and up 5.1% Q/Q. The Y/Y and Q/Q increase was primarily driven by strong sales of Radeon graphics and Ryzen desktop processors.
Client processor average selling price (ASP) was higher year-over-year and quarter-over-quarter primarily due to higher desktop and mobile processor ASP.
GPU ASP was up year-over-year and sequentially primarily due to higher data center GPU sales.
Year-over-year revenue growth was primarily driven by strong sales of Ryzen desktop and mobile products.
Operating income for the quarter was $28 million, compared to an operating income loss of $2 million a year ago and operating income of $150 million in the prior quarter. The year-over-year operating income improvement was primarily driven by gross margin expansion, a richer client product mix and IP-related revenue, and higher graphics revenue.
The decrease compared to the prior quarter was primarily due to seasonally lower Enterprise, Embedded, and Semi-Custom segment revenue and the absence of IP-related revenue, partially offset by the benefit of new Ryzen, EPYC, and Radeon products.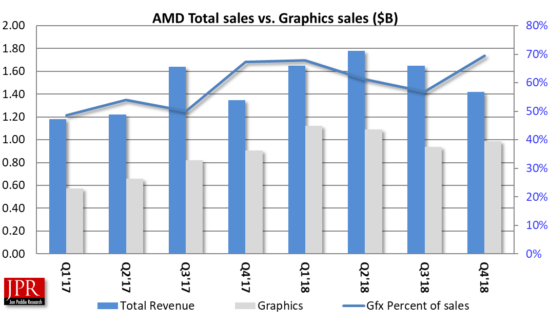 The company said EPYC processor unit shipments more than doubled on a quarter-to-quarter basis. AWS announced new versions of EC2 computing instances powered by EPYC processors, and Microsoft Azure announced the general availability of EPYC-based storage instances. The company said customer interest in next generation "Rome" server processor remains high; on track to launch mid-2019. The company expanded its client compute product portfolio with new desktop processors from high-end desktop to entry-level and launched its 2nd Generation AMD Ryzen Threadripper processors including a new WX Series for professional computing and improved X Series for enthusiasts and gamers. The company also introduced its first "Zen" core-based AMD Athlon and Athlon PRO desktop processors for entry-level consumer and commercial desktop processing product line-ups. And the company introduced the Radeon Pro WX 8200 graphics AIB and Radeon Pro V340 AIB. The company has steadily improved gross margin from Q1'17.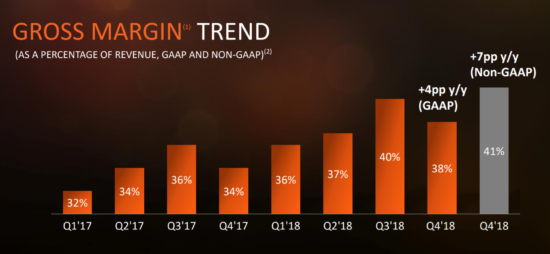 The company has been able to raise ASP on the basis of its new processors, and that has been recognized by Wall Street.
Outlook
For the first quarter of 2019, AMD expects revenue to be approximately $1.25 billion, plus or minus $50 million, a decrease of approximately 12% sequentially and 24% year-over-year. The sequential decrease is expected to be primarily driven by continued softness in the graphics channel and seasonality across the business. The year-over-year decrease is expected to be primarily driven by lower graphics sales due to excess channel inventory, the absence of blockchain-related GPU revenue and lower memory sales. In addition, semi-custom revenue is expected to be lower year-over-year while Ryzen, EPYC, and Radeon data center GPU product sales are expected to increase. AMD expects nonGAAP gross margin to be approximately 41% in the first quarter of 2019. In addition, the Company expects to record a $60 million IP licensing gain which will be a benefit to operating income and recorded on the licensing gain line of the P&L.
For full-year 2019, AMD expects high single-digit percentage revenue growth driven by Ryzen, EPYC, and Radeon data center GPU product sales as the company ramps 7-nm products throughout the year. AMD expects non-GAAP gross margin to be greater than 41% for 2019.
What do we think?
AMD has been performing above expectations and guidance. The company increased revenue 23% in 2018, added 4 points to the margin, and gained market share for the fifth straight quarter. The data center is strategically a great market for AMD and the company had a strong quarter for GPUs in the data center. Su said that was because they are looking at new workloads and new deployments.
However, she acknowledged that there are some concerns about the macros and what's going on in China, and there's a little bit of short-term concern in the data center.
"We'll be first to 7 nm in 2019 and that's a big competitive advantage," said Su. "We are playing toward out strength and it's a product story. Customer traction is giving us confidence."
First quarter guidance is lower than many expected. Su explained that by saying that AMD's business is different than others. "Our business is more diversified, we have PCs, data center, and gaming. Some headwinds in GPUs due to the channel," she said. "However," she added, "Our TAM is $75 billion and we're a $6.5 billion company."
The company is bullish on gaming and looks at gaming on PCs, on consoles, and in the cloud. "Overall it's a very good segment," said Su, "although there are some headwinds in the China market."
Su said AMD made some big bets three to four years ago on 7 nm and architecture and in the second generation Epic processor. "We're going to double the performance, double the performance per socket. When you have that kind of inflection point in performance it has to translate into better results," she said.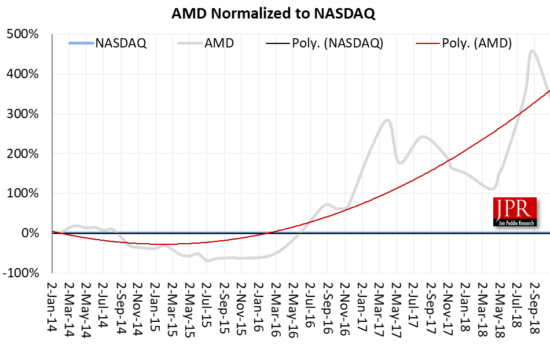 AMD adjusted earnings were 13 cents per share, roughly in line with the analyst consensus of 12 cents and $1.7 billion. But its fourth-quarter revenue outlook was significantly below the Street at a range of $1.4 billion to $1.5 billion, compared with the $1.6 billion average forecast. The quarterly guidance was the first time this year AMD forecasted sales materially below Wall Street expectations.