Revenue is down; income is flat but Trimble sees a brighter future.
Trimble came out of 2019 with record results and it made it through the first quarter reasonably well. Meanwhile, Rob Painter took over as CEO in January and articulated a Connect and Scale 2025 strategy that would take the company to subscriptions and cloud-based services where it made sense and on to a stable growth trajectory.
Then came Q2 and the pandemic.
As Trimble makes the transition to subscription licensing, it is experiencing the natural contraction of revenues that come along with the shift to subs. The company's competitors in the professional software biz have been there before, and in fact, the subscription is helping them deal with slowdowns caused by the pandemic. But, with hardware products and software, interests in agriculture, shipping, transportation, and building and Infrastructure, Trimble is a very different company compared to its competitors as it integrates hardware with subscription business and adds cloud-based information services.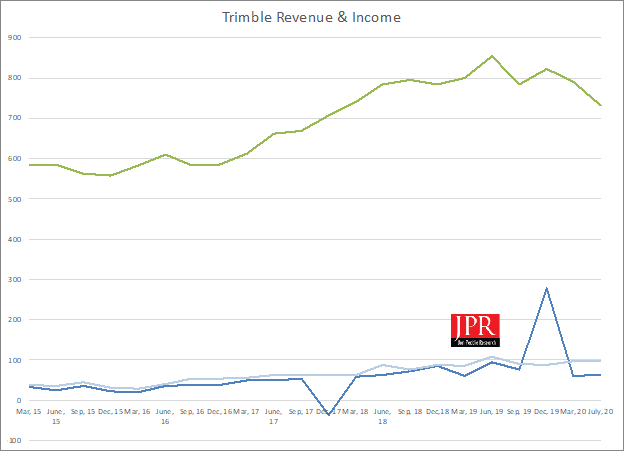 Painter told investors that the company has reassessed its forecasts as a result of the last two quarters' performance. "Earlier in the year, I set expectations of demonstrable financial recovery at the beginning of 2021," he said. "Given the environment and circumstances, we now believe the recovery will take longer than anticipated."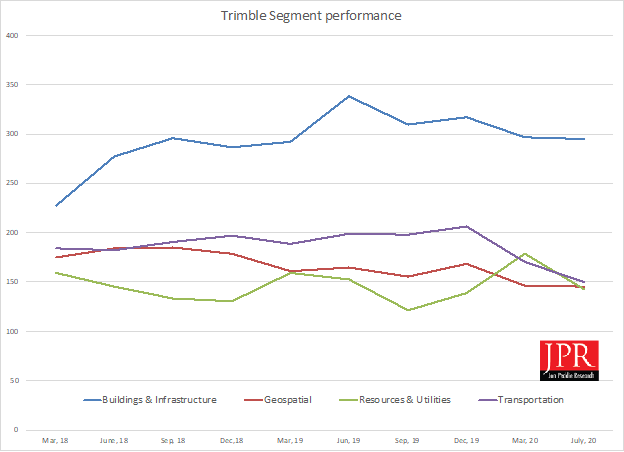 Trimble recognizes four major segments for its business: Buildings and Infrastructure, Geospatial, Resources and Utilities, and Transportation.
The company is struggling with several influences that have affected its performance. The company's Building and Infrastructure segment was slowed by the pandemic, which limited the amount of work that could be done onsite. Transportation was similarly challenged as freight has been impacted and as the company battles to roll out its electronic logging devices (ELD) in a competitive environment. Earlier, the company bought Kuebix which gives it a complementary position in shipping for its transportation business but that acquisition was dilutive.
Hardware sales have slowed during the pandemic lockdown because sales are more dependent on a level of touch, but the executives see long-range advantages in adding software services to the company's hardware products.
Overall, Trimble's CFO David Barnes says he and Painter are optimistic that the company has been past the "trough" of multiple challenges, but that the recovery will take time through 2021.
The details
Trimble's second quarter 2020 revenue was $733.6 million, a 14% decline year over year.
As the company makes its way to subscription in several product segments, Painter insists ARR (annualized recurring revenue) is a bright spot. ARR was $1.21 billion for the second quarter, a 6% year over year increase. ARR growth seems a little low for early in a transition, but given the challenges of 2020 they're the modest increase.
The company reports:
Buildings and Infrastructure revenue was $295.3 million, down 13%.
Geospatial revenue was $145.2 million, down 12%.
Resources and Utilities revenue was $143.8 million, down 6%.
Transportation revenue was $150.9 million, down 24%.
The company reported a GAAP net income of $63.0, down 33% compared to the second quarter of 2019. However, on a non-GAAP basis, Trimble's net income was $131.5 million and was able to hold its losses to 2%. Painter says costs were considerably less over the period. There were few travel and entertainment charges and he noticed insurance costs were way down because people are not going to the doctor's office if they can help it.
"The resilience of the Trimble team, the quality of our Connect & Scale 2025 strategy, and the strength of our financial model enabled us to perform despite difficult circumstances," said Rob Painter, Trimble's president and chief executive officer. "While we expect ongoing macroeconomic challenges, we remain committed to our mission to transform the way the world works, as we enable our customers to digitize their businesses and unlock productivity, quality, safety, and sustainability."
Trimble is not providing guidance for the third quarter or the remainder of 2020 but it expects to see continued growth in ARR and improvement in Building and Infrastructure and Transportation even though both will still be down compared to last year.
What do we think?
As an interesting aside, Painter told investors that the company held a regional conference in Brazil, "a virtual trade show," that was digital and they saw remarkable participation. He said the conference had 3,000 attendees, which far surprised what they would have gotten for an in-person demonstration, "and we did it for a couple of thousand dollars," he said.
The world is going digital at an accelerated rate of speed, and Trimble is all aboard.
Recurring revenue makes up close to 40% of Trimble's total revenue. Hardware represents 43% of the company's business, but the company's plans for the future include new initiatives for adding a recurring revenue stream to its hardware products. For instance, its acquisition of Kuebix and development in ELD extends its development in connected supply chain. For transportation, Trimble is going to market with a hardware as a service approach that bundles hardware, software and upgrades. In October 2019, Trimble bought Cityworks, which it is adding on to its solutions as a service in its Resources & Utilities business. In the third quarter, Trimble is planning to launch its platform as a service for construction.
With strong business in geospatial, infrastructure, and design, Trimble has a competitive position in the worlds of Bentley and Hexagon. The work Trimble is doing in transportation, supply chain, and agriculture sits in an interesting position in the world of design and engineering because it has such strong businesses in agriculture and as it adds on to resources and utilities it's got some smart city action.