The company's revenue is $5.66 billion, up 84% from a year earlier, profit up 109% to $1.9 billion.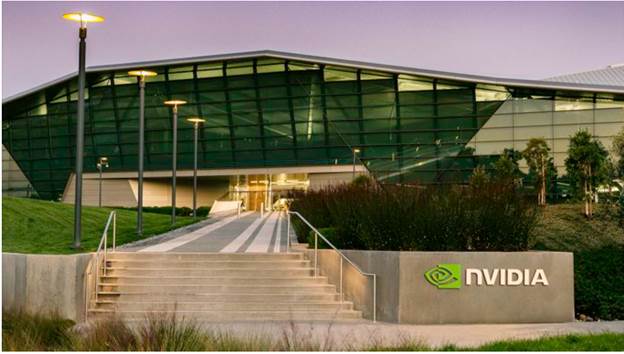 Nvidia the company that makes the most sought-after GPUs, reported an 84% increase in sales last quarter.
The company reported record revenue for the first quarter ended May 2, 2021, of $5.66 billion, up 84 percent from a year earlier and up 13 percent from the previous quarter, with record revenue from the company's Gaming, Data Center and Professional Visualization platforms.
The company's Graphics business revenue was $3.45 billion, up 13% from last quarter and up 81% from last year.
"We had a fantastic quarter, with strong demand for our products driving record revenue," said Jensen Huang, founder, and CEO of Nvidia.

Our Data Center business continues to expand, as the world's industries take up Nvidia AI to process computer vision, conversational AI, natural language understanding, and recommender systems. Nvidia RTX has reinvented computer graphics and is driving upgrades across the gaming and design markets. Our partners are launching the largest-ever wave of Nvidia-powered laptops. Across industries, the adoption of Nvidia computing platforms is accelerating.

Mellanox, one year in, has exceeded our expectations and transformed Nvidia into a data-center-scale computing company. We continue to make headway with our planned acquisition of Arm, which will accelerate innovation and growth for the Arm ecosystem. From gaming, cloud computing, AI, robotics, self-driving cars, to genomics and computational biology, Nvidia continues to do impactful work to invent a better future, he said.
In February, Nvidia released new processors specifically for mining cryptocurrency. The company booked $155 million in revenue from crypto mining cards in the first quarter.
Gaming revenue was up 106 percent from a year ago and up 11 percent sequentially, reflecting higher sales in GeForce GPUs, with both desktop and laptop setting records, as well as in game-console SOCs. The company continued to benefit from strong sales of its GeForce RTX 30 Series based on the Ampere architecture. Nvidia said they believe Gaming also benefited from cryptocurrency mining demand, although it is hard to determine to what extent.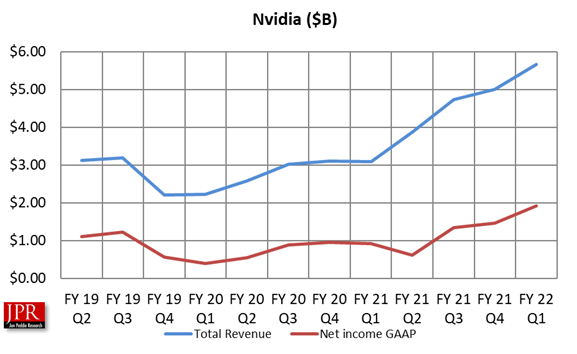 Data Center revenue was up 79 percent from a year ago and up 8 percent sequentially. The year-on-year revenue growth was driven primarily by the Mellanox acquisition and the ramp of Nvidia Ampere GPU architecture products into vertical industries and hyperscale customers. Sequentially, growth in Data Center came from both compute and networking products, primarily driven by hyperscale customers.
Professional Visualization revenue was up 21 percent from both a year earlier and sequentially. The year-on-year increase was driven by record sales of notebook workstation GPUs. The sequential growth reflects sales of GPUs for both desktop and notebook workstations.
Automotive revenue was down 1 percent from a year earlier and up 6 percent sequentially.
OEM and Other revenue was up 137 percent from a year ago and up 114 percent sequentially, primarily reflecting the addition of Cryptocurrency Mining Processors (CMP), which generated revenue of $155 million.
Nvidia still has an automotive business, but it was down 1% and generated only $154 million — less than the revenue from CMP AIBs in the first quarter alone. Its data center business sales grew 79%, but a lot of that came from the Mellanox acquisition last year.
Outlook
Nvidia's outlook for the second quarter of fiscal 2022 is as follows:
Revenue is expected to be $6.30 billion, plus or minus 2%.
GAAP and non-GAAP gross margins are expected to be 64.6% and 66.5%, respectively, plus or minus 50 basis points.
GAAP and non-GAAP operating expenses are expected to be approximately $1.76 billion and $1.26 billion, respectively.
GAAP and non-GAAP other income and expense are both expected to be an expense of approximately $50 million.
GAAP and non-GAAP tax rates are both expected to be 10%, plus or minus 1%, excluding any discrete items. GAAP discrete items include excess tax benefits or deficiencies related to stock-based compensation, which are expected to generate variability on a quarter-by-quarter basis.
Capital expenditures are expected to be approximately $300 million to $325 million, including principal payments on property and equipment.
On May 21, 2021, the Board of Directors declared a four-for-one split of Nvidia's common stock payable in the form of a stock dividend, with the additional shares expected to be distributed on July 19, 2021.
What do we think?
Gaming was the start for the first quarter with a 106% increase year over year. Data center also did well with a 79% year-over-year gain.
Pro-viz lead in the quarter-to-quarter growth with 21.7% compared to gaming at 10.4% and datacenter at 7.8%.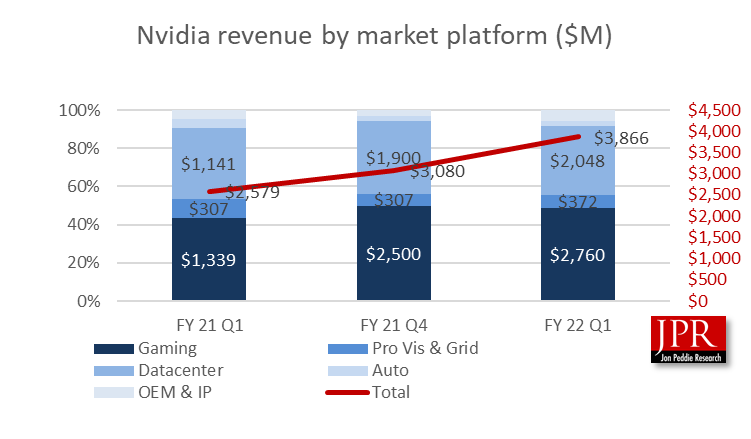 So far Nvidia has not whined about semiconductor shortages as many other companies have. The company is using Samsung and TSMC.
The company provided an update on how its cryptocurrency (CMP) AIBs sold. For the fiscal first quarter, which ended May 2, it sold $155 million of CMP AIBs and expects sales of $400 million in the current quarter. The CMP AIBs are only sold by partners, and they are free to mark them up as high as they want.
Jensen Huang doesn't talk about the new AIB as an exciting market for the company, but as a bone thrown to cryptocurrency scalper bots to protect gamers. As it turns out, gaming processors—Nvidia's original and core business—are still its most important, generating $2.76 billion in revenue, an increase of 106% from last year.
While AIBs can be used for mining, the CMP AIBs can't be used for gaming, and it's easier for Nvidia to manufacture the CMP chips.
Jensen said its core gaming market is the largest it's ever been, and it can't risk missing out because crypto mining scalper bots keep buying AIBs meant for gamers.
What we hope is that the CMPs will satisfy the miners and will stay in the professional mines" and the product "protects" graphics cards supply for gamers, Huang said on a call with analysts.
The gaming industry is really large, and what's really exciting on top of that is that gaming is no longer just gaming. It's infused into sports, e-sports. It's infused into art. It's infused into social. And so gaming has such a large cultural impact now. It's the largest form of entertainment, and I think the experience we're going through is going to last a while.
Huge demand for GeForce graphics cards was the primary reason Nvidia sales soared in the first quarter, rising 84% to $5.66 billion, beating both Wall Street's and the company's own expectations.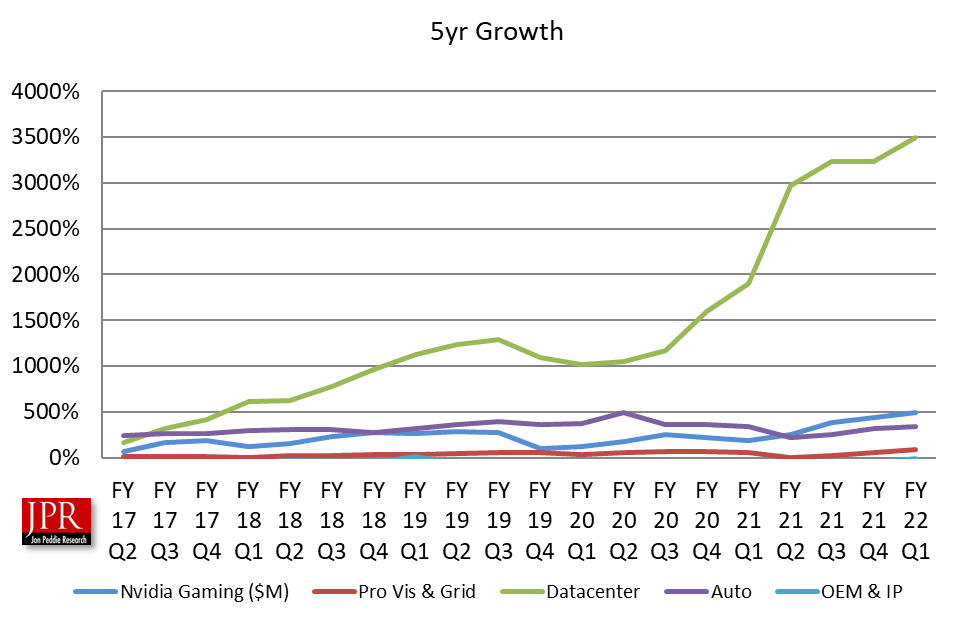 The numeric values are shown in the following table.

CFO Colette Kress said, "it is 'hard to determine to what extent' cryptocurrency miners contributed to its gaming division."
Nvidia is trying to defeat the scalpers and miners by adding software to its gaming AIBs to make mining more difficult.
Over the past five years, Nvidia's stock has increased over 1,200%, bolstered by the company's expertise in graphics processors, which were originally intended for gaming but now lie at the heart of some of the most exciting fields in technology.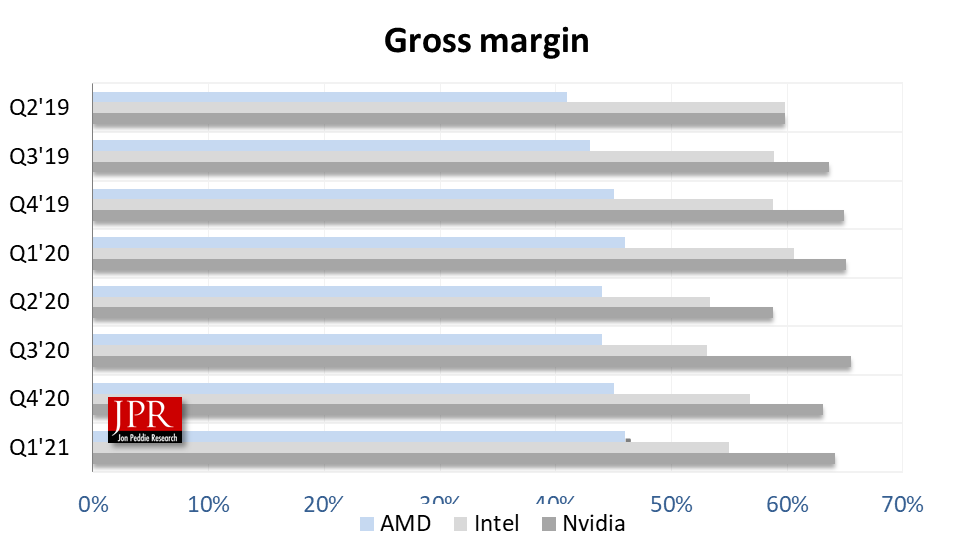 The company has surpassed legendary Intel when it comes to gross margin.