The company's customers are accepting subscription and adding on capabilities.
2020 has been a year of building for Nemetschek. In their third quarter which ended at the end of October, the company said their revenue had increased by 7.5% to €148.5 million. The company says growth has been driven by recurring revenue, which is up 18%. The company's customers are embracing subscription models, which gives companies much better visibility about the future.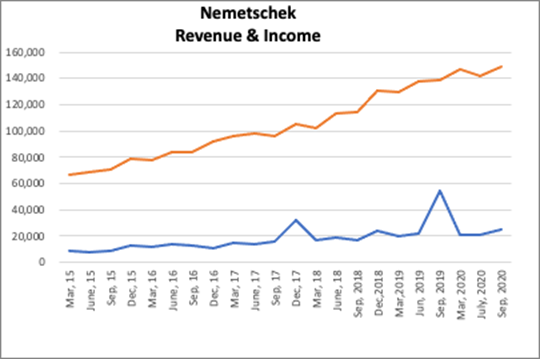 All indicators are up and the company's performance over the past two years has been very good. In spite of that, the company has cautiously raised its revenue expectations to mid-single digits for the year. This is not surprising in this year that seems to hold surprises right up to the end. Given the indicators, a better than expected third quarter and successful cost cutting, the company promises to continue investing.
The company says each of its divisions has been affected in different ways as a result of the types of business they're in and where their markets are strongest. The company says Design, which has strong European markets for Allplan and Graphisoft, recovered after the first half of the year was challenged by COVID-19. The Build segment does more business in the U.S. so hits from the virus came behind the wave hitting Europe. The Manage segment is in the process of building its business with new capabilities and acquisition (Nemetschek Brand Spacewell acquires Dexma adds on AI-powered energy management) so it too has seen a lag.
The Media & Entertainment business has always demonstrated the wisdom of diversification for Nemetschek. The company is growing through acquisition but also the entertainment business has been able to make a sharp turn after the early hit from the virus and is responded to high demand for entertainment … lots of it.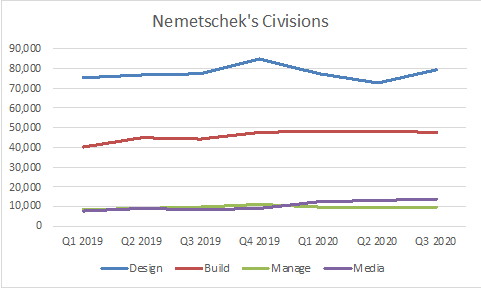 What do we think?
In the past, Europeans were not totally delighted with the idea of subscription, and Asian customers liked them even less. Americans were more willing to put up with subscriptions for business software. As we near the end of 2020, we see a sea change happening in subscription and even more so for cloud-based revenues. Nemetschek has been investing in the cloud and expects to reap the benefits in 2021.
In addition, the company has long been an advocate for OpenBIM and that ship is turning around and steaming along as the AEC industry has recognized the value of open communication and better collaboration.