Third-quarter GAAP revenue of $19.2 billion, up 5% year over year.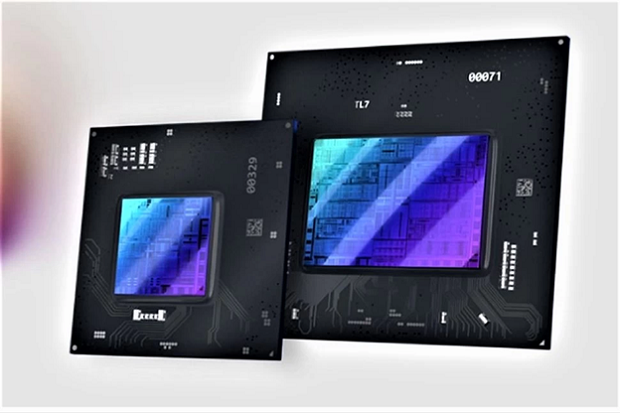 Intel reported its third-quarter revenue had a strong recovery in the Enterprise portion of Data Center Group (DCG) and the Internet of Things Group (IOTG), which saw higher demand amid recovery from the economic impacts of COVID-19. The Client Computing Group (CCG) was down due to lower notebook volumes due to industry-wide component shortages and lower adjacent revenue, partially offset by higher average selling prices (ASPs) and strength in desktops.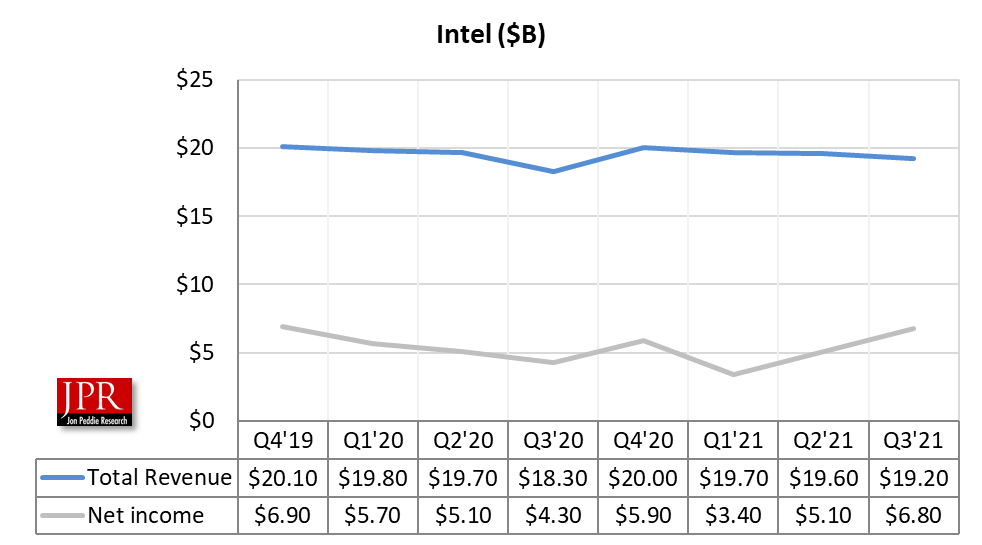 "Q3 shone an even greater spotlight on the global demand for semiconductors, where Intel has the unique breadth and scale to lead. Our focus on execution continued as we started delivering on our IDM 2.0 commitments. We broke ground on new fabs, shared our accelerated path to regain process performance leadership, and unveiled our most dramatic architectural innovations in a decade. We also announced major customer wins across every part of our business," said Pat Gelsinger, Intel CEO. "We are still in the early stages of our journey, but I see the enormous opportunity ahead, and I couldn't be prouder of the progress we are making towards that opportunity."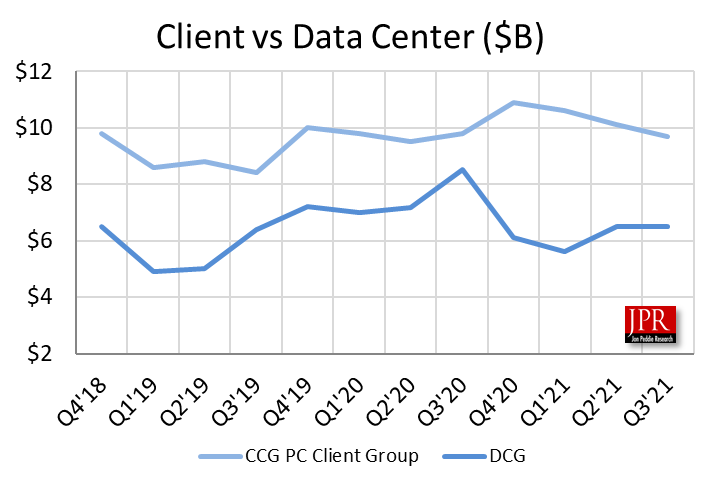 Intel listed their Q3'21 business highlights as:
Broke ground on two new leading-edge chip factories at Intel's Ocotillo campus in Chandler, Arizona, three months ahead of schedule.
Shared process and packaging roadmap updates for delivering five nodes within four years, putting Intel on a path to restore process performance per watt parity in 2024 and leadership in 2025 with key process innovations, including RibbonFET and PowerVia. Also introduced new advanced packaging technologies, Foveros Omni and Foveros Direct, for 2023.
Detailed Intel's biggest architectural shifts in a generation with the first in-depth look at Alder Lake, our first performance hybrid architecture with two new generations of x86 cores; Sapphire Rapids, our new standard-setting data center architecture; our new discrete gaming graphics processing unit architecture; new infrastructure processing units; and Ponte Vecchio, our tour-de-force GPU architecture with Intel's highest ever compute density to accelerate AI, HPC, and advanced analytics workloads.
Introduced the new Intel Arc brand for our upcoming high-performance graphics products, covering hardware and software, and services.
Introduced four new Intel Core processor-based Surface design wins with Microsoft, including the first Surface device to be Intel Evo platform verified, and two designs that bring Thunderbolt connectivity to the Surface lineup.
Introduced second-generation neuromorphic research chip, Loihi 2, fabricated with a pre-production version of the Intel 4 process.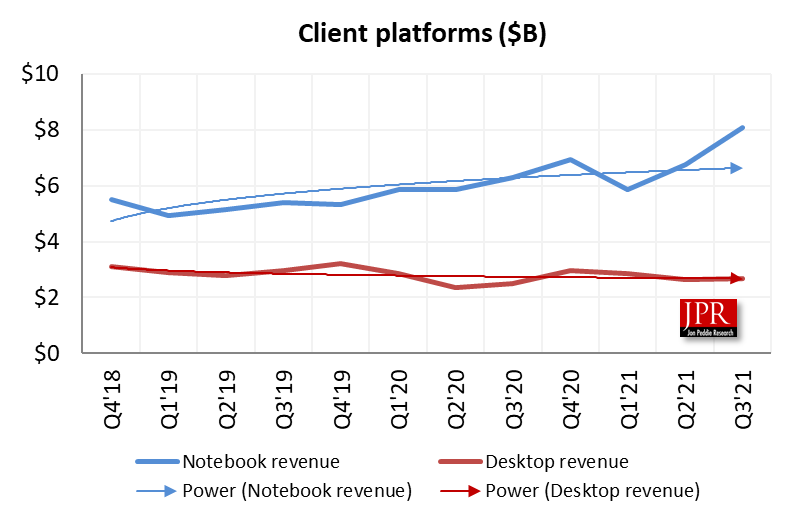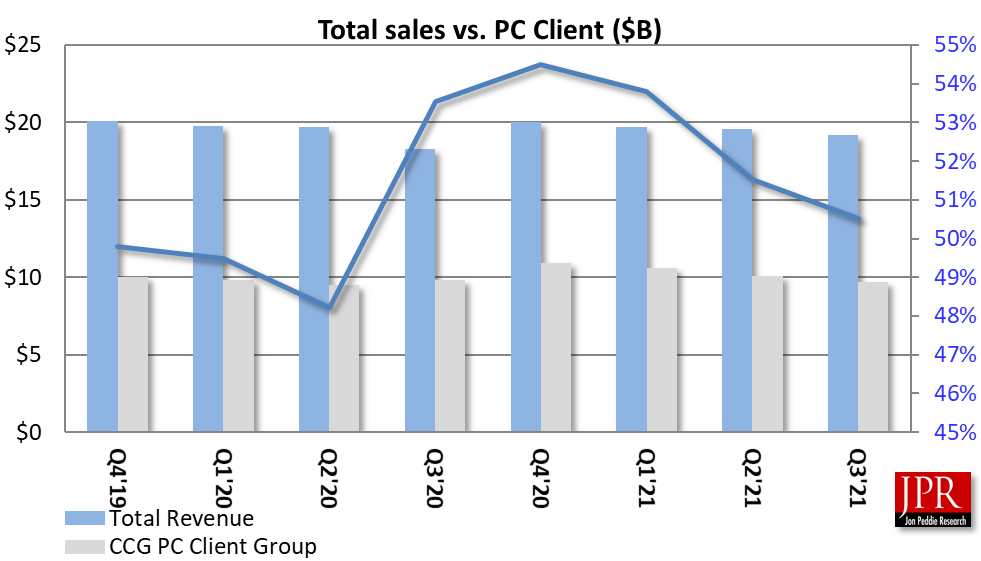 According to Gelsinger, the ongoing global chip shortage is going to be a problem for a lot longer. He expects the drought to extend until at least 2023.
"We're in the worst of it now; every quarter next year, we'll get incrementally better, but they're not going to have supply-demand balance until 2023," Gelsinger told CNBC in an interview.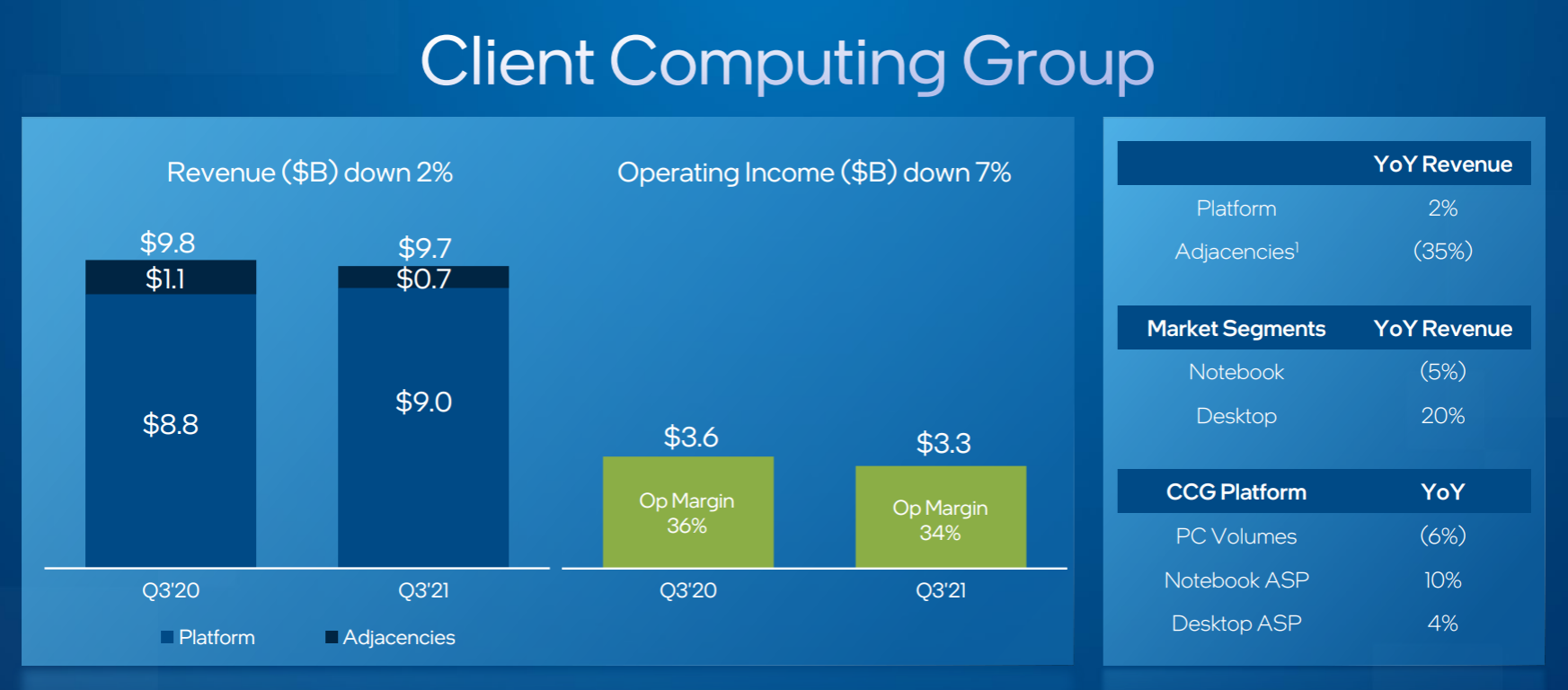 Gelsinger said, "PC demand remains very strong, and we believe the 2021 TAM will grow double digits even as ecosystem shortages constrain our customer's ability to ship finished systems. Dell, HP, Lenovo, and other OEMs and ecosystem partners agree that PCs are now a structurally more significant and sustainably growing market. As we head into 2022, we expect the ecosystem supply situation to improve gradually, and the PC market will continue to grow as tailwinds from Win 11, hybrid work models, a larger install base, and compelling new platforms drive PC density, shorter replacement cycles, and penetration of new markets.
"Tiger Lake has shipped more than 70 million units this year, making it our fastest ramping notebook ever. We are raising the bar again with Alder Lake, our first performance hybrid architecture product, which I am pleased to say began shipping in Q3 on Intel 7 and will start to launch next week at innovation.
"Since my return, we've not only laid out our roadmap for success but, more importantly, we've already started executing at what I like to say is a "torrid pace."
"Back in March, when we unveiled our powerful new IDM 2.0 strategy, I outlined our course for a new era of innovation at Intel, where I committed to:
Expand our internal and external manufacturing to address unprecedented global demand for semiconductors.
Open our doors to be a world-class foundry.
Regain process leadership.
And deliver leadership products in every category in which we compete.
"On the product front, we are intent on delivering leadership products in every category in which we compete. In August, at our Architecture Day, we started delivering on that promise as we made five major architecture announcements, our most dramatic updates in the last decade.
We introduced hybrid computing with two new generations of x86 cores enabling power-efficient designs that are performant for the most demanding workloads.
We unveiled our Intel Arc brand for discrete graphics starting with our Alchemist product, which will be on the shelf in Q1 of next year.
We continued our central role in the evolving datacenter landscape with Mount Evans, our first ASIC-based infrastructure processing unit or IPU. Developed in close cooperation with a major cloud provider, our IPUs enable superior security capabilities and let our cloud customers move infrastructure tasks off the CPU, thereby allowing them to rent 100% of their CPU capacity to their customers.
We also gave additional detail on Sapphire Rapids and its compelling AI and accelerator capabilities.
And last but not least, we opened the curtain on Ponte Vecchio. With our highest ever compute density, the 100 billion-transistor device delivers industry-leading FLOPs to accelerate AI, HPC, and advanced analytics workloads. Early Ponte Vecchio silicon is already demonstrating leadership performance, setting an industry record in both inference and training throughput on popular AI benchmarks.
"Next week, at our Intel Innovation event, we will take the next step forward, with a renewed commitment to developers and a host of new tools, technology, and product announcements. Announcements that really underscore how we are rapidly "bringing the geek back."
"We are only eight months into the journey, but we have already achieved a lot. We now have a clear strategy. We've built the team by bringing in new leadership and adding over 6000 new engineers to bolster our incredibly talented team. We've reorganized our business units to focus on our key markets and starting next year; we expect to begin breaking out our results to more closely align with these changes and to drive increased visibility and accountability. And finally, as I outlined today, momentum is building as we drive a path back to our roots of execution and innovation."
His full statement can be found here.
Outlook
The company is forecasting its fourth-quarter 2021 revenue of approximately $19.2 billion (non-GAAP revenue of $18.3 billion), expecting fourth-quarter EPS of $0.78.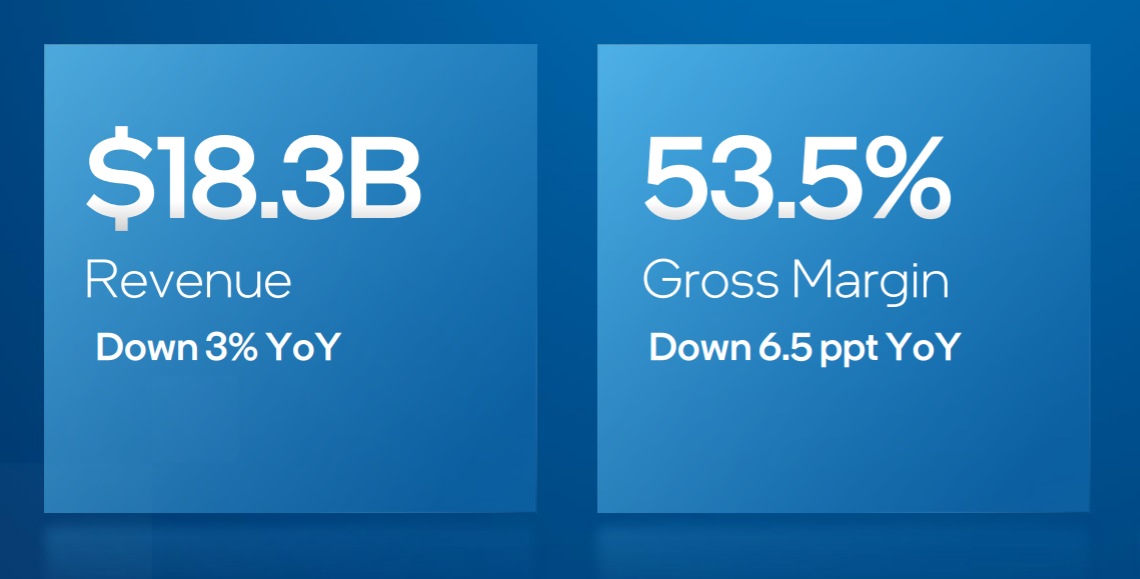 Intel's non-GAAP measures exclude the NAND memory business, which is subjected to a previously announced pending sale, as well as certain other items.

Intel will be making a series of product and technology announcements at its upcoming innovation virtual event on October 27–28, 2021. The conference is for developers and industry insiders.
What do we think?
In September, Intel announced the end-of-life of the RealSense LiDAR, tracking, and facial authentication products. This is, of course, part of Intel's plan to wind down its RealSense business. RealSense's CTO, Anders Grunnet-Jepsen left and took a position as head of advanced development at Luminar.
Intel appointed former VMware CTO Greg Lavender as its new CTO and announced the departure of longtime executive Navin Shenoy. Lavender fills the seat left by former Intel CTO Michael Mayberry, who retired in late 2020.
Name that chip. The company has tweeted an image (at the beginning of this story) and reviewing the codenames for the dGPUs it's working on. The first is Alchemist, which will arrive in early 2022, followed by Battlemage, Celestial, and Druid.
Intel has asked, in a tweet,  for ideas for the follow-up dGPU starting with "E." Some of the replies included E=MC2, Evanescence Enchantress Elemental, and others.
And as part of Gelsinger's cleaning up and reorganizing, Intel is ending its pursuit of being a prime contractor for big supercomputer deals, something Intel's Data Center Group started in 2015.
Gelsinger is shaking up Intel, and it will take three years or more before the results are evident. It is investing heavily in its dGPU development program, in its neuromorphic and other AI processors and software, while at the same time building new fabs, pushing silicon into the angstrom realm, and lobbying the U.S. government to back the expansion of new fabs in the U.S. Not the least of the company's aggressive moves is the announcement it has hired over 6,000 new engineers; that kind of investment will also yield big payoffs.