HTC's lightweight device puts the emphasis on stress—or lack of it.
News is rolling out about XR devices and peripherals in advance of the AWE conference, which this year will be one of the first events to be held in real-life (IRL) as well as virtually and recorded.
Many vendors aren't waiting for the conference to introduce their new devices, nor should they. One side effect of this long pandemic period is that our work lives are spent in one continuous conference.
So, as we peek through the blinds at what's coming in XR, we are seeing emerging segmentation and the building of infrastructure in the form of cloud support. What we're not seeing yet is a drive towards standardization. Much like the early days of the mobile phone, stereo 3D, and VR, content has to be developed for the various platforms.
HTC has come through the pandemic with a renewed interest in creating products that make people happy. In her introductory video, HTC founder, CEO, and Chairman Cher Wang talked about how the pandemic has dramatically changed us all, she said it has made her feel more committed than ever to create "products for good." She added that devices are typically built to help us in what we do, but HTC also wants devices to have a strong relationship with how we feel.
The new  HTC Vive Flow
The newest HTC HMD is the Vive Flow, which gives the company a great built-in motto: Go with the Flow, and communicates the ways in which HTC hopes to see its immersive headsets become more integrated into people's lives. Wang said, "Flow provides the perfect opportunity to escape our four walls and immerse ourselves in our ideal ambiance." The new device has apps for meditation, collaboration, brain games and it supports private movies, TV, and online video ­watching.
With the launch of Vive Flow, HTC also unveiled its Viveport subscription plan. For $5.99 a month, it provides unlimited access to immersive apps for well-being, brain training, productivity, and light gaming. The company says their Lo-Fi room is an exclusive app to give people the illusion of working in a cozy café. There is also a Viewport app store for more apps. Users can also play content from their phones.
The Vive Flow is compatible with Android phones (P and above). The phone, as a matter of fact, serves as the device's controller. It fits close to the face with a face gasket and temple pads like that of HTC's Vive Focus. It also features internal cooling via a fan that pulls hot air away from the user's face. Audio is supplied by stereo speakers. and the device also allows the use of external Bluetooth headphones. It has dual microphones with echo and noise cancellation and support for spatial audio.
As we said, the glasses are lightweight, only 189 g, and also foldable—the 1.2M cable adds 50 g. HTC also offers an optional cylindrical carrying case.
The device has 4GB of RAM and 64GB of ROM.
Vive Flow has two 2.1-inch LCD displays with1600 × 1600 resolution per eye and a 75 Hz refresh rate. In addition, the Flow has two adjustable diopter dials to individually focus each lens.
While the Flow does have a USB-C power cable, it can also be used with compatible battery packs and supports hot-swapping power thanks to an uninterruptible power supply system that supports the headset for up to 5 minutes, so content is not interrupted. It could be plugged into the mobile phone for instance, but that will add drag on the battery life. HTC also offers an optional 10,000 mAh power bank for extra battery life.
Video pass-through is enabled through two cameras, which enable 6DoF tracking. It has WiFi and Bluetooth 5.0 capability.
HTC's collaboration environment is called Vive Sync and lets users connect remotely. Users can also choose different environments to share. The idea is, if you'd much rather be working on the beach, you and your collaborators can hang out together on a cartoon beach as avatars.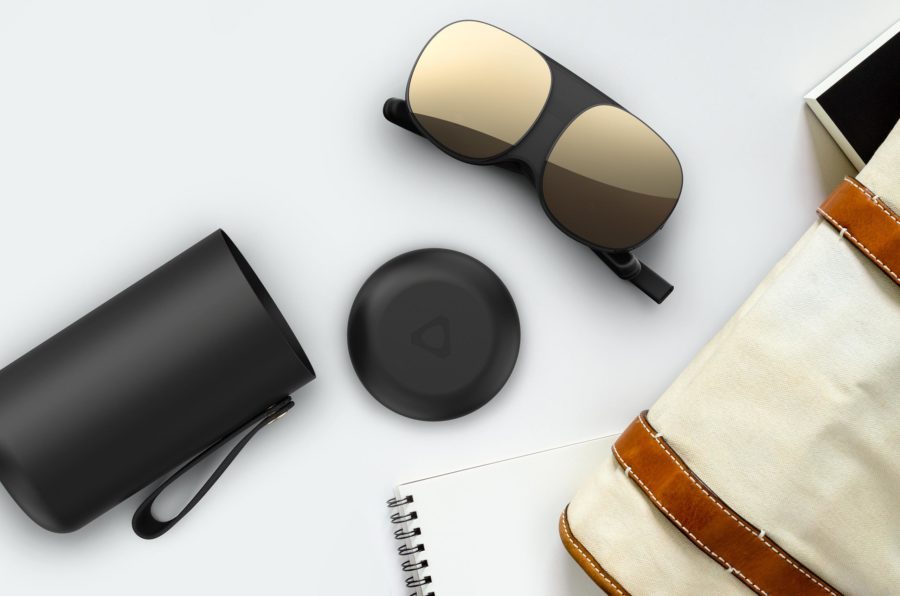 The Vive Flow is priced at $499 USD and will ship in November. It can be pre-ordered from HTC's website, as a bonus, pre-ordering includes the carrying case and 7 content applications.
What do we think?
HTC has shown consistent support for XR. With the addition of the Flow, HTC's has four product lines: Flow, Pro, Focus, and Cosmos. The company has details on all these devices on their website. HTC was able to get a good jump on the competing headsets by virtue of getting out there first with a workable device and it's been steadily adding on.
In the early days of VR software, the Vive was the headset of choice as the most affordable and available device.
As games ever so slowly evolve to adapt to VR, which is how I'm choosing to say none really have, HTC's strategy of providing users with light applications for relaxation, distraction, and meditation makes a lot of sense. I am also heartened by VR documentaries. This is an area where Oculus has made a considerable investment in content.
This fall and heading into the new year look like important years on the XR timeline. There is a high availability of headsets. Apple's out there giving everyone the heeby-jeebies as usual, but we'll just have to wait to see what they come up with, but you'll note, there wasn't a peep about it in the latest Apple unveiling, which focused on music and primarily, the next generation of M1 chips.