Q2 revenue up 19.4% YoY to $19.7 billion dollars.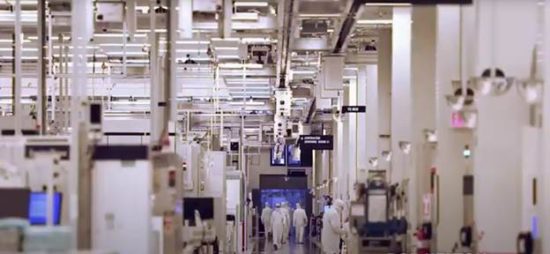 The new normal is not normal, and may not be again for a long time. Q2 which has traditionally been a down quarter was up for Intel year-to-year, and flat quarter-to-quarter. But Q3 is being guided down, and Intel still is dealing with manufacturing issues—the new normal.
By midday the day after Intel's report, AMD soared over 15% while Intel fell almost 16%.
Intel reported its calendar Q2 2020, revenues were up 19% over the same quarter last year but down 0.5% over last quarter. The PC-centric (CCG) business that Intel is trying to get out of grew 8% over last year, but was down 3% from last quarter to $9.5 billion, and the data-centric (DCG) business that Intel is trying to transition to increased 44% over last year and up 3% from last quarter to $7.2 billion.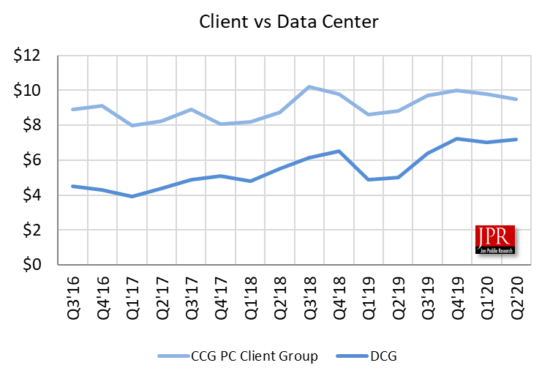 Q2 was very good compared to last year and almost normal quarter-to-quarter—almost.
"It was an excellent quarter, well above our expectations on the continued strong demand for computing performance to support cloud-delivered services, a work- and learn-at-home environment, and the build-out of 5G networks," said Bob Swan, Intel CEO. "In our increasingly digital world, Intel technology is essential to nearly every industry on this planet. We have an incredible opportunity to enrich lives and grow this company with a continued focus on innovation and execution."
Year-to-date, the company has generated $17.3 billion cash from operations and $10.6 billion of free cash flow and paid dividends of $2.8 billion. Intel is expecting full-year revenue of $75 billion.
Client Computing Group
The PC-centric business (CCG) was up 8% YoY in the second quarter on notebook strength driven by the continued work- and learn-at- home dynamics of COVID-19, which also contributed to a volume decline in desktop form factors as demand shifted to notebooks.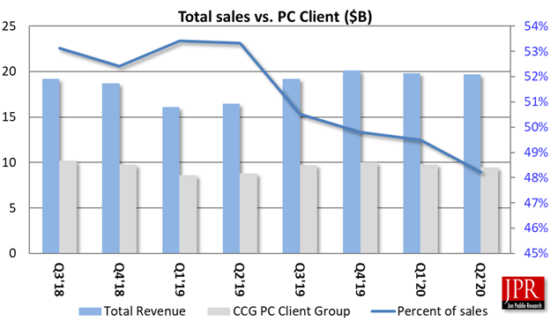 In the second quarter, Intel expanded its 10th Gen Intel Core processor line-up with the launch of new Core S and H series processors for desktop and mobile gaming as well as the new 10th Gen Intel Core vPro processors, which feature productivity and hardware-based security features for commercial PCs. The second quarter also marked the launch of Intel Core processors with Intel Hybrid Technology, code-named Lakefield, which use Foveros 3D packaging technology and feature a hybrid CPU architecture for power and performance scalability.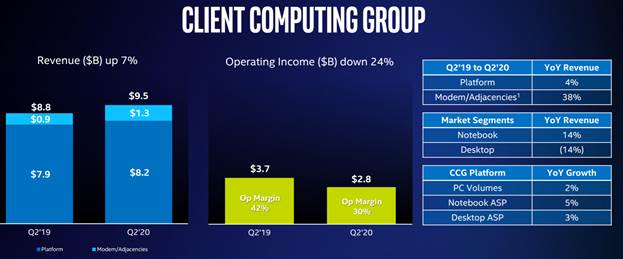 Second-quarter data-centric results were led by strength in the Data Center Group (DCG) with revenue up 43% YoY driven by 47% YoY growth in cloud service provider revenue. Intel added to its data-centric product offerings in the second quarter with the introduction of new 3rd Gen Intel Xeon Scalable processors and new additions to its hardware and software AI portfolio for data center, network and intelligent-edge environments. Intel's memory business (NSG) saw record revenue for the quarter, and the company says its portfolio for 5G network infrastructure gained customer momentum, highlighting the 10-nm-based Intel Atom P5900 for wireless base stations. Mobileye, said the company, continued to win new ADAS designs in a challenging economic environment for automotive, and Intel acquired Moovit, a mobility-as-a-service (MaaS) solutions company, advancing Mobileye's plan to become a complete mobility provider.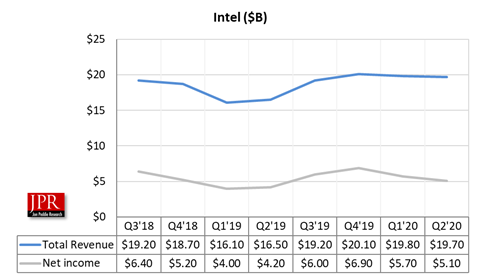 Just over under half (48%) of Intel's revenue comes from client computing, CCG includes platforms designed for end-user form factors, focusing on higher growth segments of 2-in-1, thin-and-light, commercial and gaming, and growing adjacencies such as WiFi and Thunderbolt.
Outlook
The company has lowered its Q3'20 revenue outlook to $18.2 billion in response to significant economic uncertainty.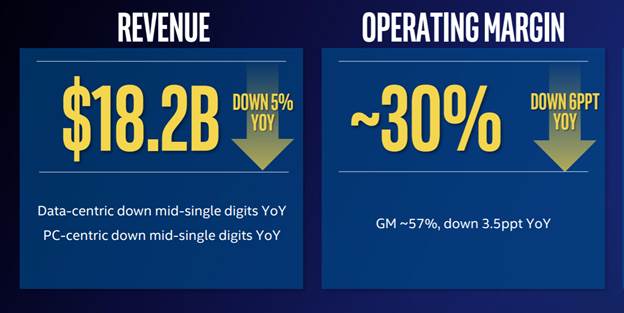 Intel's Business Outlook does not include the potential impact of any business combinations, asset acquisitions, divestitures, strategic investments and other significant transactions.
What do we think?
Intel said it is accelerating its transition to 10 nm products this year with increasing volumes and strong demand for an expanding lineup. That includes a growing portfolio of 10-nm-based Intel Core processors with Tiger Lake launching soon, and the first 10-nm-based server CPU Ice Lake, which remains planned for the end of this year.
In the second half of 2021, the company said it expects to deliver a new line of client CPUs (code-named Alder Lake), which will include its first 10-nm-based desktop CPU, and a new 10-nm-based server CPU (code-named Sapphire Rapids).
However, the company's 7-nm-based CPU product timing is shifting approximately six months relative to prior expectations. The primary driver is the yield of Intel's 7 nm process, which based Swan's comments, is now trending approximately 12 months behind the company's internal target.
One interpretation of this statement is that Intel bungled 10 nm and shifted to 7 nm to make up lost ground, and then couldn't get it working.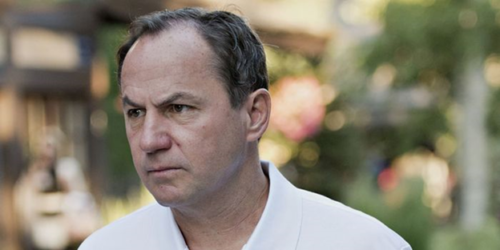 Bob Swan said Intel has identified a defect in its 7 nm production process that caused degradation and has taken steps to address it. He said there's no insurmountable obstacle to 7 nm production though the company has prepared contingency plans and is ensuring that product competitiveness is not affected by Intel's technology road-map mishaps.
Swan said the plan is still to deliver strong performance on products that Intel manufactures, but admitted he has a fallback plan of third-party foundries in mind.
"To the extent that we need to use someone else's process technology, we will be prepared to do that," said Swan.
Swan implied that it might be a possibility for portions of the Ponte Vecchio data center GPU.
If Intel is going to hit the performance requirements for a datacenter dGPU, the company is going to have to produce it in 7 nm, and since the clock is ticking on the delivery of that dGPU Intel may have to do what AMD and Nvidia have done and have their GPU built by TSMC. Intel has used TSMC before but never for something as high a profile as the vaunted dGPU Xe. I give Swan great credit for being so courageous and straight thinking on this, and know it is going to be a very hard pill to swallow, but as grandma always said, pride goeth before a fall.