In spite of it all, or actually because of it all; Medidata business boosts Dassault's revenues.
Dassault's diversity continues to serve the company well. Like all companies, Dassault Systèmes is seeing some of its segments suffer as the Coronavirus shuts down businesses and production. The company's traditional business in PLM is hitting rough road, but the company has moved well beyond its traditional business with significant investments in simulation, data management, supply chain management, and most significantly, the health sciences. As we mentioned in our write up of Dassault's revenue for the first quarter of 2020, the acquisition of Medidata has transformed the company with an expanded Life Sciences segment.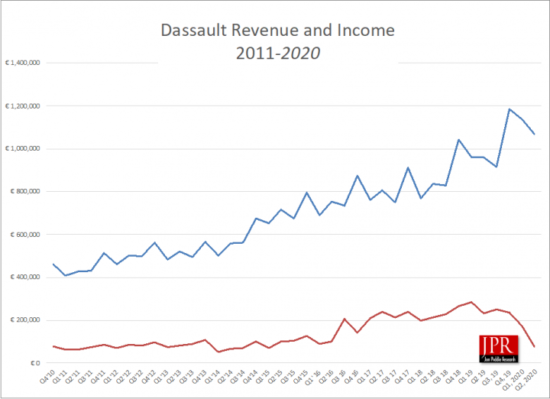 At the company's recent meeting "3DExperience: A Virtual Journey" held digitally in the last week of July, the company promoted its tools to enable the transition to more resilient business models and production practices. Under any circumstances, Dassault's broad interests provide balance in difficult times, but Medidata is at the forefront of testing medicines and vaccines during a pandemic. Conversely, during the pandemic, traditional industries have slowed.
For the second quarter of 2020, Dassault announced revenues of €1,070 million, an increase of 10% over the same quarter last year in constant currency. Dassault's CFO Pascal Daloz notes that the revenue came in at the midpoint of their guidance. For the half-year, total revenue increased by 14%.
Dassault's software revenue benefitted from the contribution from Medidata and increased 12% in the second quarter but while Life Sciences have added to Dassault's bottom line, the company's traditional product line, Industrial Innovation, which includes Catia and Enovia, decreased by 9%. Daloz notes that last year Catia and Enovia increased in the second quarter of 2019, making the contrast all the more dramatic.
Daloz says, "Medidata is well-positioned to achieve its growth objective for the full year." Of particular note are the current mRNA-1273 vaccine trials Medidata is conducting with Moderna which involves 30,000 patients. Medidata obtains data directly from patients through its cloud-based platform. In addition, Dassault's Biovia group benefitted from a deal with Galapagos clinical-stage biotechnology company.
Dassault Systèmes has been promising to build an AEC application, and its tools are used in architectural design. This quarter, the company has added on to its AEC deals with an agreement with Bouygues Construction, which will collaborate with Dassault on building a residential product line for modular construction using the 3DExperience platform.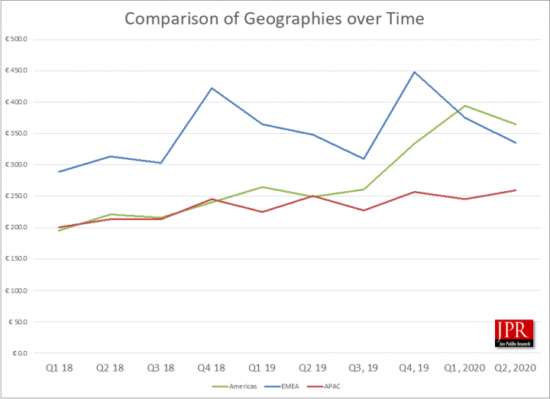 In addition, Dassault Systèmes has announced the acquisition of Proxem, which CEO Bernard Charlès calls "a beautiful start-up to expand our 3DExperience Collaborative Data Science capabilities."
The company's summary for its Q2 and first half performance:
Q2 non-IFRS Operating Margin and non-IFRS EPS at the high-end of guidance reflecting strong operational performance.
Q2 IFRS and non-IFRS total revenue up 10% in constant currencies; non-IFRS recurring software up 30% with Medidata and solid organic support renewals.
Q2 cash flow from operations of €397 million, with H1 at €855 million.
Medidata delivers double-digit non-IFRS revenue growth and strong non-IFRS operating margin uplift in H1, on a comparable basis.
Acquisition of Proxem, a specialist in AI-based information semantic processing expanding our collaborative data sciences offer.
Confirming FY 2020 Financial Framework with an Objective of 2020 non-IFRS EPS reaching about €3.70 to €3.75 (€3.65 for FY 2019)
Dassault is skillfully maneuvering through the immediate crisis of the pandemic with the help of its Life Sciences brand. Part 2 is yet to come. The world still has a deep recession to contend with and Dassault's Industrial Innovation (Catia/Enovia) and Mainstream Innovation (SolidWorks) segments are vulnerable. (See: Dassault's Q1 results could be a harbinger of the future.)
What do we think?
Dassault Systèmes is very very good at acquiring its way out of a tight spot. As the revenue/income chart demonstrates, the company has grown steadily over the years even before the arrival of Medidata and it has added on tools for pharmacology development, medical simulation and analysis, and R&D testing and development.
Likewise, Dassault Systèmes has been expanding its traditional businesses following the digital thread like a lifeline, or more accurately a roadmap. It has added electrical design tools, ERP, factory simulation, etc., to fill out end-to-end processes. The company hopes to transform and expand its design and PLM tools through its development of a cloud-based ecosystem and by integrating capabilities so users can add on capabilities and become more efficient. In his talks to analysts, Bernard Charlès says customers are very open to the company's plans for its CAD/PLM products. Unfortunately, now is not a good time for companies to make big moves.
Tomorrow is going to be a very good time to make big moves and customers all over the design and manufacture universe are evaluating those moves.