Revenue for the quarter was 15% up from last quarter to $17 billion, GAAP profit was $5 billion, sales and profit up from last quarter.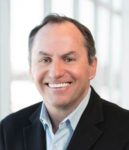 Intel reported its calendar Q2 2018, revenues were up 15% year-over-year driven, says the company, by strength across the business and customer demand for performance-leading Intel platforms.
"After five decades in tech, Intel is poised to deliver our third record year in a row. We are uniquely positioned to capitalize on the need to process, store and move data, which has never been more pervasive or more valuable," said Bob Swan, Intel CFO, and Interim CEO.
Intel is now competing for a $260 billion market opportunity, and its second-quarter results show it is doing well. "As a result of the continued strength," said Swan, "we are seeing across the business, we are raising our full year revenue and earnings outlook."
Second-quarter revenue was $17 billion, up 5.6% quarter-over-quarter. Data-centric businesses grew 26%, approaching 50% of total revenue. PC-centric revenue was up 6% on strength in the commercial and enthusiast segments. Operating margin leverage and lower tax rate drove excellent EPS growth.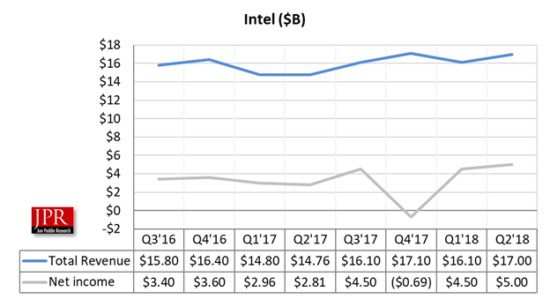 Spending for R&D was $3.4 billion, up 5.5% from last quarter, and down 4% from last year.
Client Computing Group
The Client Computing Group (CCG) launched several new 8th Gen Intel Core processors including an 8th Gen Intel Core i9 processor for high-performance laptops, 8th Gen Core vPro processors for business, and the 8th Gen Core i7-8086K limited-edition processor for gaming.
Notebook ASPs were down (1)% from last year. Desktop ASPs were up 1% from last year.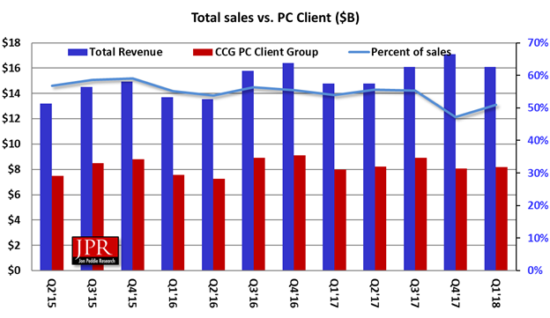 In the second quarter, Intel achieved revenue growth in every business segment. The PC-centric business grew 6% driven by strong demand with particular strength in gaming and commercial.

Over 50% of Intel's revenue comes from Client Computing, and the PC market is showing strength and new growth (see the above figure).
Outlook
With regard to guidance, Intel said it expects $1.15 in earnings per share, excluding certain items, on $18.1 billion in revenue in the third quarter. Analysts had expected $1.08 in earnings per share, excluding certain items, on revenue of $17.60 billion for the period, according to Thomson Reuters.
The company also raised its outlook for the full year, bringing it to $4.15 in earnings per share, excluding certain items, on $69.5 billion in revenue. For the full year, analysts had been looking for $4.01 per share, excluding certain items, on $68.43 billion in revenue.
What do we think?
The quarter's PC shipments were up 2% from last quarter, above normal seasonality (see red line in the following chart). And, compared to last year, it was up 2.2 %. This is the first Q-Q and Y-Y good news in a very long time.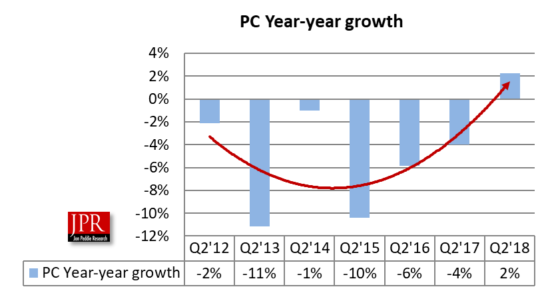 However, Intel' share price has shown some good gains over the past four months.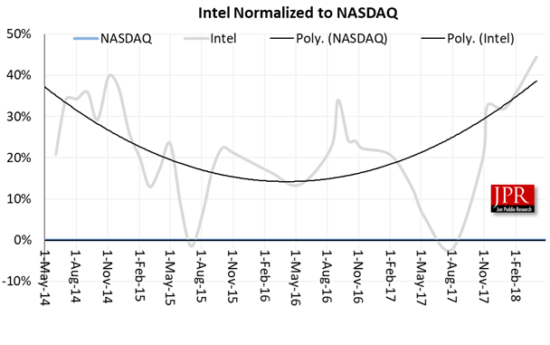 There is still a concern, however, by investors because other firms such as Samsung are already making 10-nm chips and TSMC is shipping sample quantities of 7 nm (see AMD story).
In the second-quarter results, Intel said that its 10-nm yields are "on track" with systems on the market in the second half of 2019. On the conference call with analysts on Thursday, Swan was more specific and said products would be on shelves in time for the holiday season.
Murthy Renduchintala, group president of the technology, systems architecture and Client group, said on the call that the products that will become available in 2019 are Client Computing products, whereas products for data center use will come "shortly after." The stock fell further after those comments but later rebounded as executives talked about ongoing research and development for next-generation 7-nm technology.
Who's the next CEO??
Intel Corp. interim CEO Bob Swan, who replaced the ousted Brian Krzanich, told the company's employees he doesn't want the job permanently, according to Bloomberg.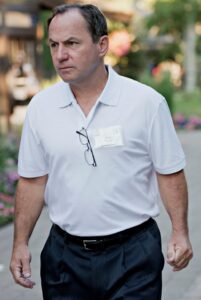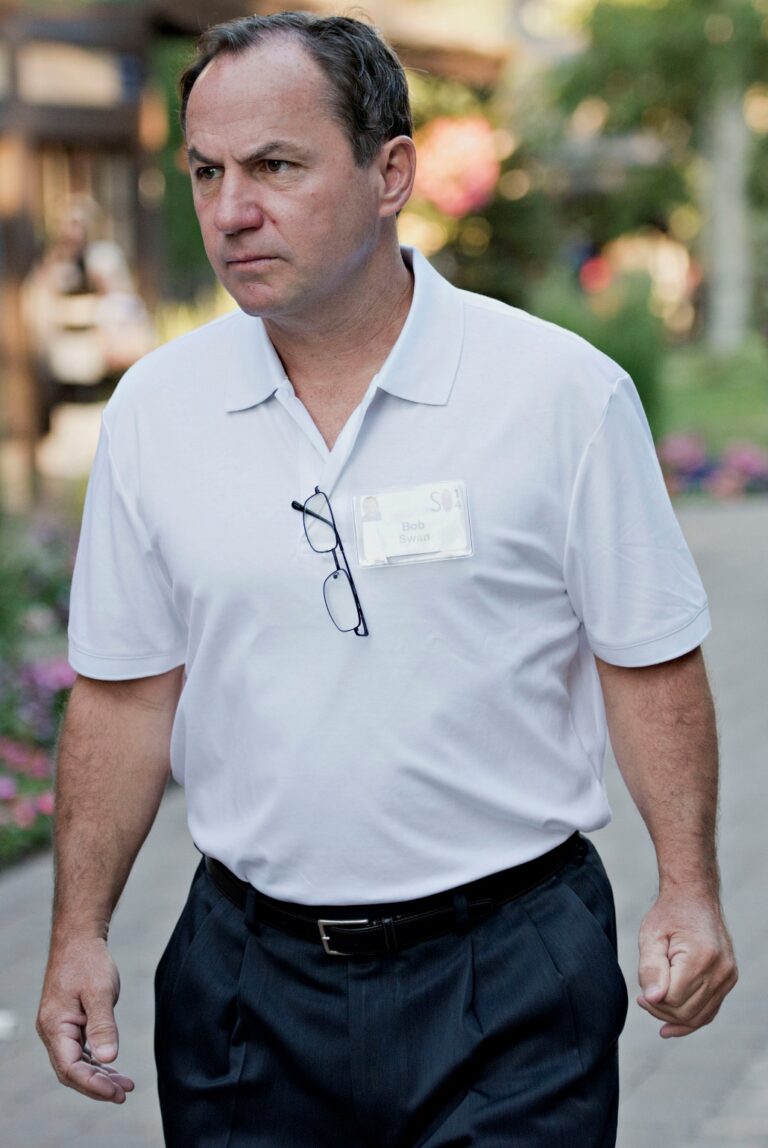 Recently, Intel announced that its board of directors had promoted three corporate officers: Navin Shenoy, Gregory Bryant, and Sandra Rivera.
Navin Shenoy was promoted from senior vice president to executive vice president and is the newly appointed general manager of Intel's Data Center Group (DCG).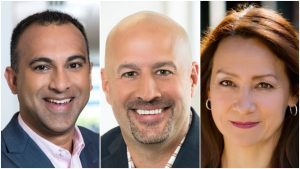 Gregory Bryant was promoted from corporate vice president to senior vice president and is the general manager of the Client Computing Group (CCG).
Sandra Rivera was promoted from corporate vice president to senior vice president and is general manager of the Network Platforms Group.
With these promotions, Bryant and Rivera join Shenoy on Intel's management committee.
Are they being groomed for the presidency? Or, is there a bigger elephant in the room? A lot of people are betting former Qualcomm VP, Murthy Renduchintala, will be the next CEO at Intel.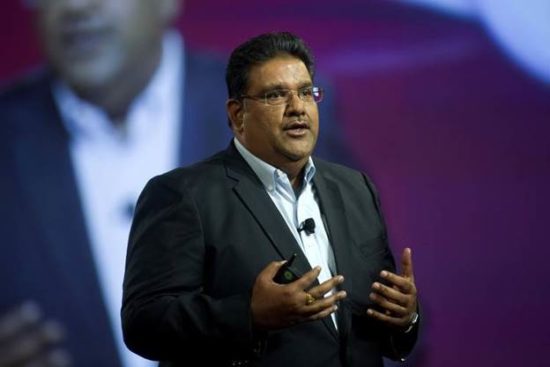 Murthy Renduchintala is also credited (via the rumor mill) with playing a big role in Intel's win of the Apple iPhone modem business which Qualcomm indicated is lost to them.