Best quarter in seven years, $1.76 billion in sales, $116 million GAAP profit for the quarter, sales and, profit up from last quarter.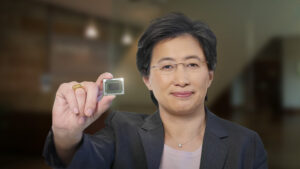 AMD reported a record quarter for calendar Q2 2018, revenues and operating income were up as well as its graphics and compute groups revenue and profits.
Every metric was up including the company's gross margin which was 37%, up three percentage points Y/Y, and one point Q/Q.
This is AMD's seventh quarter of increased sales. Operating income was $153 million, compared to $(1 million) a year ago and operating income loss of $81 million in the prior quarter. Net income was $116 million, compared to a net loss of $81 million a year ago and net income loss of $(42) million in the prior quarter.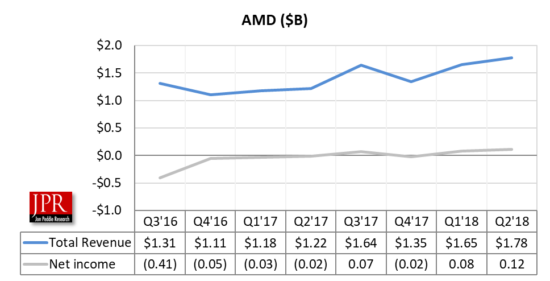 R&D expenses were $357 million (or 20% of revenue), up $72 million Y/Y and $14 million Q/Q. MG&A expenses were $142 million (8% of revenue), up $15 million Y/Y and $8 million Q/Q.
Graphics group
Computing and Graphics segment revenue was $1.09 million, up 64% Y/Y and down 3% Q/Q. The Y/Y and Q/Q increase was primarily driven by strong sales of Radeon graphics and Ryzen desktop processors.
Client processor average selling price (ASP) was lower year-over-year and quarter-over-quarter primarily due to lower desktop processor ASP, partially offset by higher mobile processor ASP.
GPU ASP increased year-over-year driven by Radeon products for the channel and datacenter. GPU ASP increased quarter-over-quarter driven by GPU sales for the datacenter.
Operating income was $117 million, compared to operating income of $7 million a year ago and operating income of $138 million in the prior quarter. The year-over-year operating income improvement was primarily driven by higher revenue. The quarter-over-quarter operating income decline was primarily due to lower revenue and higher operating expenses.
At Computex 2018, AMD showcased the next-generation of leadership CPU and GPU products including the first public demonstrations of:
The 12-nm Zen+-based 2nd Generation Ryzen Threadripper CPU, features 32-cores and 64-threads of HEDT computing power and is scheduled to launch in Q3 2018.
The 7-nm Radeon Vega architecture-based GPU for servers and workstations that is planned to launch later in 2018.
One year after its market debut, AMD EPYC datacenter processor sales continue to accelerate, with new platform deployments and commitments from industry leaders:
HPE launched two new AMD EPYC platforms, including the ProLiant DL325 Gen10 server delivering two-socket performance in a one-socket server.
Cisco launched the first ever AMD-based UCS server, with EPYC processors powering Cisco's highest density offering with 128% more cores, 50% more servers and 20% more storage per rack compared to their existing rack offerings.
Tencent Cloud now offers an EPYC processor-based SA1 Cloud instance, delivering exceptional performance at a lower total cost of ownership compared to other solutions.
The National Institute for Nuclear Physics in Italy selected the AMD EPYC 7351 processor to power its high-performance computing cluster.
AMD announced the unprecedented adoption of its AMD Ryzen PRO processors with Radeon Vega graphics, with new commercial notebooks and desktops now available from Dell, HP, and Lenovo.
AMD continued to expand its offerings for gamers.
AMD announced that Radeon FreeSync technology is now supported across Samsung's QLED TV family, bringing the ultimate 4K gaming experience to large-screen TVs.
PowerColor unveiled the Radeon RX Vega56 Nano Edition AIB for enthusiast 4K gaming in small form factor PCs.
At E3, AMD announced an expanded partnership with Ubisoft to leverage DirectX12 technology to optimize their next-generation games for Radeon GPU users, including the highly anticipated "Tom Clancy's Division 2" title.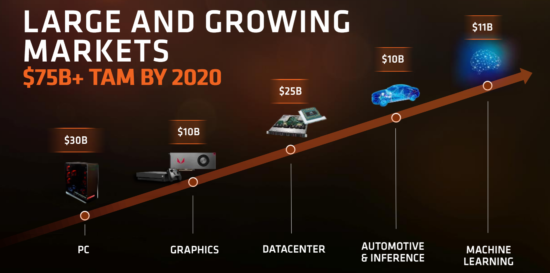 At Computex 2018, AMD announced details for upcoming computing and graphics products including its first 7 nm product, a Radeon Vega GPU specifically built for machine learning applications, as well as next-generation Ryzen CPUs and desktop Ryzen APUs.
Other
"We bet heavily on 7 nm, we thought 7 nm would be a big node for the industry," Su told analysts on a conference call.
"When you look at where we are today on the CPU side, we have the first silicon on our Rome products, it looks really good."
Su also said AMD will look to up its spending in the software space as it looks to squeeze more performance from its silicon.
"We have a lot of opportunity on the software side across CPUs and GPUs to accelerate some of our machine learning work," Su said, "and that is where incremental R&D would go."
Investors were enthusiastic about the soaring revenues, and AMD stock was up 5% after-hours at $16.88 per share.
Outlook
For the third quarter of 2018, AMD expects revenue to be approximately $1.7 billion, plus or minus $50 million, an increase of approximately 7% year-over-year, and non-GAAP gross margin to increase to approximately 38%, driven by the sales growth of Ryzen and EPYC products, partially offset by lower sales of GPU products in the blockchain market.
What do we think?
Enterprise, Embedded, and Semi-Custom segments revenue were $670 million, up 37% year-over-year and 26% quarter-over-quarter primarily due to higher semi-custom and server revenue.
Operating income was $69 million, compared to operating income of $16 million a year ago and operating income of $14 million in the prior quarter. The year-over-year and quarter-over-quarter increases were primarily due to higher revenue.
All Other operating loss was $33 million compared with operating losses of $24 million a year ago and $32 million in the prior quarter.
AMD blends the sales of their big datacenter processors in their Enterprise group with the low-cost custom APU chips they make for the console suppliers, the two couldn't be more different. We think they do that to hide the low sales they have for the datacenter. If the Epyc processor gains traction as the company forecasts, then they will split out the datacenter.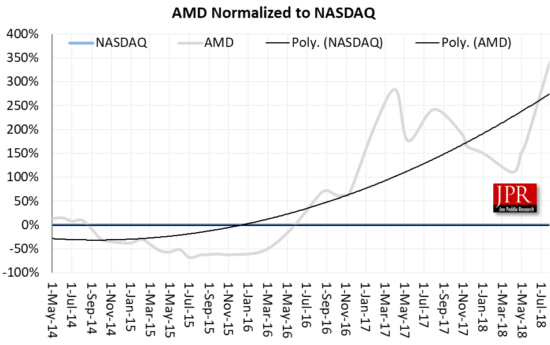 AMD is still the underdog against Intel or Nvidia but is gaining market share from both companies. With two major and distinctly different product types, both competing for resources and management's attention, the company has to do a lot of things right, maybe everything. The report card on that is the bottom line, and it's been looking better almost every quarter. As profits increase, the company can apply more resources to being competitive in the marketing of its products, and reduce its debt. AMD seems to be on the right track and doing just about everything correctly.