First-quarter revenue was $16.1 billion, up 8.8% year-over-year, data-centric* businesses accounted for 49%.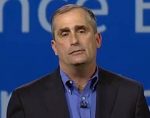 Intel reported its calendar Q1 2018, revenues were up.  The profits were up 655% after a loss last quarter due to a huge tax expense. All of its business centers except McAfee were up.
"Coming off a record 2017, 2018 is off to a strong start. Our PC business continued to execute well and our data-centric businesses grew 25%, accounting for nearly half of first-quarter revenue," said Brian Krzanich, Intel CEO. "The strength of Intel's business underscores my confidence in our strategy and the unrelenting demand for compute performance fueled by the growth of data."
Intel says its transformation continues with all-time high data-centric mix as the company moves from a PC-centric to data-centric company.
First-quarter revenue was $16.1 billion. Excluding McAfee, revenue was up 8.8% year-over-year and data-centric businesses grew 24% year-over-year. The company said data center, Internet of Things, and memory businesses all achieved record revenue.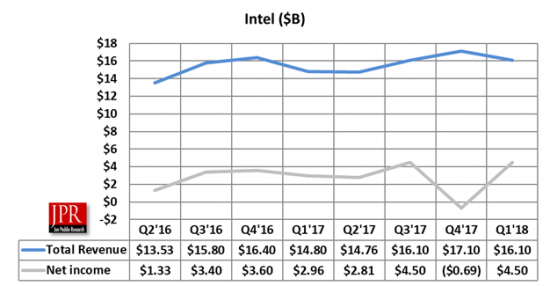 Spending for R&D was $3.2 billion, down 2.5% from last quarter, and down 4% from last year.
Client Computing Group
Client Computing Group, which Intel now calls the Client-Computing Group (CCG) includes platforms designed for notebooks and desktops (including 2-in-1, thin-and-light, high-end desktop, and all-in-one), wireless and wired connectivity products.
The Client Computing Group had revenue of $8.2 billion, was down 2.8% year-over-year, and down 1.7% from last quarter. Notebook ASPs were up 1% from last quarter, and down 5% from last year. Desktop ASPs were up 7% from last quarter, and down 2% from last year.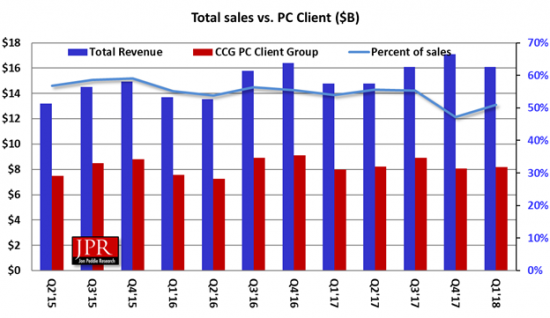 Intel says the Client Group had growth driven by strength in Commercial. However, the operating margin was lower on 10-nm transition costs and modem ramp, partially offset by strong mix.
In the first quarter, the Client Computing Group introduced a new lineup of high-performance mobile products including the 8th Gen Intel Core i9 processor and the Optane memory. The company says it continues to make 14-nm process optimizations and architectural innovations in both data center and client products that will be coming this year. Intel is currently shipping low-volume 10-nm product and now expects 10-nm volume production to shift to 2019.
Other
In the first quarter, the company says it began operating autonomous vehicle test cars in Israel with plans to expand the fleet to other geographies.
Intel had forecasted large scale release of 10-nm chips for this year but Bob Swan, Intel CFO said that Intel had "bit off a little too much in this case." However, Krzanich said the company is shipping 10-nm product now. "There is nothing wrong with the design library. If there were basic functionality issues, you wouldn't be able to ship a product," he explained.
Cannon Lake 10-nm chips will roll out for the data center this year and Intel will continue to take advantage of 14 nm with a new product code-named Whiskey Lake this year.
What do we think?
The quarter's PC shipments were down 14% from last quarter, about normal seasonality (see red line in the following chart). And, compared to last year, it was down 14.5%.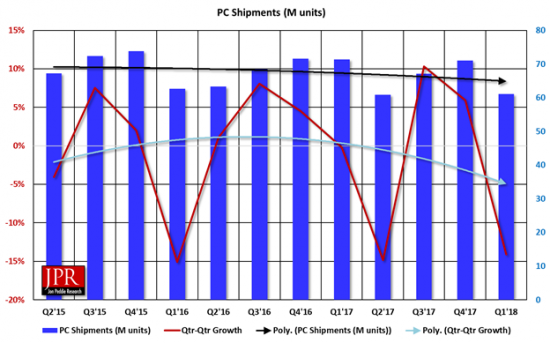 The year-to-year trend is still slipping, and the quarterly change is sometimes encouraging the bottom so many of us thought would have been reached by now still seems elusive.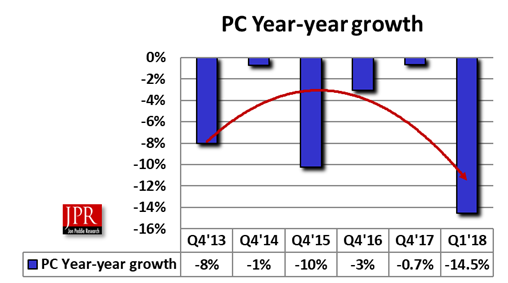 However, Intel' share price has shown some good gains over the past four months.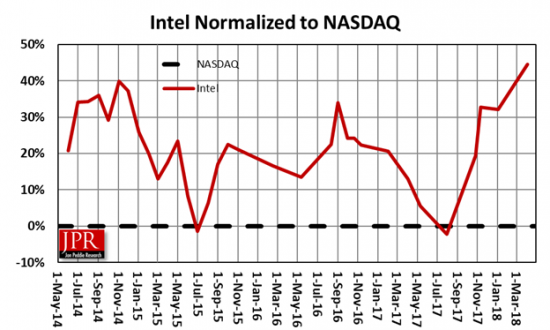 There is still concern, however, by investors because other firms such as Samsung are already making 10-nm chips and TSMC is shipping sample quantities of 7 nm (see AMD story).