$1.65 billion in sales, $121 million GAAP profit for the quarter, sales and profit up from last quarter.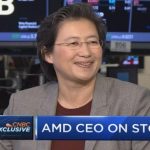 AMD reported its calendar Q1 2018, and got a round of applause from investors, in the form of a bump in their stock price. Revenues and operating income were up as well as its graphics and compute groups revenue and profits.
The first quarter was an outstanding start to 2018 with 40% year-over-year revenue growth," said Dr. Lisa Su, AMD president and CEO. "PC, gaming and datacenter adoption of our new, high-performance products continues to accelerate.  We are excited about our long-term roadmaps and focused on delivering sustained revenue growth and profitability.
The company's gross margin was 36%, up 4 percentage points Y/Y, and one point Q/Q.
Operating income was $120 million, compared to $11 million a year ago and operating income loss of $(2) million in the prior quarter. Net income was $81 million, compared to a net loss of $33 million a year ago and net income loss of $(19) million in the prior quarter.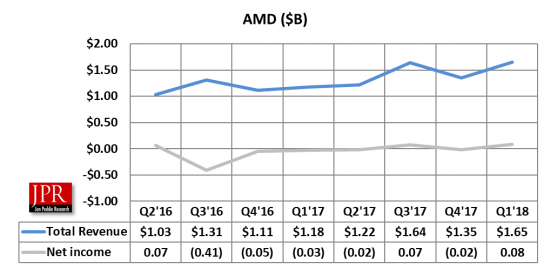 R&D expenses were $343 million (or 21% of revenue), up $80 million Y/Y and $40 million Q/Q. MG&A expenses were $133 million (8% of revenue), up $10 million Y/Y and flat Q/Q.
Graphics group
Computing and Graphics segment revenue was $1.12 million, up 89% Y/Y and 17% Q/Q. The Y/Y and Q/Q increase was primarily driven by strong sales of Radeon graphics and Ryzen desktop processors.
Client average selling price (ASP) increased Y/Y due to an increase in desktop processor ASP, driven by sales of Ryzen processors. Client ASP was flat Q/Q.
GPU ASP increased Y/Y and Q/Q driven by a greater percentage of revenue from Radeon products.
Operating income was $138 million, compared to an operating loss of $21 million a year ago and operating income of $33 million in the prior quarter. Operating income improvement was driven by higher revenue.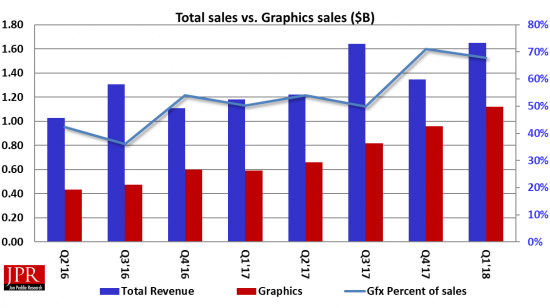 Adoption of AMD products for the datacenter continued with new AMD EPYC processor-powered platforms and deployments.
Dell EMC introduced three new PowerEdge platforms powered by AMD EPYC 7000 series server processors.
Yahoo Japan Corporation and Packet joined the expanding list of global businesses deploying EPYC processors to enhance the performance and efficiency of their datacenters.
Cray announced that it added EPYC processors to its Cray CS500 line of HPC offerings.
Or, in AMD's words: "AMD continued returning innovation and excitement to the PC market with the introduction of new consumer-focused desktop processors."
AMD introduced the first AMD Ryzen desktop APUs, combining the high-performance Radeon "Vega" graphics architecture with revolutionary "Zen" CPU cores on a single chip.
AMD also delivered the next products in the Company's strong multi-generational roadmap with the launch of its 2nd Generation Ryzen desktop CPUs just over one year after bringing the first Ryzen processors to market. The new, second Generation Ryzen processors can deliver up to 15% higher gaming performance compared to the first Generation Ryzen processors, with the Ryzen 7 2700X processor delivering the highest multiprocessing performance available on a mainstream desktop PC.

At CES 2018, AMD announced details for upcoming computing and graphics products including its first 7 nm product, a Radeon "Vega" GPU specifically built for machine learning applications, as well as next-generation Ryzen CPUs and desktop Ryzen APUs.
Other
On CNBC, CEO Lisa Su indicated that cryptocurrency mining accounts for just 10% of revenue, which is less than the market had assumed. That was seen as good news given the decline in bitcoin prices between March and April, although the recent recovery has offset many of those losses. Various analysts raised their price target on AMD stock to $14.00 per share.
During AMD's conference call, Lisa Su announced that 7 nm GPU production was on track, and that AMD still expects to ship a 7-nm Vega in the machine learning market later this year. AMD is using TSMC for that product, and Su said she not concerned about capacity. AMD's foundry strategy is to use both TSMC and GlobalFoundries on their first 7-nm products.
Outlook. For the second quarter of 2018, AMD expects revenue to be approximately $1.725 billion, plus or minus $50 million, an increase of 50% year-over-year, and non-GAAP gross margin of approximately 37%.
What do we think?
AMD acquired graphics pioneer and leader ATI in 2006 and to years later pushed the graphics group to the background, underfunded R&D, and positioned it such that speculation ran that they would spin it off, if they didn't get acquired by Intel or Nvidia.
And then in 2013 Lisa Su came in, with a strong graphics background, and appreciation for the power of a GPU. She became CEO in 2014, and put the graphics group on firm footing as an equal partner. People who had left AMD started coming back. The company won a clean sweep of the console market with ARM-based Nintendo and started making the chips that power every single Xbox One and PS4. The company captured the position of being the exclusive provider of GPUs for Apple machines, and in late 2017 started shipping GPU chips to Intel for its H-series 8th generation Core chips. Long time partner Nintendo moved away from AMD with its Nvidia-ARM-based Switch, but that didn't slow down AMD at all.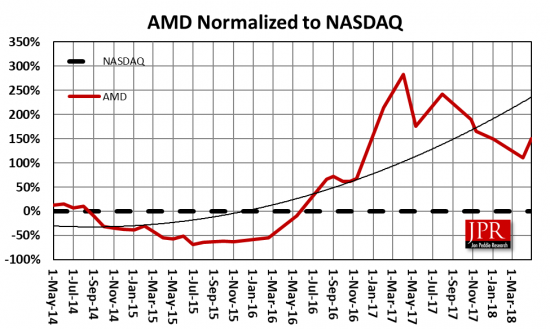 The company posted an image on Twitter of a Radeon Instinct AIB with the message, "7 nm @RadeonInstinct product for machine learning is running in our labs." Lisa Su said the company plans to offer samples of these cards later this year. That is strong messaging, especially in view of the difficulties Intel is having in getting 10-nm production yields up.
In terms of size, Intel dwarfs AMD—ten to one—and AMD swings in and out of profitability.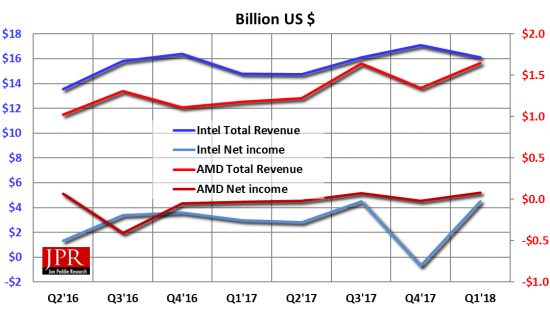 However, the positive signs are the company's ASP and margins are increasing and the OEM wins are increasing, all positive vectors for the company.
At the recent COFES conference, Mark Papermaster, CTO of AMD, said AMD will also be introducing a GPU targeted at machine learning, and Ms. Su confirmed that in her comments.
All in all, things look pretty good for AMD right now and the momentum seems to be in their favor.