A game-changer for the company's traditional customers. Rendering becomes an intrinsic part of the modeling process.
Trimble has once again rejiggered its SketchUp lineup and is creating a powerful design and visualization tool in SketchUp Studio, its top-of-the line option. The big news for SketchUp Studio is the integration of Chaos rendering from V-Ray and also support for point cloud data. However, with the update comes a limitation. SketchUp Studio is now a Windows only product.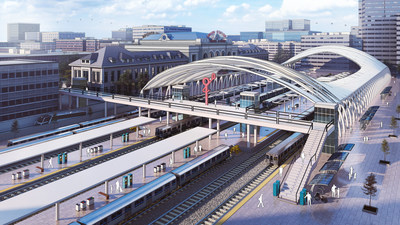 The update expands the ability to render content in SketchUp, says Hugh McEvoy, director, Strategy and Business Development at Trimble. Users can generate high-definition photorealistic visualizations or create realtime renderings. They can also take an inside-out look at the visualizations with the new VR support.
One of the important uses of SketchUp is as an exploration tool as well as a presentation tool for planning and approval. McEvoy says, "design visualization is a critical element in conveying a compelling visual story, showcasing the merits of a proposal and in making better design decisions."
SketchUp Studio supports global illumination, artificial lighting, realistic materials and textures, atmospheric effects, and more.
The integration with V-Ray also gives customers access to Chaos Cosmos, V-Ray's web-based 3D content library. The library includes a lot of 3D content, perfect for dressing a scene such as furniture, lights, coffee cups, plants, etc.
V-Ray Chaos CEO, Peter Mitev, says, "V-Ray is a natural complement to Trimble's SketchUp capabilities to make design easier, smoother, and more enjoyable for AEC professionals." He emphasizes that SketchUp Studio users can create detailed scenes with materials and lighting all within SketchUp.
Scan Essentials
Scan Essentials was first added to the SketchUp family as an extension but this year Scan Essentials is integrated into SketchUp Studio product. Scan Essentials has been jointly developed by Trimble's Building Construction Field Systems (BCFS) group and the SketchUp team. It works with SketchUp's native tools and supports RWP, LAS/LAZ, E57, TZF, and PLY. Users can snap to and model with scan data. SketchUp's LayOut tool for 2D documentation also supports the scan formats to enable export in 2D and the creation of PDFs.
Features include:
Snapping and modeling directly on the point cloud
Point cloud manager for adjusting color and transparency
Inspection tool to compare your model against the point cloud to ensure accuracy
Clipping box to zoom in and focus on specific sections
Simultaneously view all your scan data and 3D models in the field
Create section views with the advanced toolbar
Align scan data with your model
Rotate and move tool to add point clouds
Incorporating configurable 3D Warehouse models onto your point cloud
Add PLY file format to work with scanning data from lidar sensors
LayOut integration to document point cloud data in 2D
SketchUp is now available in three paid options as well as the free online modeling tool.
Free: SketchUp is available for free as a browser-based tool. It comes with 10GB of storage for models and supports mobile viewing.
Shop: The Shop version adds ability to view 3D content, unlimited storage, and support for AR viewer. It is viewed by Trimble as a resource for casual users and is also Web only. It's available for $119/year.
Pro: The Pro Version is available on desktop and in addition to free 3D content and AR support it adds VR, robust 3D modeling, 2D documentation, research tools for design with information about lighting and weather conditions and access to plugins. It's available for $299/year.
SketchUp Studio: As we've been saying, the Studio version adds the Scan Essentials and Chaos rendering integration. Export to LayOut also supports point cloud information in 2D. There is support for realtime visualization during modeling, photorealistic rendering, and also support for rendered animations and 3D panoramas. It's available for $699/year.
SketchUp is becoming a more integrated part of Trimble's end-to-end vision for design, engineering, and construction.