As software applications increasingly take advantage of GPU features, customers take notice. PC GPU market shipments increased by 3.4% sequentially from last quarter but decreased year-to-year by -1.3%.
The PC market has seen modest growth as the market rewards specialized hardware designs over low-cost "vanilla" PCs. The trends have favored workstations, gaming machines, and machines for creatives. The latest report from Jon Peddie Research supports this view. The report sees an increase in sales of discrete GPUs.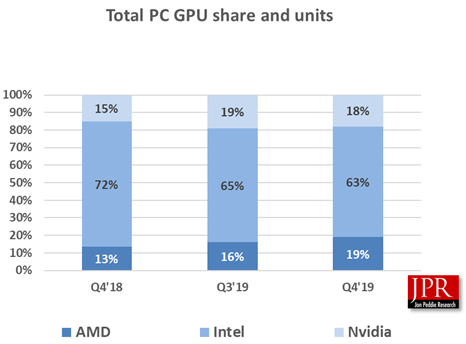 For the last quarter of 2019, GPU shipments increased by 3.4% over Q3'2019. AMD shipments increased by 22.6%, Nvidia's shipments decreased by -1.9%, and Intel's shipments increased by 0.2%. AMD's increase in market share reflects a better price/feature comparison to archrival Nvidia, and the company's GPUs might be getting a ride-along as AMD's CPUs see increased sales as Intel struggles to negotiate its process transition.
AMD's market share from last quarter in overall GPU shipments increased 3.0%, Intel's decreased -2.0%, and Nvidia's market share decreased -0.97%, as indicated in the following chart. However, in discrete GPU shipments, AMD moved up to 27% from 26% last year, and 24% last quarter.
AMD has also gained for integrated GPUs (iGPU) in notebooks, growing market share from 5% in Q4'17 to 14% in Q4'19. The company's market share in desktop iGPUs has been flat at 3%.
Nvidia is still the dominant market share leader in discrete GPUs worldwide with 73% of the market as shown in the following chart.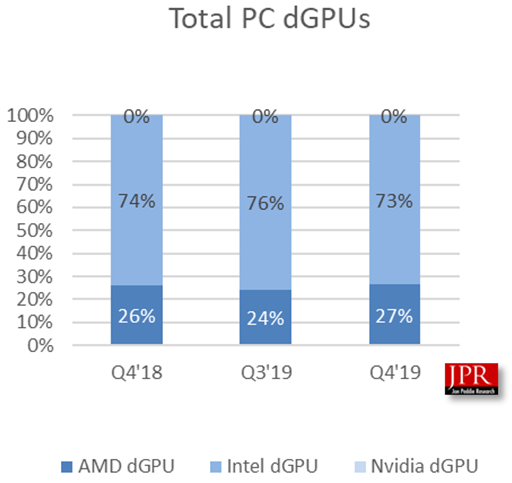 Fourth-quarter GPU shipments are typically flat to up compared to the previous quarter and Q4 2020 was on trend with an increase in shipments.
Jon Peddie, President of JPR, says, "lf dozen or more outstanding games enhanced with ray tracing we have seen the third consecutive quarter of increased GPU shipments. However, interruptions in the supply chain due to the Coronavirus epidemic threatens to depress Q1 which is seasonally flat to down. 2020 is going to be a game-changer with Intel's entry into the discrete GPU market and a possible fourth entry by an IP company."
During the past decade, the PC industry suffered a long slide into commoditization that served to narrow the field of brand name competitors and establish a dual-stream market of brand versus white-box. But, over the past three years, we've seen the market find a new equilibrium as the importance of discrete graphics for some applications has become obvious as some customers realize integrated graphics are always not "good enough," for design and engineering; imaging; video, and content creation; viz/sim, and other demanding tasks.
The importance of GPUs
GPUs are traditionally a leading indicator for the PC market since a GPU, integrated or discrete,  goes into every system before the suppliers ship the PC. Most of the semiconductor vendors are guiding down for next quarter by an average of -9%. That guidance is based on normal seasonality, but there is also a factor for the Coronavirus impact.
A total of 93 million units were shipped in Q4'19 which decreased by one million units from the same quarter a year ago indicating the market is down on a year-to-year basis. However, this is the third quarter in a row of increased GPU shipments incrementally.
JPR also publishes a series of reports on the PC Gaming Hardware Market, which covers the total market including system and accessories, and looks at 31 countries. More information on JPR's reports is available on the company's website.