CAD market shipments increased 9% sequentially from 2018 to 2019.
A new report from Jon Peddie Research (JPR) finds the CAD market stronger than ever, thanks to the engine of digitalization, which is changing the landscape of design and engineering.

The market is anticipated to have a healthy growth rate of over2.4% over the forecast period 2018–2022.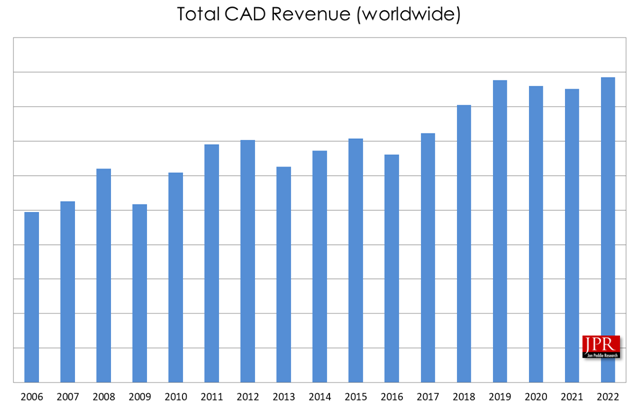 New synergies are enabling strong growth in the CAD industry. The large CAD customers in automotive, aeronautic, construction, machine design, and process & power industries are moving towards systems design and the development of digital twins that enable customers to create working models of buildings, vehicles, plants, and products.
Concentrating on the 10 market leaders: Autodesk, Aveva, Bentley Systems, Dassault, Graebert, Hexagon, Nemetschek, PTC, Siemens Digital Industries, and Trimble, the JPR report also considers data from up to 36CAD companies making approximately 53 products.
The report looks at the major market segments and provides overall market share figures, user numbers, and geographical breakdowns for AEC, Manufacturing, Process, Power & Marine.
JPR highlights industry trends, drivers, and challenges and incorporates both qualitative and quantitative aspects of the industry.
"The leading CAD companies are finding room to forge their way in specialized markets as world industries transform their workflows via digitalization. The transition to 3D workflows is enabling CAD customers to build digital twins to test and model designs before they are built and monitor them in operation," says Analyst Kathleen Maher.
Pricing and availability
JPR's Worldwide CAD Market report is available electronically for $6,000. Included with this report are four hours of consulting time.
JPR also publishes a series of reports on the Workstation market, which covers the total market including systems and accessories for six regions.
For more information, contact [email protected].