PTC is building a platform on a super tanker.
PTC was one of the busiest companies in the design and engineering segment through 2020, and that's saying something after a year of shutdown and buildup. CEO Jim Heppelmann said, "Fiscal 2021 is off to a great start" and that's a pretty good way to describe double digit growth, strong cash flow, new customers, and new growth in partnerships with Microsoft, Rockwell, and Ansys.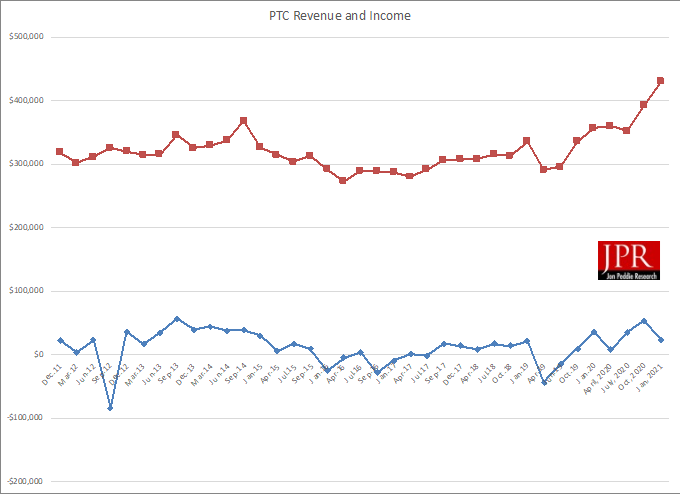 For the quarter ending December 31, PTC saw increased bookings. CEO Heppelman said bookings were up 30% compared to last year and, as he said, the booking not only helped the Q1 results but they strengthened the backlog for the coming year. The company reported revenue of $429 million.
As a result, PTC execs believe the positive trends they've seen in 2020 will continue through 2021 and then some as customers continue to expand digitalization in their operations.
Heppelmann said, "Industrial companies are prioritizing initiatives like moving all product lifecycle processes online across their entire enterprise with PLM, remotely monitoring the products and factories with IoT, bringing digital productivity to their front-line production workers with AR and they're generally getting more and more interested in SaaS as they go forward."
PTC says they're in the right place at the right time. Heppelmann says PTC has a unique product portfolio that fits into the growth plans of their customers and for new customers.
In 2020, PTC expanded their PLM product line and their SaaS portfolio with the acquisition of Arena Solutions. Arena will become a complementary product line with Onshape. The arrival of Arena also beefs up the bottom line of PTC's Growth Segment which includes Onshape and Vuforia.
In his call with investors, Heppelmann announced that Mike DiTullio will head the Growth segment, "which now accounts for about $100 million of ARR, and 20% of PTC's booking." DiTullio will lead the work to integrate Arena into PTC to work with Onshape.
By the numbers
ARR was $1.34 billion, which is growth of 16%, or 12% in constant currency, compared to Q1'20, reflecting strong performance in our Core and Growth businesses and in our global
Revenue was $429 million compared to $356 million in Q1'20, growth of 20%, or 17% in constant currency, driven primarily by strong large-deal results and longer contract durations.
Cash flow from operations was $114 million and free cash flow was $111 million in Q1'21, compared to Q1'20 cash flow from operations of $8 million and free cash flow of $3
Operating margin was 21% in Q1'21, compared to 9% in Q1'20; Q1'21 non-GAAP operating margin was 36%, compared to 26% in Q1'20.
Total cash and cash equivalents as of the end of Q1'21 was $399 million; total debt, net of deferred issuance costs, was $988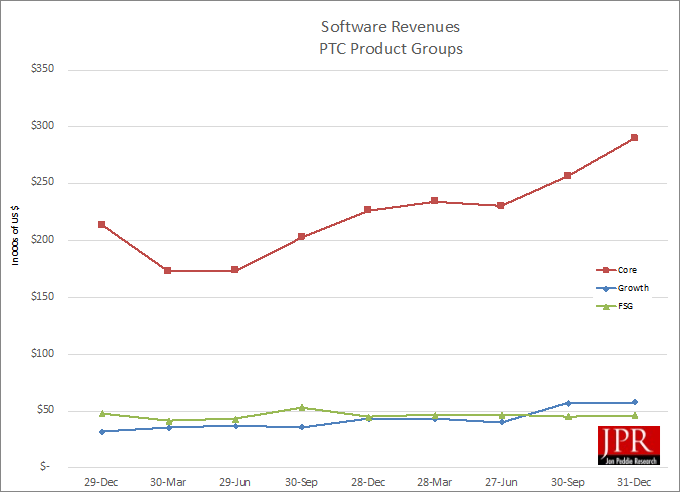 PTC's Core business, which includes its flagship products Creo and Windchill, grew 30% compared to the same period last year and represents around 70% of PTC's annual sales.
The release of Creo 7 looks ahead to PTC's SaaS future. This is the first version of Creo to incorporate Atlas technology in the form of Creo Generative Design Extension, GDX. It is built on PTC's Frustum technology acquired in 2019. The technology resides in the cloud where it is accessed from within Creo. Onshape will also be able to access GDX technology in the cloud.
PTC Creo has also been updated with Ansys.
Another initiative PTC is celebrating at the start of 2021 is the alliance with Rockwell around factory automation. PTC announced the alliance has delivered over 20 expansion deals and has deals going on in 27 countries. Heppelmann notes that one of the best parts of the Rockwell alliance is that the deals are greenfield opportunities where PTC has not sold Core products before.
Interestingly, Rockwell has been in the process of reorganization and as part of that it has named longtime PTC executive Brian Shepherd as senior vice president, Software and Control, which brings the two companies even closer.
Geography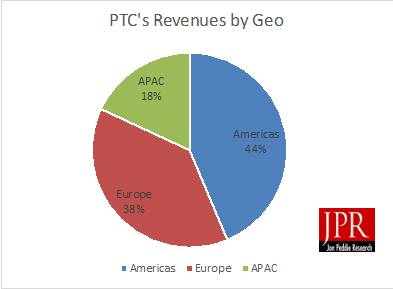 PTC notes that the company saw growth around the world. The only segment that was challenged was the FSG focused solutions group, which has a heavy dependence on the airlines and retailers. However, Jim Heppelmann has referred to the group as a slow growth cash cow and expects to see growth return as the pandemic recedes.
In Europe, PTC chalked up a significant win with Airbus, which has expanded its adoption of Windchill and has adopted ThingWorx and Vuforia for manufacturing. Jim Heppelmann says this represents "a substantial long-term relationship with Airbus."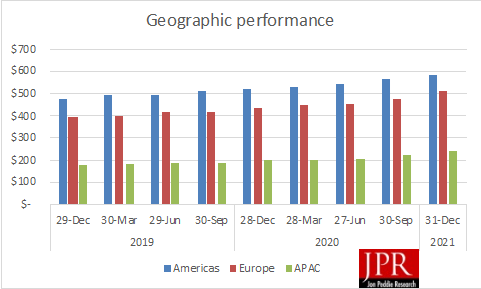 Fiscal 2021 guidance
"Given our strong financial performance again this quarter and the acquisition of Arena Solutions in January 2021, we are updating our fiscal 2021 financial guidance to reflect the effect of Arena Solutions, the impact of foreign currency, and our Q1'21 performance," said Kristian Talvitie, EVP and  CFO, PTC.
PTC's FY'21 financial guidance includes the assumptions below:
Macroeconomic conditions related to the COVID-19 crisis remain stable near-term with conditions improving in the second-half of FY'21.
Organic ARR growth of 10% to 12% on a constant currency basis, an increase of 100 basis points at the low-end of guidance versus our prior
Arena Solutions contributes ~400 basis points of ARR
Changes in foreign currency since September 30, 2020 contribute ~200 basis points of ARR
ARR growth includes a ~2% headwind from lower backlog for FY'21 exiting FY'20, resulting primarily from COVID-19-related bookings pressure in FY'20.
ARR YoY growth rates, on a constant currency basis, are expected to be approximately linear each quarter throughout FY'21.
Churn improves ~100 bps
GAAP tax rate is expected to be ~50%, including an approximately $35 million tax reserve related to an ongoing tax matter in a non-US Non-GAAP tax rate is expected to be ~19%.
Operating cash flow and free cash flow benefit by ~$15 million from Fx, but the Fx benefit is offset by an un-forecasted foreign tax assessment of ~$15 million, related to the matter noted
Our FY'21 financial guidance does not include the effect of purchase accounting for Arena Solutions, which is expected to have a material effect on our financial statements.
Considering the above conditions, PTC forecasts ARR for 2021 at $1,470–$1,500 and revenue to be between $1,690–$1,730, an increase year over year of 16%–19%.
What do we think?
The end of 2020 and start of 2021 have been really surprising for many companies and for us. Kristian Talvitie confessed that PTC had revised their forecast every week in December and every week they raised it. In the case of PTC, Talvitie said it wasn't any one segment or geographic region that influenced the company's optimistic forecast, but the strength across products and regions and the deals that were getting done.
We have been seeing similar results from other CAD companies. The feeling is that the industry has weathered the pandemic and that 2021 looks like a time of rebuilding and growth.
It's kind of shocking to realize that events that were so hard on people had relatively little effect on business results in design and engineering. It's also true that if companies were more drastically affected, even more jobs would be lost.