Big ambitions pay off, but so does a big bet on a new market.
Dassault is enjoying the benefits of its diversification strategy and its unbounded optimism. The company has had complete faith in its decades-long vision of a cloud-based integrated set of tools that reach all the way down to the consumer and up to corporate leaders and government agencies. They're a long way towards realizing that vision, but the world is coming around to the way Dassault's executives have been thinking all along.
Money helps and Dassault is making money.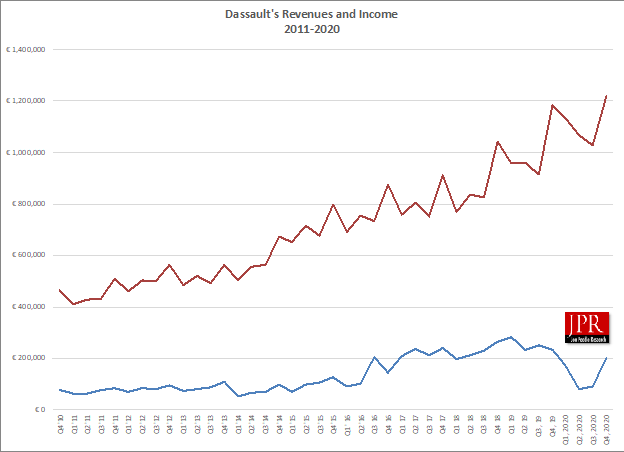 Dassault has seen growth in its 3DExperience business, Solidworks, and notably, Life Sciences driven by Medidata, its cloud-based pharmaceutical testing program. Dassault has been steadily building a business in bioscience and Medidata has given it a boost in resources.
In his talk with investors, Bernard Charlès said, "on February 6, 2020, we introduced our ambition to extend our focus from things to life. What is the difference between things and life? Life is not made of parts: the human body is one piece of hyper-connected set. Life doesn't do standardization: it's personalized design, production, and usage. And life isn't used but lived. Life is an experience. So to improve life, we have to invent new ways of representing reality."
Not completely sure what Charlès was getting at, but the point he is always making is that the company doesn't do things like everyone else and going their own path is working out very well. He also made it clear in his discussion that the Life Sciences part of Dassault's ambitions does not live in a place separate from the company's manufacturing and design business.
Charlès describes their Life Sciences products as an end-to-end platform and this strategy, he says, netted them their first large transaction "combining patient engagement using MyMedidata as well as Medidata EDC (Electronic Data Capture), called RAVE, with manufacturing operations and supply chain process optimization provided by other brands within Dassault Systèmes."
The Rave Clinical Cloud is Medidata's studies platform. MyMedidata is Dassault's portal for patients to learn about, enroll in, and follow studies. The deal Charlès uses to illustrate how Dassault's different products serve their customers is with Simulia customer Novo Nordisk for the development and manufacture of syringes and is an example of how Dassault sees convergence happening in medical devices and drugs that makes them more responsive to individual patient's needs.
The details
Dassault says they benefitted from large deal activity for both license and subscription deals. Medidata was particularly helpful in the quarter with contributions in revenue, customer growth, and backlog leading into 2021.
The company highlights:
Dassault's annual revenue reached €4.5 billion in 2020 compared to €4 billion in 2019, an 11% increase year over year.
For the quarter, Dassault reported €1.2 billion in 2020 and €1.2 in 2019 for 3% increase.
Fiscal year recurring revenue up 27% to €3.2 billion, representing 80% of total software (IFRS and non-IFRS).
Cash flow from operations up 5% to €1.24 billion for 2020.
DS initiates 2021 non-IFRS financial objectives: total revenue up 9% to 10% at constant currency and EPS of €4.10 to €4.15, up 13% to 14% at constant currency.
The company says Q4 was a bright spot but a look at the quarterly revenues in the top chart suggest that the company is pretty much sticking to form. The 4th quarter in 2020 was just 3% higher than the 4th quarter in 2019.
The company has said they're seeing an uptick in licenses and subscriptions. As we wrote in our report from Dassault's 3DExperience Live conference held in second week of February, in the luxurious confines of our houses. Dassault says it is convincing some of its Solidworks base to move to 3DExperience Live. But, we bet that some of that uptick in licenses is to be sure to update Solidworks licenses in case Dassault decides to turn the switch to subscription only.
Dassault was very early in recognizing the power of the cloud and of subscription. Therefore, it's always a bit jarring to see their recurring revenues to be at 80%, which is what they're at currently. Sure, 80% is nothing to squawk at but Autodesk is at 95%.
The holdup for Dassault is the Solidworks crowd who have preferred their software licenses to be perpetual and Dassault long ago decided they weren't interested in antagonizing their largest user base.
At the end of the 4th quarter, Dassault says, its recurring revenue for the whole company is up at a healthy 16%. The transition to 3DExperience Works is eased for Solidworks users because the subscription includes desktop Solidworks along with additional tools and capabilities. It's designed to gracefully advance Solidworks users along with 3DSculptor that adds advanced curves and surfaces and 3DCreator, which puts Solidworks in the cloud and enables collaboration and also gives users simulation and product information management.
Software revenue grew 6% over the same quarter last year. Recurring revenue was €806.7 million, which Dassault has increased 16%.
The fourth quarter got a boost from Dassault's Life Sciences group, which has been busy in 2020 for obvious reasons. In Dassault's Mainstream Innovation group, which is code for Solidworks and also 3DExperience have seen increases in industrial innovation. The revenue of Dassault's Industrial Innovation products, which include Catia and Enovia, was €624 million. Dassault says they saw 2,700 3DExperience activations in 2020 and in related good news for the company's high end, 2020 was a "record year for Catia systems."
Pascal Daloz, Dassault's Chief Operating Officer and Chief Financial Officer, said Dassault's Industrial Innovation business reached €2.3 billion and accounted for 57% of the company's total revenue. Revenue was flat for the 4th quarter of 2020.
Life Sciences software revenue was €218 million in the 4th quarter and €786 million for the year. Life Sciences now accounts for 20% of Dassault's revenue.
Dassault has named its cloud-based pharmaceutical platform RAVE EDC. The company says the majority of Covid-19 trials were conducted with RAVE EDC. The company's new patient cloud products are ramping sharply and promise to be the Medidata group's next $100 million product.
Biovia Discoverant supports Industry 4.0 strategies for manufacturing products and therapeutics. Dassault says they've seem strong traction for Discoverant.
For the quarter, Mainstream Innovation software revenue, which describes the businesses built around Solidworks, was €263 million; it was €938 million for the year and represented 23% of software revenue.
Geography

Daloz called out China for its performance over the year. Software revenue in Asia was up 3% in Q4, and China was the star with a 20% increase in Q4 and 15% for the full year. He said Asia was pulled down overall by Korea and India, "where the environments are still difficult in Q4." Sales of subscriptions did increase from Asia. In contrast, says Daloz, subscriber revenue was flat in Europe for Q4. From the US, Dassault saw increased software revenues. Not only did that increase come in Life Sciences from Medidata but also from Aerospace on an organic basis.
In his comments to the investment community, Charlès highlighted the ongoing deal the company has with Spirit Aerosystems, which is expanding its adoption of 3DExperience.
Looking ahead
Dassault is confident about 2021 and it does help that the company's Life Sciences business is able to balance the company's fortunes in 3DExperience and Solidworks.
Daloz said, the company's business was able to weather the pandemic in 2020, thanks to its recurring revenue. He said, "We maintained our workforce and increased our R&D investments geared towards the future. Based upon our outlook, we are targeting 2021 non-IFRS total revenue growth of about 9% to 10%, with non-IFRS earnings per share growth of about 13% to 14% excluding currency headwinds."
What do we think?
The design and engineering industry has proven pretty clearly that subscription revenues can smooth out the bad times, but can they help companies avoid bad times altogether? Not when jobs are lost and businesses are closing. We can't help but think 2021 could be rougher than 2020. It's believed that Covid-19 could make a few more trips around the world before it's done. Dassault's strategy of diversification will continue to serve it well but the manufacture probably has some rough spots ahead.