Cloud-based content management, collaboration, review, camera to cloud capabilities add checklist items for studios and news producers.
Adobe is adding some real power to its video product line with the acquisition of Frame.io, a cloud-based video company with over a million users. Like Adobe, Frame.io has a subscription-based business. Its "cloud-first" workflow promises responsiveness and data management features. It has also been offering integration with widely used video tools including Adobe's Premiere Pro, After Effects, but also Apple's Final Cut Pro, Black Magic's Davinci Resolve, Avid's Media Composer, and Colorfront. Most recently, Frame.io added its Camera to Cloud (C2C) in conjunction with Teradek and Colorfront to beef up its remote work capabilities including the delivery of fast dailies and remote monitoring of onset work.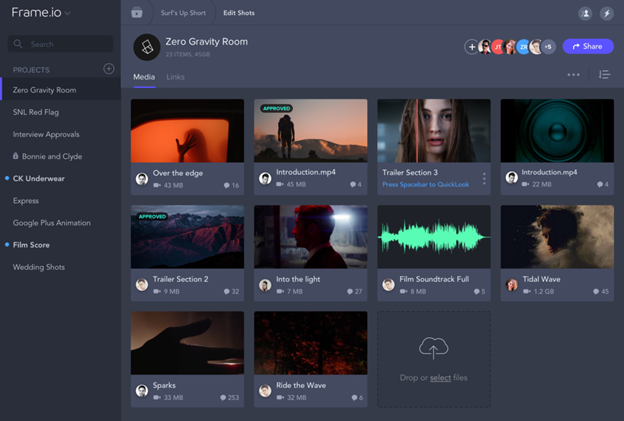 In its press release, Adobe describes the current state of video production as disjointed workflows. The company says teams are often dealing with multiple tools and communications channels to communicate with all stakeholders. Frame.io can eliminate that with real-time footage upload, access, and in-line stakeholder collaboration.
Certainly, Adobe has been trying to crack the challenge of offering seamless cloud-based workflows to its customers through its Creative Cloud. In the meantime, it has been working with other providers such as Editstream and Blackbird to offer cloud integration. The acquisition of Frame.io gives Adobe an in-house resource. Adobe says it will continue to support Frame.io's integrations with other video editing tools; however, the integration between Frame.io and Adobe's tools will be even deeper and Adobe says it will be able to accelerate Frame.io's roadmap.
Adobe highlights the benefit of the deal this way:
Digital collaboration is now the foundation of all creative endeavors. Adobe's acquisition of Frame.io brings Adobe Creative Cloud's collaboration services to video and builds on recent innovations for creative collaboration including Adobe Creative Cloud Libraries, Cloud Documents, Design Systems in Adobe XD, Adobe Stock, and Adobe Fonts, all of which together with Frame.io, will make it easy for teams to collaborate across Adobe Premiere Pro, Adobe Photoshop, Adobe Illustrator, and other Adobe Creative Cloud applications.
With the combination of Frame.io and Adobe, Creative Cloud customers, from video editors, to producers, to marketers, will benefit from seamless collaboration on video projects with Frame.io workflow functionality built natively in Adobe Creative Cloud applications like Adobe Premiere Pro, Adobe After Effects, and Adobe Photoshop.
Frame.io customers and partners will benefit from the company's robust plug-ins and third-party application support along with the innovation generated by the combined Adobe Creative Cloud and Frame.io teams. With the addition of Frame.io, Adobe Creative Cloud's commitment to enabling collaboration across all stakeholders of creativity extends beyond Adobe's applications to the growing number of third-party applications across the creative ecosystem.
The deal is valued at $1.275 billion and is expected to close in the fourth quarter of 2021, subject to regulatory approval and customary closing conditions. Until that time, the two companies will continue to function independently. Frame.io co-founder and CEO Emery Wells and co-founder John Traver will join Adobe. Wells will continue to lead the Frame.io team within Adobe and will report to Scott Belsky, Chief Product Officer and Executive Vice President, Creative Cloud.
What do we think?
Perhaps more than any other, this deal reflects the thought that goes into Adobe's acquisitions. Adobe says they've been working with Frame.io for some time and that Frame.io has participated in Max conferences in the past. More important, Adobe has made no secret of its desire to add more cloud capabilities to its video portfolio, not to mention its application portfolio in general. In his blog post, Belsky outlines Adobe's moves to the cloud:
…we've launched Creative Cloud Libraries, which help teams share creative ingredients—from fonts and colors to vectors and images. We've rolled out Cloud Documents in Photoshop, Illustrator, and XD, allowing customers to easily share their work with collaborators and stakeholders. And we're making it much easier for stakeholders to review and share comments directly in our desktop products. The addition of Frame.io enables us to provide cloud-first collaboration for video and brings in a world-class team to help us unlock new possibilities.
So it's a little mysterious that Adobe, a mighty rich company hasn't acquired the technology it has needed earlier. And of course, they could build it themselves. Adobe is good at acquisitions. Its executive team is populated by people who came to Adobe through acquisition. Adobe specifically mentioned Frame.io's C2C technology as one of the attractive elements of the acquisition.
For years, Adobe has been tinkering with ingest workflows and proxies management. This deal will considerably simplify these processes. Adobe's customers seemed thrilled with this deal, hoping Frame.io's tools will become part of the Adobe Cloud. Adobe promises more details at the Adobe Max conference, by which time the deal could be done.
Frame.io's C2C features are pretty thrilling for the video community especially as production practices evolve to accommodate the pandemic and the increasingly fluid conditions around newsgathering. These are problems the entire industry is working on and no company serving the professional video industry—producers or vendors—can afford to fall behind on collaborative workflow development.
Adobe agrees to acquire Frame.io.