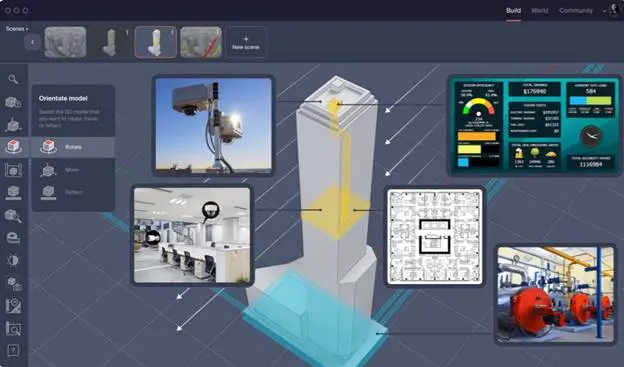 It's hard to escape all the discussion surrounding the metaverse, and with good reason. Yeah, we know that Web3 is somewhere on the horizon. But still, the tools and capabilities that will be imperative then are oh, so very useful now. Consider, for instance, TwinUp, a design portfolio, management, collaboration, and presentation platform for architects that enable them to generate a digital twin of their 3D project model for exploration and analysis, as well as keep all their 3D models and 2D images in one place. The company touts the platform as "a real-world metaverse for architects."
Recently, the Frisco, Texas, company secured a lead investment of $3 million from private investors, with plans to raise a total of $4 million in initial seed round, which will conclude this summer. Meanwhile, the company's TwinUp application launched in April.
The TwinUp software suite comprises three integrated apps: TwinUp Community, TwinUp Building, and TwinUp World.
TwinUp Community offers architects a free virtual design portfolio and social media platform for sharing their work. Professional users can upgrade to TwinUp Pro, priced at $19 per month (early-bird pricing), gaining access to the TwinUp 3D Metaverse, which includes TwinUp Building and TwinUp World.
TwinUp Building is a 3D digital twin maker app that helps architects convert their 3D models into digital twin models. TwinUp Building's visualization features and simulation capabilities allow users to render, analyze, optimize, present, and share their digital twin models with peers and clients.
TwinUp World is a 3D virtual digital twin model of the earth that architects can use to place their 3D project models for analysis, enhancement, rendering, and presentation in their proper local site context. TwinUp World offers advanced navigation tools, data layers, rendering tools, multi-party collaboration interfaces, and simulation features.
TwinUp Community is set to launch in early-summer 2023, followed by the release of TwinUp World in the fall of 2023. Practicing architects can apply to join the TwinUp Beta Program.
"With TwinUp, a single architect can achieve what would traditionally require the efforts of an entire firm. Our AI-driven personal assistant, Arch-e, leverages real-time data processing to provide architects with the information they need promptly," said Dr. Prasanta Bose, TwinUp CTO.