Autodesk's 2019 acquisitions open up new business and expands the company's cloud infrastructure. CEO Andrew Anagnost promises growth through 2023.
Autodesk had a very good 2019, thanks primarily to the work it has been doing in construction and AEC. But also the company says they have successfully made the transition to their subscription business model, grew their cloud-based services by a convincing percentage, and demonstrated they're in a position to add growth.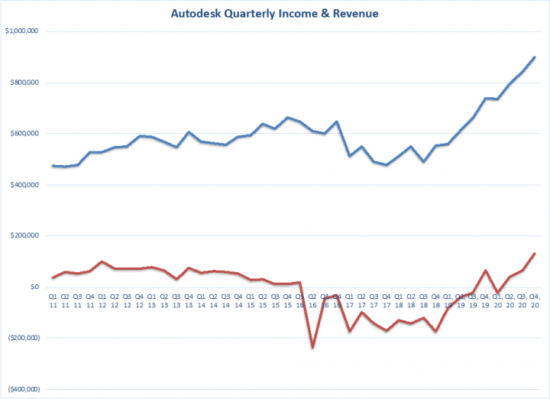 The company saw a year over year 22% increase of total net revenue to $899.3 million and the company's income for the quarter was $134 million compared to $40 million during the same period last year. For the year, Autodesk reported revenue of $3.27 billion. The company raised its subscription plan ARR 41% to 3.31 billion. Subscriptions now account for 85% of Autodesk's revenue.
The company's subscription plan subscriptions (which include term-based product subscriptions, cloud service offerings, and enterprise business agreements or EBAs) increased 934,000 from the end of the same period last year to 4.47 million that includes 70,000 maintenance subscribers the company was able to convert to product subscription as a  result of its conversion campaign. Acquisitions from the Q4 fiscal year 2019 added 70,000 maintenance subscribers who became product subscribers.
As you'll remember, Autodesk has built the new Construction Cloud business from its acquisitions of Assemble, BuildingConnected, and PlanGrid in 2018. Those companies had interrelated businesses directly related to Autodesk's AEC products, most notably Revit. The acquisition had the effect of giving Autodesk an almost ready-made subscriber base and a cloud-based AEC project management infrastructure. In the fourth quarter of last year, as a result of the acquisitions, Autodesk added 127,000 subscriptions. In 2019, acquisitions added 3 percentage points of growth.
How many new employees did it add as a result of the acquisition—that is an indicator of costs and future profits.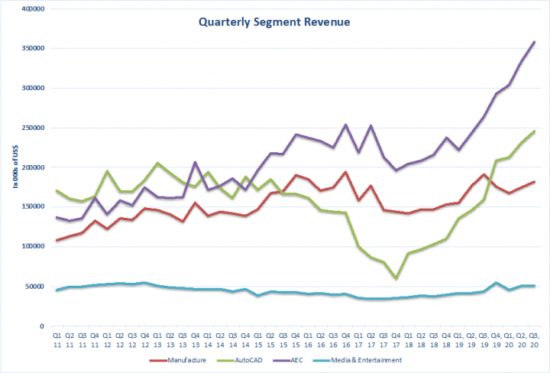 CFO Scott Herren told investors that construction would be the next billion-dollar business for Autodesk and he credits the 2018 acquisitions with helping to put Autodesk on that trajectory. And, he added, now that a full year has passed since the Autodesk's construction acquisitions, the company's entire construction portfolio will be organic starting in the next quarter.
As bright and sparkly as construction is these days (and isn't that a nice change from the recession and post-recession darkness), Autodesk says all its business segments have seen growth and in all geographies. For the quarter, manufacturing grew 15% and for the year, it grew 18%. In addition, Autodesk added 20,000 new Fusion 360 customers.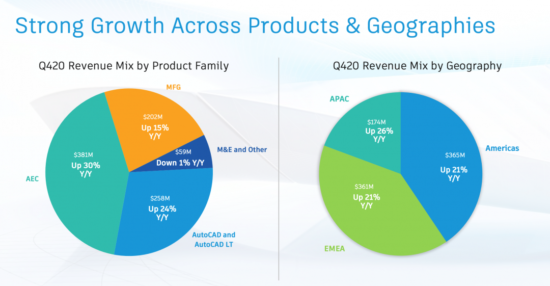 So let's turn to ARR, annualized recurring revenue, which is increasingly used by software companies that depend on subscriptions. A focus on the ARR gives companies a tool to help investors focus on the long term rather than fretting on reduced revenue as a result of the transition to lower monthly license terms from large lump sum perpetual license purchases. Core ARR grew 21% and Cloud ARR grew 102% to $255 million. Herren says that when adjusted for acquisitions, Cloud ARR grew 30% led by BIM 360 Design.
Developing future growth
So, transition done, the Autodesk execs are going off to drink Piña Coladas in Mexico, right? No indeedy. Instead, Autodesk is in the process of another transition. Now that it has a solid majority of its user base on subscription, it is transitioning those users to named accounts instead of serial numbers. Autodesk has had a mix of single-user subscriptions and multi-user subscriptions. In multi-user situations, says Herren, it looks like there's about a 2:1 ratio correlation between users and license. Autodesk's, named accounts, programs aim for a policy of one license per user.
The advantage of named user accounts, says CEO Anagnost, is that Autodesk and its users can share insights into usage data, giving users the ability to optimize their license costs, according to usage. Autodesk, in turn, can better understand what tools their customers are using and how.
Autodesk says, they have also made considerable progress on compliance, which is a nice way of talking about piracy. Anagnost said that over their fiscal year, Autodesk signed 62 license compliance deals over $500,000 per deal and he said 14 of those deals were over a million dollars. That's three times the amount of conversations, the company saw in the previous fiscal year. The deals were across all regions with 20% of these deals happening in China.
Autodesk has said that it will continue to grow its base with products and with new licensing deals. Last summer, the company introduced the low-cost Indie licensing program for Max and Maya. In the financial call, Anagnost professed to be pleased with the results of that trial program, but there were no numbers available and he didn't reveal whether the plan would become permanent.
Who's afraid of Coronavirus?
All of us, but Autodesk execs, say they don't anticipate suffering a big hit as the world cycles through the spread of this latest coronavirus because he says Autodesk's business isn't structured like some of the more vulnerable companies. For instance, he says the company does not primarily depend on a moving army of salespeople traveling to customers. "Our business happens locally," he says. He also notes that the company's business is "micro-verticalized" meaning that it's not dependent on a specific industry. He grants that there's likely to be an effect on China's business in Q1. And, he does say, "if this becomes a pandemic, all bets are off," which… yes.
What do we think?
In spite of a few rocky bits, Autodesk has done a good job of navigating the transition to subscription. After having trouble convincing some investors to stay the course, the company has got the investor community on board and happy. Nothing succeeds like not failing.
It's becoming more and more obvious that 2020, at least the first part of 2020, is going to be pretty awful for the financial types and therefore probably for the rest of us. Autodesk's business reflects the health of markets. Architecture and construction are booming as a response to huge pent up demand worldwide. Autodesk's commitment to digitalizing AEC processes is paying off (as we're also seeing for Bentley Systems and Nemetschek) and this will be a long-term advantage even with routine market fluctuations.
From the vendors' standpoint, the case for subscription is strong. At least for professional software vendors. Most end customers don't really have a choice about what software they use for their job and once they're on subscription, people tend to like regular no-fuss updates with new features.