Optimistic forecasts fail to pan out in the company's third-quarter report.
PTC has been very optimistic about its transition to subscription and its concurrent development of new business. Unfortunately for the third quarter of 2019, the company's executive team had to do a lot of fairly excruciating explaining when the company's sales failed to meet the company's projections.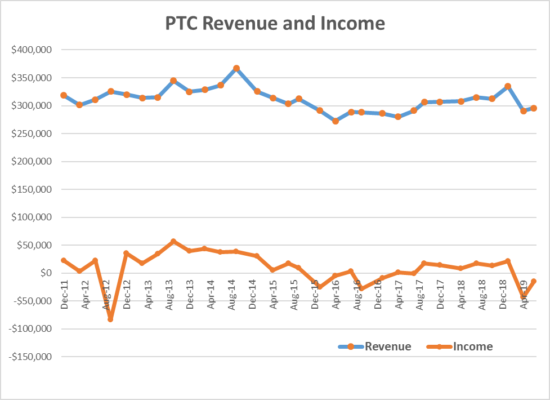 PTC doesn't hold back on data. In fact, they have the opposite problem. They provide an eye-glazing amount of detail. The company's reports have been complicated since October 2018 when they adopted ASC 606 revenue reporting standards and began the transition to subscription revenue. As a result, the company started reporting according to ASC 606 rules and also the previous standard ASC 605. The company tends to talk mostly in terms of ASC 605 to be able to provide an apples-to-apples comparison, but also a rosier picture. As of 2019, PTC is reporting in ASC 606.
The difference between ASC 606 and ASC 605 is in how revenue is recognized. According to ASC 606, companies that rely on subscription revenue report revenue when the money actually hits the bank account, say month to month, for example, instead of being recognized for the whole year. As a result, companies with subscription revenue do their best to keep investors focused on ARR (annualized recurring revenue) instead of the lower incremental revenue recognition of ASC 606 because it reflects the company's revenue for the year and communicates how well the company is doing as it transitions to subscription.
PTC has been optimistic about its transition to subscription and has been declaring the transition all but done. As it turns out, it's not. PTC's President and CEO says that the company's subscription model is solid, but it has hit some snags as the company seeks to convert customers from perpetual licenses to subscription.
The company has also taken on a new CFO, Kristian Talvitie, who joined the company from SaaS.
For the third quarter of 2019, PTC reported revenue of $295 million and a net loss of $15 million. Recurring revenue is at $266 million. The company came in above expectations with a non-GAAP income of $0.38 per share when Wall Street was expecting $0.34 according to adjusted profits. According to GAAP results, the company reported a loss of $14.7 million, an improvement of the previous quarter when the company reported a loss of $43.5.
The most important news Heppelmann had for investors is that the company's growth markets, IoT and AR, continue to be strong and turn in good results. However, the company clearly fell short of its predicted revenue in its other business including CAD and PLM.
Even though, results were better than expected, investors were concerned that the management team didn't have any happy news for the near term.
In PTC's financial call to investors, Heppelmann said, "through the first 3 quarters of fiscal '19, we've seen relatively strong performance on revenue and ARR metrics. But on the bookings front, we're disappointed with our performance relative to the outlook we've provided at the outset of the year." He said that the transition to subscription has not happened in the ways they hoped at the end of 2018. Specifically, there were some companies who did not go for subscription at the end of their perpetual license. Many of them are regions such as Russia and China, where there is considerably less enthusiasm for subscription. The challenges, he said, are going to continue through Q4 but, says Heppelmann, the company doesn't have "significant exposure in those regions."
In addition, the company said they suffered a year-over-year decline in volume purchase agreements (VPAs). Many investors probably took this news a little harder because PTC isn't talking about having much on the back burner for now either.
The company is at an uncomfortable transition point where they have converted a good chunk of VPAs to subscription and those that haven't they've increased the support contracts, which is reflected in ARR but doesn't do them much good as they report the quarter. Heppelmann told investors on the call that they're continuing to try and convert those VPAs to subscription, but he says most are content with the deal they have for now. He said that he and Talvitie will be adjusting the deals they're offering those VPAs to make subscription more attractive.
As we've reported, IoT and AR are the company's bright spots. IoT revenue for the quarter increased 21% year over year to $38 million.
The company saw a 3% decrease year over year on their license and subscription bookings, but software revenue was up 3% year over year and recurring software revenue was up to $271 million, a 9% increase year over year.
ARR is at $1,088 million, a 9% increase.
The company has also continued to repurchase shares. For this quarter, they spent $25 million to repurchase 287,000 at a price of $87 and also paid $40 million down on their loan.
PTC's management wants you to know they're not at all in a bad place even if investors would prefer a bottom line that's not in the red and a few big deals in the pipeline.
Instead, new CFO Kristian Talvitie revised the outlook for the fourth fiscal quarter and reset the company's long-term financial targets. The company says they "remain committed to delivering $580 in free cash flow," but they're pushing the target out to 2024 and he said that he'll be providing more detail around the company's fiscal 2020 at the end of 2019.
What do we think?
Like most CAD companies, PTC has already been selling its products as some kind of subscription, usually with a maintenance contract so it can be easier to move customers to a full-on subscription, but they don't just fall like dominoes. During the call, Heppelmann said he'd be working with sales to adjust the company's carrot-and-stick approach to move some of the laggard customers to subscription.
This isn't such a great time for world markets, so it's not surprising the future outlook isn't rosy. The stock market might prefer a more upbeat CFO than Talvitie, but if he were singing a happy tune, the company could be slapped down even worse, if conditions don't improve.