IoT comes into its own in the third quarter.
PTC is coming to the culmination of a near-decade-long transition of its technology and its business model. PTC's Mark Brunelli has written a good history of the company's transition, which is useful if you're not familiar with this company's many transitions over the years. With this financial report, PTC has announced the coming end of perpetual licensing on January 1, 2019.  Also, this quarter, PTC announced a bang-up quarter for its young IoT business and even younger AR.
PTC reported total third-quarter revenue at $315 million, which is 8% up compared to the same quarter last year. It's a respectable increase, but PTC's executives will tell you it's not how much you make but how you make it that counts to investors. PTC's subscription revenue for the quarter was $127 million, a 69% increase over last year's take and continuing evidence of PTC's successful transition to subscription revenue. For this quarter, the company says subscription mix is at 78%. That is becoming the norm for the major CAD companies, where customers have already been accustomed to paying maintenance and support, so switching to subscription is not a problem for companies' accountants.
The company reported income of $17 million; it's on a steady climb as well and staying resolutely in the black with assistance from new money from IoT. In other words, says CEO Jim Heppelmann, it is going according to plan.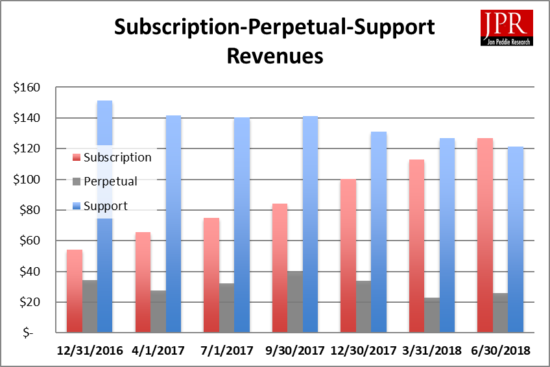 For the quarter, PTC saw differed revenue growth to 33% year-over-year. In all, the company says 91% of revenues was recurring revenue this quarter. Momentum around our recurring revenue model continued in Q3, driving software revenue growth of 10%, recurring software revenue growth of 15% and annualized recurring revenue (ARR) growth of 15%. The company's ARR for the quarter was $509, a 69% increase compared to the same period last year. This is the sixth consecutive quarter of double-digit ARR growth.
In their financial call, Jim Heppelmann said CAD books grew in the double-digits, which is better than some competitors. At the end of the quarter, PTC introduced Creo 5 with new features for creating smart, connected products and creating AR applications with CAD content. A major feature for PTC CAD was Discovery Live, a collaboration with Ansys to enable streamlined analysis within the Creo application. PLM bookings grew more modestly. ThingWorx is PTC's fastest growing division and AR is picking up speed with the introduction of new tools for Vuforia. In the quarter ending March 31, 2018, IoT had risen to 11% of PTC's revenues and that ratio is growing.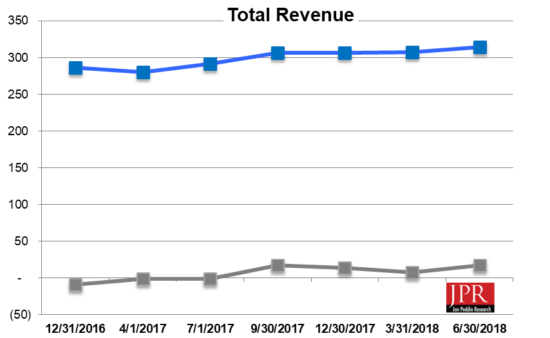 For the third quarter of 2018, PTC said they have had a record number of six-figure deals for ThingWorx, an 80% growth over last year. In fact, said Heppelmann, "If you exclude the eight-figure mega deal from Q1, 2017, then year-to-date IoT bookings growth is well above the 30% to 40% estimated market growth rate."
PTC stands out for its early commitment to AR through the acquisition of Vuforia and the work it has done to enable its use in CAD workflows and also with PTC's IoT tools. The company says they now have over 10,000 enterprises who have purchased or are test driving PTC's AR tools for service and maintenance instructions, factory operator instructions, and virtual product demonstrations.
PTC has also made a valuable friend in Microsoft. The two companies are collaborating in AR for Hololens and Azure. One significant deal in Q3, says PTC, is the deal with Alecta, a medical diagnostics company which is using ThingWorx and Azure IoT. The deal between PTC and Microsoft enables the two companies to engage customers together.
What do we think?
Maybe PTC isn't killing it on the CAD front, but the company is growing its market share thanks to its new tools for new markets including AR, IoT, and additive and subtractive manufacture. Truthfully pure CAD is not a growth market, it's a mature market. For the CAD competitors, it's not so much winning on numbers but picking the right battlegrounds and all of the CAD competitors are picking their business according to where they think they can develop new business.