Blackmagic Design adds AI tools to its DaVinci Resolve version 18.5, including the ability for text-based editing, provides USD support, and more. The company also upgraded its Fusion Studio to version 18.5, its Pocket Cinema Cameras with expanded capabilities, and more.
At NAB 2023, Blackmagic Design announced DaVinci Resolve 18.5, a substantial new update that includes four new AI tools along with more than 150 feature upgrades such as Resolve FX relight, speech-to-text editing, automatic subtitling, AI audio classification, USD file support, new menus on the Cut page for a faster workflow, and Fusion USD support. There's also something for social media buffs to cheer about. Creators can now upload videos directly to TikTok, and there's a new option for vertical aspect ratio output, making it easier to create content for social media.
Last week, Adobe made some noise with its Text-Based Editing feature in Premiere Pro. Now, Editors using DaVinci Resolve 18.5 can transcribe audio within clips and search for media based on narrative content, or quickly generate subtitles for timelines with the automatic speech-to-text feature. DaVinci Neural Engine AI analyzes and automatically sorts audio clips based on classification, and on the Fairlight page, audio tracks can now be grouped for faster mix automation and editing.
DaVinci Resolve 18.5 public beta can be downloaded now.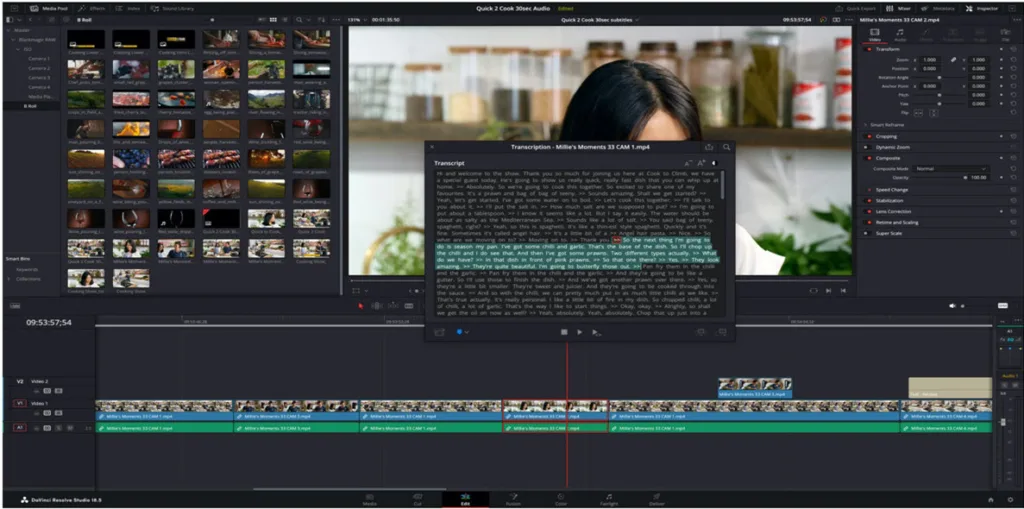 DaVinci Resolve 18.5 adds AI-based tools including text-based editing capability. (Source: Blackmagic Design)
Also in beta, Fusion Studio 18.5, Blackmagic Design's 2D and 3D VFX compositing software, has been enhanced with numerous new features. It now boasts support for Universal Scene Descriptor files for easier collaboration between VFX artists. USD data such as geometry, lighting, cameras, materials, and animation can be imported, and the new USD tools let users manipulate, relight, and render files using Hydra-based renderers such as Storm.
In typical fashion, Blackmagic Design makes quite a product splash at the conference, with a plethora of updates. In addition to DaVinci Resolve 18.5 and Fusion Studio 18.5, as well as other offerings, the company introduced:
Blackmagic Camera 8.1—A free update, available now, that adds support for vertical aspect ratio video to Blackmagic Pocket Cinema Cameras, allowing users to create cinematic vertical video for platforms such as TikTok.
Blackmagic URSA Mini Pro 12K OLPF—A new model that adds a high-performance optical low-pass filter to the 12K Super 35 image sensor. It retails for $6,385 and is available now.
DeckLink IP—A new family of PCIe cards that capture and playback 10-bit uncompressed, broadcast-quality video directly into 2110 IP-based broadcast systems. Available in June, it is priced at $345.
Blackmagic 2110 IP Converter 3x3G—A new rack-mount converter that converts 3G-SDI devices to 2110 IP broadcast systems. It will sell for $595 when it becomes available in June.
In other news, Blackmagic Design announced the new ATEM Television Studio 4K8 live-production switcher that combines all the features of the ATEM Television Studio HD with additional support for Ultra HD standards up to 2160p60. It will be available in July for $4,595.
The company also announced the ATEM 4 M/E Constellation 4K, a new Ultra HD model of the ATEM Constellation family with 40×12G-SDI standards-converted inputs with support for standards up to Ultra HD 2160p60. It will be available in June for $8,995.