Acer has unveiled a range of laptops and Chromebooks that feature the latest technologies for those who game and/or work from home or on the go. Not only are these offerings made to be powerful, but they are built with ecological standards in mind as well.
Acer recently rolled out a collection of laptops and Chromebooks sporting the latest features for users at work, at play, or on the go. The devices ship with Intel 13th Gen Intel Core processors and are Intel Evo-verified as well as eco-friendly.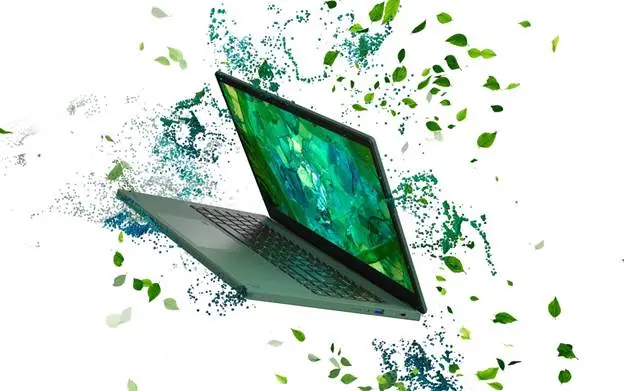 The Acer Aspire Vero 15 packages a range of performance features, including an upgrade to the latest 13th Gen Intel Core processors and powered by Intel Iris Xe graphics, in an eco-conscious design. The laptop sports a larger 15.6-inch Full HD display, 16:9 aspect ratio, and 100% sRGB. The Windows 11 laptop features VeroSense for battery management and a 1440p QHD webcam with Acer PurifiedView and Acer PurifiedVoice with AI noise reduction. The laptop also has Wi-Fi 6E and a range of ports, and is equipped with up to 16GB of onboard LPDDR5 memory and two M.2 SSDs that support up to 1TB of storage.
The laptop also incorporates more recycled materials compared to the previous generation of eco-friendly laptops, increasing the percentage of PCR plastic used in the chassis from 30% to 40%. The device is even available in a new Cypress Green color, punctuating the ecological aspect. The Acer Aspire Vero 15 laptop will be available this month starting at $699.99.
Another new entry is the Acer Swift Go 16 laptop offering a color-rich 3.2K OLED 16-inch display with a 120Hz refresh rate and 100% DCI-P3 color range, all in a thin-and-light design. It comes with up to a 13th Gen Intel Core H-Series processor and features an upgraded TwinAir dual-fan system and many ports, including a MicroSD card reader. The Swift Go 16 is available for $1,199.99.
Geared for consumers and businesses, the Chromebook Spin 714 and Chromebook Enterprise Spin 714 (supporting Intel vPro technology) are now powered by new 13th Gen Intel Core i7 processors for as much as a 10% performance boost over the previous generation. They feature a convertible design, 14-inch WUXGA (1920×1200) display, 100% sRGB coverage, a built-in QHD 2K webcam, and DTS audio. They also have a 360-degree 2-in-1 convertible mode. The Acer Chromebook Spin 714 is available starting at $699.99.
Acer also announced Predator gaming laptops with new designs and support for 13th Gen IntelCore processors and NvidiaGeForce RTX40 series GPUs.
The all-new Predator Helios Neo 16 offers the power of the Helios line but at a more affordable price. The Predator Helios Neo 16 models feature high-performance 13th Gen Intel Core HX processors paired with up to an Nvidia GeForce RTX 4070 laptop GPU with an MGP of 140 W, up to 32GB of dual-channel DDR5 4,800MHz RAM, and up to a 2TB PCIe NVMe SSD in RAID 0. The Helios Neo also includes Acer's advanced cooling system and liquid metal thermal grease on the CPU to push performance. The line offers several panel options and includes Nvidia Advanced Optimus and G-Sync for smooth visuals during fast-moving gameplay.
A minimalist design will be available exclusively in the US through Best Buy, while outside the US, Acer will offer a design with laser-etched encrypted codes on the lid. The initial Predator Helios Neo 16 models are available in North America now starting at $1,199.99.
Meanwhile, the small but powerful Predator Triton 14 includes up to a 13th Gen Intel Core i7-13700H processor and an Nvidia GeForce RTX4070 or 4050 laptop GPU. It sports a WQXGA (2560×1600) mini-LED display with a 250Hz refresh rate. It also supports up to 32GB of 6,000MHz LPDDR5 RAM and a M.2 SSD slot. The first Predator Triton 14 models are available in North America now starting at $1,499.99.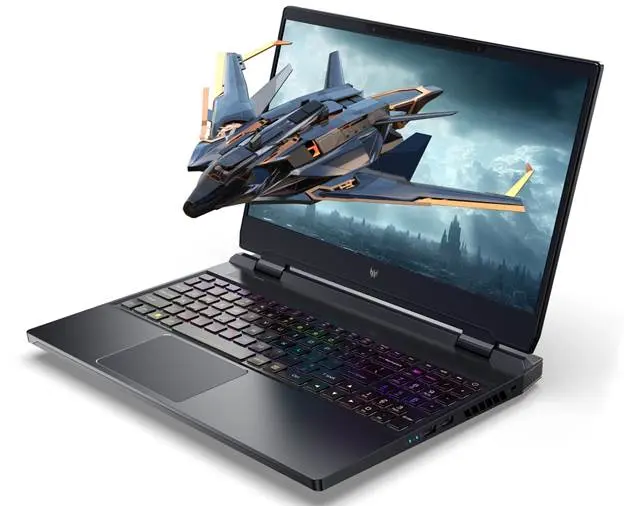 For those looking to up their game, Acer offers glasses-free, stereoscopic 3D viewing with the Predator Helios 3D 15 SpatialLabs Edition gaming laptop, now with 13th Gen Intel Core i9 HX processors and Nvidia GeForce RTX 4080 laptop GPUs. It will be available this month starting at $3,499.
For the casual gamer wanting more enhanced gameplay and a larger display, the Nitro 16 and Nitro 17 gaming laptops feature the latest processors from Intel and AMD, and are paired with Nvidia GeForce RTX 40 series GPUs. The new 16-inch laptop offers a WUXGA or WQXGA display with a 165Hz refresh and Nvidia Advanced Optimus, while the 17-inch model comes with multiple display options. The Acer Nitro 17 with an AMD processor has starting price of $1,199.99. The Intel-based models of the Acer Nitro 16 have a starting price of $1,199.99, while pricing of the Acer Nitro 17 start at $1,249.99.
And then there is the apex Predator, the Predator Triton 17 X, which delivers high-performance capabilities to gamers and creators with 13th Gen IntelCore i9 processors and advanced cooling systems, wrapped in a thin, CNC-milled unibody design. It can be configured with up to a 13th Gen Intel Core i9-13900HX processor and Nvidia GeForce RTX 4090 GPU. Featuring up to 24 cores at a 5.4GHz max turbo frequency, the Triton 17 X delivers a quantum leap in performance with AI-powered DLSS 3 that enables lifelike virtual worlds with full ray tracing. Its Max-Q suite of technologies optimizes system performance, power, battery life, and acoustics. For those who seek upgraded performance, it can be configured with up to 64GB DDR5 5,600Hz memory and up to 4TB PCIe solid-state drives in RAID 0.