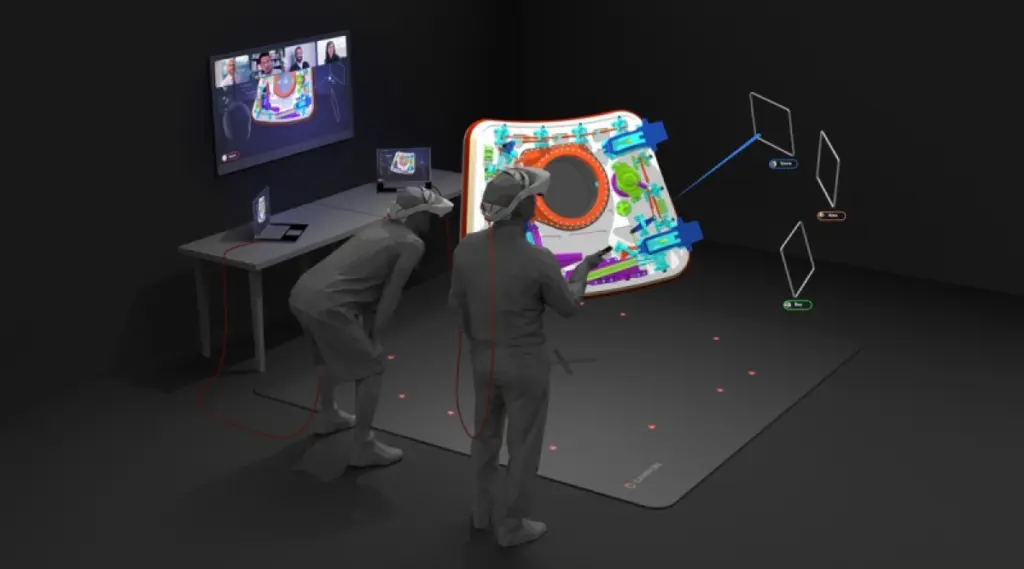 Campfire recently released the Campfire App, a holographic collaboration tool that can connect remote teams to the same 3D space using augmented reality. The system can be used with a number of devices and is geared to enterprise XR applications.
Campfire recently released the Campfire App, a holographic collaboration tool that uses extended reality (XR) and augmented reality (AR). Design and engineering teams can use Campfire to view the same 3D model or space.
Just like a metaverse where anyone with an Internet connection can link to the same virtual space, Campfire can put an entire design team in one digital space to share and collaborate on ideas and designs. The Campfire App works on most devices, from the company's AR headset to most phones. All the collaborators see the same 3D model and can use advanced tools to better understand the design and leave comments to make the collaboration process faster.
According to Campfire, what sets this solution apart from others on the market is its simple setup and ease of use. The experience can be accessed via an easy-to-open link. According to Campfire, companies can install the system and be up and running with enterprise XR collaboration in less than an hour.
"Enterprise XR has been a fragmented mess of point solutions that fail to scale for lack of usability and utility. We designed Campfire to solve a basic human challenge that XR technology uniquely solves—the difficulty of communicating 3D information. We've made it easier than ever," said Jay Wright, CEO and cofounder of Campfire.
The Campfire platform comprises the Campfire Headset, which was acquired from Meta and then reconstructed for Campfire's needs. The company refers to the headset as a holographic collaboration system, which is wired to the PC being used. Another component is the Campfire Console that simulates a 3D monitor and used for tracking, as well as the Campfire Pack that attaches to a smartphone and turns it into a controller. On the software side, there is Campfire Scenes for creating scenes using existing 3D models, and Campfire Viewer for enabling multiple users to collaborate in the same space using the headset, smartphone, or tablet.
Collaboration consumes a huge portion of design and engineering workflows. The more hands in the kitchen, the slower the work. Campfire streamlines the process by allowing every team member to have his or her own holographic avatar while entering the collaborative space. Users know exactly what other people are looking at, the angle they see it from, and the comments they leave.
"We've been looking at AR and VR for 15 years because the potential productivity gains and cost savings are so great," said Ryan Wheeler, senior fellow of advanced visualizations at Collins Aerospace. "We engaged with Campfire because it's the easiest-to-use solution I've seen and the best visual experience in a headset. Campfire opens the door to a much broader set of use cases that we couldn't previously address."
Pricing for the Campsite Starter Kit begins at $15,000 a year for an enterprise system consisting of two headsets/packs/consoles, five enterprise user licenses, and one studio console.