Physics, anatomy, and chemistry come alive.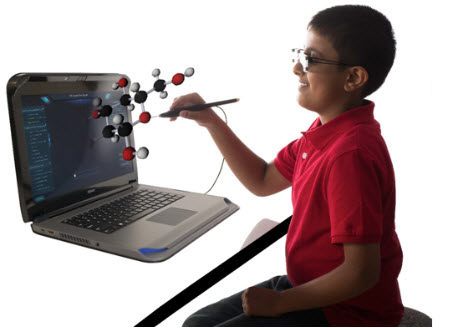 At CES this year, zSpace introduced their new 15-inch 3D laptop. It is a passive 3D display system, but those few words don't really do it justice.
The laptop employs zSpace's patented 3D screen technology and uses a pair of extremely lightweight circular polarized glasses. Inside is an AMD APU A9-9420, 8GB of DDR4 main memory, 256GB SSD, wireless networking, and a 15.6-inch 1920 × 1080 full HD screen. But that still isn't enough.
Anyone can generate a stereo image. But, do it within an app, like Unity, for example, or Maya is a whole other thing. 3D apps have depth. A flat windows UI or browser doesn't. So what? So where does the 2D mouse arrow go when you are moving around in 3D space? Not a trivial question, but a problem the company solved. That's just one example of the tech that is under the 3D display system.
There's also a light-pen which is like what you might see if you were wearing a VR HMD. And the glasses have tiny markers on them that make the model you are viewing maintain correct perspective, pose, and direction if you move.
The company found a lot of users for its all-in-one desktop system in the engineering market, and HP even sells that unit. But the big story and significant market for the company has been K-12. The STEM schools were among the first to take up the system, now you can find them in public, charter, private, and even religious schools.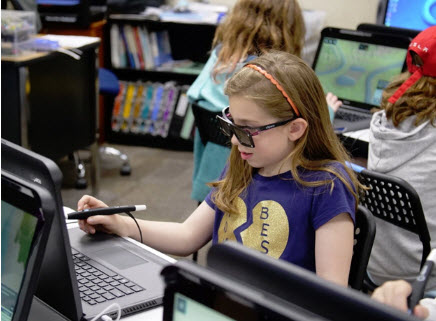 The laptop is aimed at fostering creativity, collaboration, and education by allowing users to interact with VR content in a more flexible and immersive environment that doesn't hinder spatial awareness or block peripheral vision. When not used for VR content, the $1,400 laptop serves as a traditional Windows 10 PC.
The company has installed its systems in over 1,000 school districts, technical centers, medical schools, and universities. David Chavez, the company's CTO, told us millions of learners have experienced zSpace, and academic studies have demonstrated an average performance improvement of 16% with zSpace education apps. Founded in 2007 as Infinite Z, the company has over 120 employees today, over 40 patents and according to sources has raised a total of $56.6 million. The company renamed itself zSpace in 2012.
What do we think?
The good news-bad news with a visualization product is you have to see it to really appreciate it. A picture may be worth 1,000 words, but 1,000 words really can't describe the feeling one gets with zSpace. The imagery is so alive, the response so fast, the controls so robust. But those are just words. Also, the range of available apps is stunning—don't move along, there's a lot to see here.