Closing the information loop from office to site.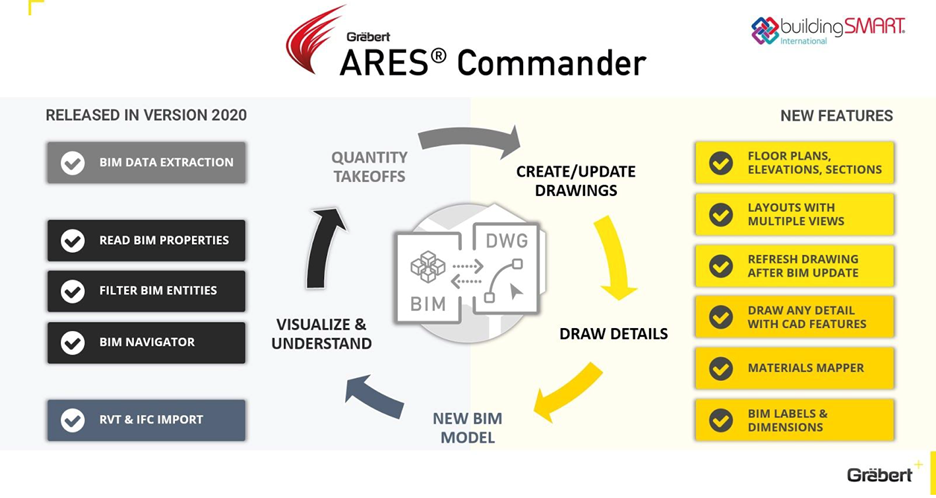 At one time, it may have been possible to consider Graebert as the maker of products to compete with AutoCAD but that was a long time ago.
Graebert's CAD tools—from DraftSight for Dassault's customers, to the Ares products, and CAD products such as CorelCAD licensed to other companies—have found their own places in the world. Ares technology represents the second largest base of CAD DWG users in the world behind Autodesk. Just as important, however, is Graebert's continuing work within the ODA to improve workflows from drafting to BIM, which was a major focus for the company when it presented its annual update for press and analysts as a virtual conference.
Graebert's Trinity
Graebert's Ares Commander has reached an important milestone with its Trinity products. The three tools offer access to CAD data from desktop (Commander) to mobile devices (Touch) to the cloud (Kudo). The company has been working on this functionality for five years and as it has come together Ares has come into its own in the AEC sector.
The Trinity tools enable users to work with DWG files on the desktop, mobile, and in the cloud and to synchronize between all the platforms to provide SaaS functionality. Through its development, the company found that its customers use the popular cloud sync tools such as Dropbox and Google Docs but it has also added support for Trimble Connect, Microsoft Sharepoint (Teams), and Hancom Space (South Korea) in addition to Amazon Web Services (AWS) Nextcloud, and Ares' own resource Kudo Drive.
Also, and not insignificantly, Ares supports Windows, Mac, and Linux platforms.
Enabling BIM workflows
Graebert is an influential partner in the Open Design Alliance (ODA) and BuildingSmart (bSI) and has joined them in developing BIM functionality. In 2019, Ares announced a multi-year commitment to building BIM functionality into its Ares tools and fix the "broken workflow" between BIM and CAD users. This year, the company has delivered new tools and has announced new alliances clearly establishing its position in the BIM ecosystem.
Robert Graebert points out that the BIM workflow is broken because traditional CAD tools are used alongside BIM but the workflows tend to be separate streams, they are not truly integrated. Graebert estimates that there are often 4× to 10× more CAD content created in drawings compared to BIM content. That's where Graebert expects to play a role.
In the upcoming Ares Commander release 2022, they are addressing some of the main areas of disconnect:
IFC & RVT import (+IFC export): Interoperability with the most widely used BIM formats
BIM Navigator: Explore the imported BIM projects, potentially several of them simultaneously, and filter out entities by discipline, by level, by class, by type, or by the object. The filtering of elements is essential to isolate only the relevant information for each drawing. For example, one may isolate only the walls and openings of a specific floor.
BIM Properties: Read the BIM properties of selected entities which might for example lead to specific technical choices in the drawing.
Data Extraction: Export the information of the filtered objects into tables or .csv files which may be for example used for quantity takeoffs.
Sections and views: Create 2D drawings from the filtered selections to document them with the CAD tools of ARES Commander.
These capabilities represent a giant step towards linking the complex data structures of BIM in Revit, Graphisoft, Allplan, Bentley Systems, and other tools with CAD working documents for all the many people and many specialties involved in a BIM project.
Ares 2022, says the Graebert team, connects BIM to CAD in practical ways. Graebert's BIM Navigator enables access to BIM models through its support for Revit and IFC formats. Navigator lets people combine their BIM models and create drawings. They can extract salient information for the tasks they want to do. Associativity between the BIM model and DWGs is maintained throughout. The Ares tools let people add information to the drawings they create and it can be synced back to the BIM model.
Licensing
Ares Commander is available in an annual plan, a perpetual license, or a flex license. In all cases, customers will have access to Ares Touch and Ares Kudo for a year. The $250 annual plan offers Ares Commander with updates, email support. This or a three-year annual license for $795 is the preferred plan. All three products, Ares Commander, Ares Kudo, and Ares Touch, are included for one year.
The Perpetual license for a year is $795. As in the annual subscription, Ares Kudo and Ares Touch are included. After the year, you can keep using Commander. Also, after the first year, you can purchase optional maintenance to continue getting Touch, Kudo, upgrades, and support.
A Flex License is available with the purchase of three or more floating licenses on a network. In this way, licenses of Ares Commander can be shared on a local area network with upgrades and email support and including Touch and Kudo.
Multiple users can use the Ares tools on the network but the number of simultaneous uses is limited to the number of paid-for floating licenses. Licenses can be used on Windows, macOS, or Linux machines and a license can even be taken off the plan for a defined period to work off the network—when the user is traveling for instance. The idea is that companies can reduce the number of licenses needed in situations where there may be lots of users but not everyone needs to be using Commander all the time.
In other news
Graebert is building on its base with new deals in South Korea and India. In South Korea, Graebert has signed a deal with Intelli Korea. The group sells an IntelliCAD-based CADian as a homegrown AutoCAD competitor. Now, they have teamed with Graebert to sell the Ares Commander products to customers interested in having Commander plus the Touch Mobile option and the Kudo browser-based CAD option. Seung-Hoon Park, CEO of Intelli Korea, said his company was particularly interested in the ability of the Ares tools to share CAD files worldwide, on any device. He noted that the workflow is particularly well suited to companies with many overseas construction sites or manufacturing plants. The deal has helped Intelli Korea and Graebert to win LG and Samsung as customers.
In addition, Graebert has signed a deal in India with the Indian Institute of Architects to sell customized Ares Commander tools under the brand IIACAD to approximately 20,000 IIA members.
What do we think?
Graebert believes the cloud is the future. They are providing DWG tools to Onshape and Wilfried Graebert says the pandemic is driving users to cloud-based workflows much faster and Ares expects many customers to find their way to the Ares toolset. Robert says that they are five years in the cloud business and believes Graebert is well-positioned for customers migrating to the cloud.
The company is strengthening its own distribution teams first in Germany and now in Europe.
Robert Graebert also sees quite a bit of opportunity in the arrival of the new Apple computers using the M1 Arm processor. He notes that the Graebert team has quite a bit of experience on the Apple platform through their development of Ares Touch for mobile. He says the CAD world will see the impact more with the arrival of Apple next-gen machines for professional users but the sea change is already underway.
Graebert's Commander tools are no longer just AutoCAD competitors. They're alternatives with an edge in collaboration and BIM workflows.