What do you get when you combine two beloved properties and virtual production techniques? The 'Muppets Haunted Mansion.'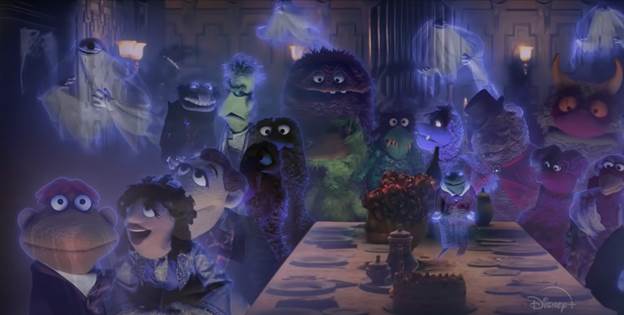 Ghosts, ghouls, hauntings, apparitions, and more. They are enough to give anyone, even those beloved puppets, the Muppets, a fright, especially on Halloween night. But then again, what's Halloween without a healthy dose of spookiness? And, what's a Halloween show without a heavy dose of frightful fun?
Disney's Muppets Haunted Mansion, which debuted last October on Disney+, has fast become a family favorite particularly when fright-night grows near. The 50-minute runtime Halloween special combines two indelible properties—the beloved Jim Henson Muppets and the popular Haunted Mansion Disney theme-park ride. (The Walt Disney Company acquired the Muppets in 2004.)
The streaming special has the Muppets Gonzo and Pepe accepting a scary challenge: They have to survive one night in a haunted mansion; if they don't, they will become trapped there forever. At the abhorrent abode, they encounter various ghosts who resemble their Muppet friends. After eerie encounters and escaping a wickedly weird (almost) wedding, they eventually make it through the night—barely. And in a nod to the Haunted Mansion park ride, as they are leaving, they are trailed by hitchhiking ghosts.
A Muppets Halloween special had been discussed for years, dating back to the 1990s, but it never materialized. When the project was resurrected in 2021, the rapid pace of production was enough to stir the dead. Filming took place in April 2021 over a span of just 18 days. Kirk Thatcher directed. Even though the streaming special was based on two vintage properties—the Muppets were created in the mid-1950s, and the Haunted Mansion opened in 1969—neither became outdated and remain elements of pop culture to this day. Nevertheless, one cannot escape the irony that a modern-day project based on dated material would be produced using advanced XR filmmaking techniques.
XR technology company ARwall headed up the project. They were joined by film production/VFX services company Dastoli Digital and production design company Allucinari, as well as set designers.
To augment the virtual set, high-fidelity 3D stock assets from TurboSquid were used to add alluring atmospheric backgrounds and other haunting and enchanting effects. The use of stock images proved efficient and cost-effective, as opposed to the slower, more expensive method of hand-modeling every object from scratch.
The show's virtual stage was built at Soapbox Films. It is called "the Cuboid" due to its resemblance to a cube. Real-time visuals were delivered for all six screens.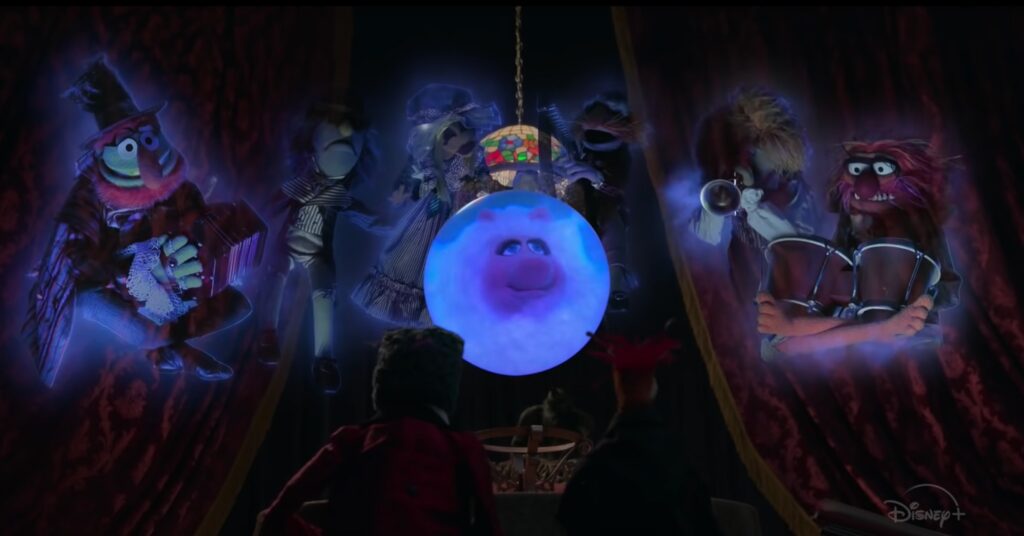 Assets and design
Rene Amador, cofounder and CEO of ARwall, along with the production designer, set designers, and others, approached the holiday entertainment special as if it had been made in the mid-1990s, at the golden era of Muppets films such as Muppet Treasure Island, which was co-written by Thatcher.
Because the images for Muppets Haunted Mansion had to fit into the desired lighting and color scheme, most of the time the stock assets had to be tweaked. Because virtual production tends to be more demanding for close-up items, the material and mesh quality of the hero items that appear on camera prominently had to be increased, as well.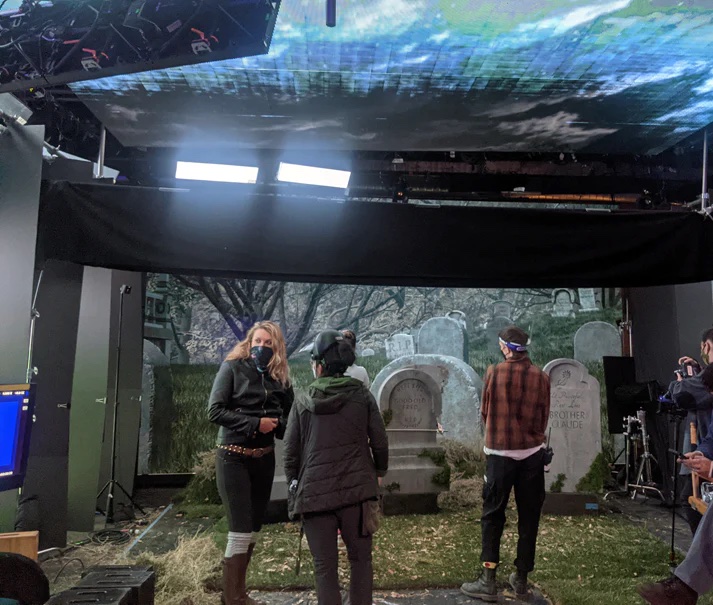 Crafted to look aged, the majority of assets were new digital creations, with a few physical elements added. By bringing an entire haunted mansion into the virtual production stage, the group was able to cut down on set construction costs. This also resulted in a nimbler production, enabling them to switch the look of entire environments in less than a minute to home in on the style they wanted.
So on this haunted holiday, while you may know some of the tricks that went into this not-so-petrifying production, go ahead and treat your family to this bewitching boo-fest.