Seamless integration is one of the company's top-of-mind focal points.

Whether you attended Adobe's 2022 Max or not, it's clear that the company's product line continues to expand. But just as designers no longer operate in silos, the company doesn't believe its tools should, either, and has been working hard on integrating its products so users have wider access to helpful features for streamlining their work. And this integration extends into the 3D realm, too.
Consider the Substance 3D Collection, launched in 2021, for seamless production of 3D assets and experiences, and has added new features for creating 3D content. 3D immersive design starts with a 3D model, and Adobe is happy to provide that via its stock model collection (people, buildings, clothing, textures/materials, and more) within the Substance 3D Assets library. Or, if users would rather create their own model, well, now there is Substance Modeler, which enables designers to create 3D objects quickly and naturally from scratch by manipulating geometry with the tactility of using virtual clay.
With surfacing tools, artists can add detail using an organic approach that mimics airbrushing. Users can also switch in and out of the VR interface seamlessly—VR mode for more expressive and dynamic work, and desktop mode for more controlled and detailed work. Artists can also import their model into Substance Painter and apply materials and textures. Or, Photoshop can be used to augment the model, paint over it, or create an illustration. And, the work can be animated.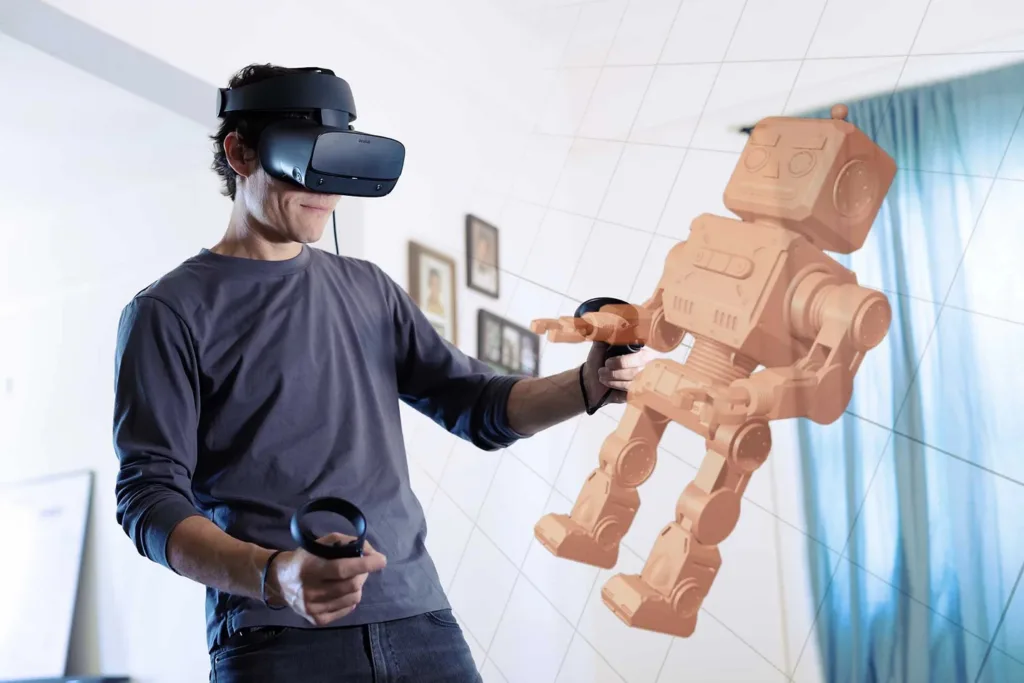 The Substance ecosystem, in fact, enables users to leverage content created in Photoshop or Illustrator to create 3D imagery. During Max, the audience was given a demonstration that showed how easily depth can be added to objects, extending work from Photoshop and Illustrator and transforming it with a 3D material from Substance 3D Painter. In Substance 3D Painter, a sticker becomes an embroidered patch in seconds, as the Illustrator content is transformed into a 3D material. An Illustrator graphic can become weathered and even wrinkled just as easily. Substance 3D Painter also makes it easy to add some denting to a water bottle, to further set the scene.
Adobe also spent a good amount of time showing off the capabilities of Adobe Express across Creative Cloud. Adobe Express is an all-in-one tool that gives users access to some of the functionality of Adobe's flagship creative tools, including Photoshop and Illustrator.
With Adobe Express, Adobe said it is bringing real-time multiplayer collaboration to the platform, as well as adding seamless integration with Creative Cloud. So, if a user wants to go further with a design beyond using the editing tools in Adobe Express, the person can open the project in another application such as Photoshop and make edits there, then open it back up in Adobe Express with the changes present.
"We are building Adobe Express and all our products to work together without friction," said Scott Belsky, chief product officer and executive vice president, Creative Cloud at Adobe. "When you need power and precision, you've got our flagship applications. But when you need speed and ease, Adobe Express is here for you and the rest of the team. And the best part is these products work beautifully together."
Lots of Adobe Express customers also use Creative Cloud applications or work with designers who do. Now, Adobe Express streamlines those Creative Cloud application workflows with Creative Cloud Libraries, which let users collect design elements for certain projects that teams can access across Creative Cloud applications. Adobe Express also enables users to publish and schedule their content across social platforms.
Additionally, Adobe will be rolling out Adobe Express in more areas across Web integrations. One such integration that was just announced is between Adobe Express and Wix, a cloud-based Web development platform, so users will be able to use Wix to edit any media on their Website, including the addition of effects, animation, and more.
Adobe Express is evolving fast, said Adobe, and boldly stated that it is going to be the world's most agile multimedia editor for video text animations, audio, images, vectors, and more.
"For us, creativity has always been a fundamental, collaborative, and social endeavor," said Shantanu Narayen, Adobe chairman and chief executive officer. To this end, he announced the company is making Adobe Express available free of charge to more than 10 million global nonprofits to help them engage donors and drive greater impact. The latest version of Adobe Express for Education, with new AI features, is also free for K–12 students and teachers.

Other newly announced features and integrations to Adobe's existing collaboration tools include:
Invite to Edit for Photoshop and Illustrator, allowing users to save time and maximize efficiency by co-editing and commenting on Photoshop and Illustrator live cloud documents directly within the app.
Microsoft Teams integrations for Adobe Document Cloud for sending documents and creating e-signatures without leaving Teams.
Adobe Workfront for enabling teams and stakeholders to work seamlessly together to plan, produce, and deliver projects in real time, independent of their location.
io for Creative Cloud, the first post-production review and approval workflow directly integrated with Premiere Pro and After Effects, allowing key stakeholders (editors, producers, agencies, and clients) to collaborate seamlessly in the cloud and reach final approval faster and easier.
In related Frame.io news, it was revealed that Red Digital Cinema's V-Raptor and V-Raptor XL, and Fujifilm's X-H2S mirrorless digital cameras will be the first cameras to integrate Camera to Cloud natively with no additional hardware required, for a seamless connection from camera to post. Fujifilm will launch their camera in 2023, and Red's will be available later this year. This advancement comes a year and a half after Frame.io announced Camera to Cloud for transferring footage automatically from a set so post work can start immediately.