New features complement 3D applications and expand options for creators.
AMD used its trip to NAB to showcase the latest additions to ProRender new partnerships and plug-ins. AMD is driving hard with rendering for 2019 including performance boosts. AMD is updating plug-ins for Max, Maya, and Blender. At AMD, the company was also celebrating its integration into the latest version of the Foundry's Modo, which was introduced in March 2019.
The latest updates include new features for the SDK including the option to use a non-commercial SDK to evaluate ProRender and incorporate try it out in an app before actually having to license it from AMD. The non-commercial option includes SDKs for ProRender, Radeon Rays, and the Radeon Image Filter Library. Glen Matthews, AMD senior manager, and product manager for workstation graphics points out that developers who intend to adopt ProRender have to sign a Software Licensing Agreement (SLA) with AMD. The non-commercial SLA lets developers experiment with ProRender without going into the kind of detail about their application that would be required in the normal SLA. They cannot launch production software but, says Matthews, developers can have unfettered access to the SDK, "without even having to talk to us.  You can kick the tires, test some assumptions, consider implementation approaches, and more."
AMD announced full spectrum rendering as a new feature coming soon. As realtime becomes a buzz word, full spectrum rendering offers different options, so that users can choose different options depending on the requirements of the job and the time constraints:
Rasterized rendering—standard viewport creation
Hybrid rendering—advanced viewport creation
Biased photorealistic rendering—look development
Path-traced reality—final rendering
ProRender at work in applications
At NAB, AMD talked about the work it is doing in conjunction with some of the most widely used 3D modeling and animation tools.
The new v2.0 plug-in has been completely rewritten for the Blender 2.80 Beta. Commonly used Blender native shader nodes including the Blender Principled Shader node are supported out of the box.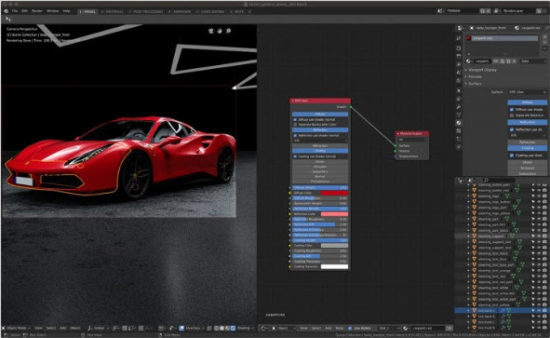 For the Blender 2.8, and Autodesk Max and Maya plug-ins on Windows, AMD has stepped up with accelerated denoising using machine learning to jump to high-quality final and interactive renders, and also to enable fast interactive viewport renders.
For the Blender 2.8 beta and Autodesk Maya on both Windows and MacOS, Autodesk's 3ds Max, which is a Windows program, AMD also is adding Adaptive Sampling, and new Hair rendering features.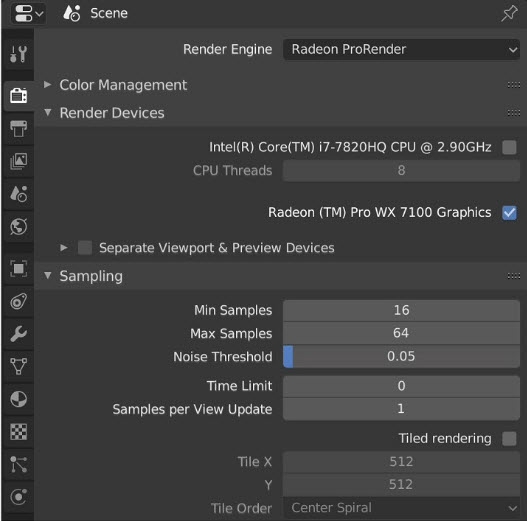 Several years ago, AMD set its sights on strand-based objects including hair, fur, and grass as a technology capability that could dramatically improve the appearance of content. Experts tend to look at hair in evaluating renders and everyone knows when it's not right. ProRender is supporting Maya's XGen interactive grooming tools, and the native hair particle system in Blender 2.8.
AMD says ProRender is also going to keep up with the major software tools. For instance, the 3ds Max plug-in has support for the latest version of 3ds Max 2020 which has reorganized render settings for ease of use. For Maya, Windows and MacOS ProRender is supporting Maya Fluid Volumes for advanced effects like smoke, fog, and clouds. It is also enabling materials in the Arnold Renderer and Redshift to be converted to ProRender materials.
The ProRender roadmap may be one of AMD's most important announcements for its rendering technology because it shows a commitment to the product and its continuing future. ProRender has a significant win with the Foundry for Modo and it's likely that a roadmap figured strongly into the company's decision.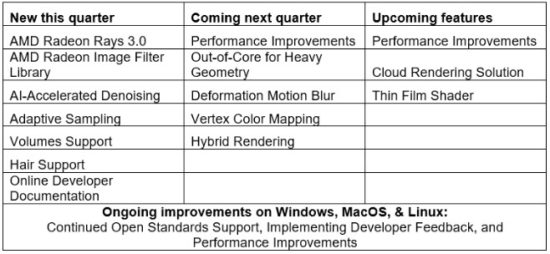 Finally, we didn't mention that AMD is expanding its support for Linux, which is stated in the roadmap and also with added features. In 2018, the Academy of Motion Picture Arts and Sciences conducted a study on open source and found 84% of the studios surveyed use open source tools. As a result, the Academy teamed with the Linux Foundation and formed the Academy Software Foundation (ASWF).
It's not so much that the discovery was big news but it was a reminder that development for companies involved in content creation is going to have to be Linux aware.
What do we think?
We think it's pretty big news to hear that the Foundry is adopting ProRender for Modo. We're pretty curious about what ProRender is going to be able to do with the design and engineering folks. Modo has already had some luck on that front and we expect to see the Foundry pushing forward with that.
Who's afraid of RTX. Everyone probably, but AMD is facing the fire with rendering options to enable GPU accelerated RT rendering.