Making big machines roll: Trimble connects the real world to the digital world and makes the wheels go round. 
Trimble's fiscal third-quarter report for 2020 reveals a company that's managing a transition to subscription and building new business in several segments. The pandemic did not come at an ideal time for the company and the company has responded by taking a pass on forecasts.
Revenue for the quarter was flat at $792.1 million, a 1% increase. The company's ARR, fortunately for them, is growing at a faster rate, at 10%. ARR for the third quarter was 1.26 billion. Income came in at $84.7 million.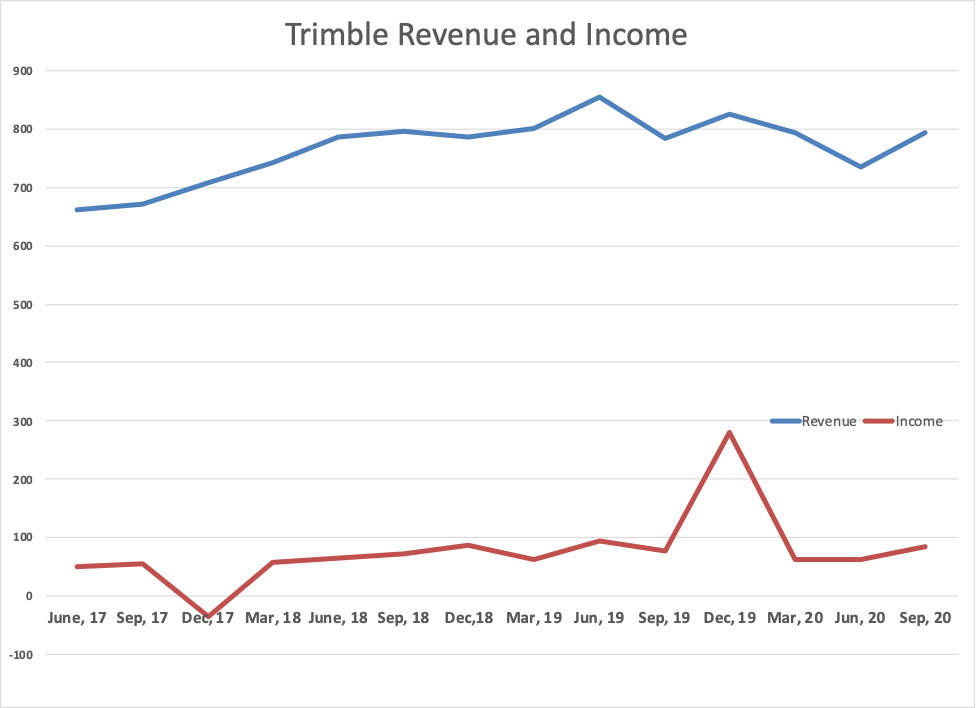 The company's CEO Rob Painter said, "Our strong third-quarter results demonstrate that Trimble technology is enabling customers to do their work more productively and sustainably. Despite a challenging macroeconomic environment, the Trimble financial model proved resilient and we will continue to focus on executing our Connect & Scale 2025 strategy." Painter presented the Connect & Scale Strategy when he took the reins as CEO with Trimble's fiscal first quarter. During the financial call with investors, Painter said that the company plans to come out on the other side of this recession stronger than they went in, and to that end, they're proactively looking for acquisitions that will advance their Connect & Scale strategy.
Like most companies in 2020, business slowed in late winter and early spring with COVID-19 shutdowns. As it has turned out, companies have been able to get back to business.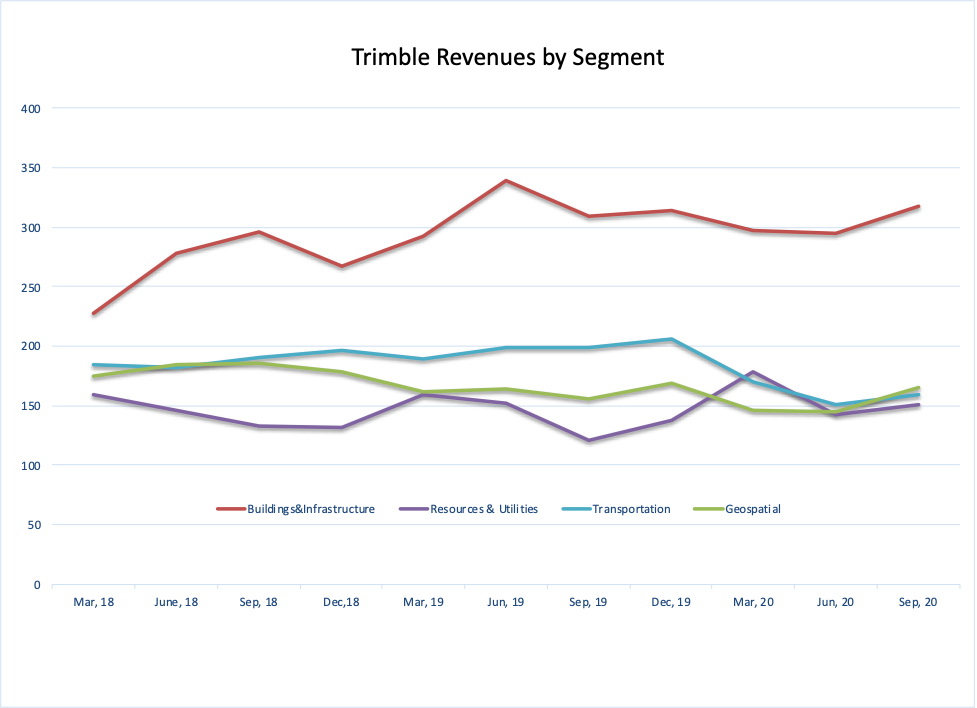 The company's Buildings and Infrastructure segment is its largest and has returned to growth driven by Trimble's civil engineering products and recurring revenues. Painter told investors, "in Buildings and Infrastructure, we saw better-than-expected results in Civil Construction, Machine Control and Guidance. In addition, our Software business has delivered a strong level of recurring revenue growth." Painter said the company's construction management products, Viewpoint and e-Builder, have seen improved ARR "in the high teens" in the quarter and their retention rate was 110%, suggesting the acquisition is taking root in Trimble's ecosystem since their acquisition in 2018.
The company saw Geospatial pull back with the decline in oil prices. The transportation industry was similarly impacted as the company makes a difficult transition to new products. However, Painter also pointed out that worldwide agriculture has been doing well and as a result, Trimble's Resources and Utilities revenue increased 16% on an organic basis due to the interest in precision agriculture, positioning services, and agriculture software. The company acquired Cityworks enterprise asset management (EAM) software for utilities and local government in late 2019 for Resources and Utilities.  The company says that acquisition has built out its product line for utilities and local governments.
Looking ahead
Trimble is providing some guidance for the fourth quarter. Like everyone, the company is seeing COVID-19 take another trip around the world with increasing cases in the Americas and EMEA and so doesn't see how that can be good news. CFO David Barnes told investors that the company expects to see reduced growth in their fourth quarter. The company believes it has positioned itself well for growth in 2021, but it's not so sure when conditions will improve worldwide to allow growth.
What do we think?
Trimble is unique among design and engineering competitors we write about in that its interests and products span hardware and software. The company is driving automation in the fields and doing it literally with connected equipment. The company has an OEM business that gives it insight into factory controls, agricultural equipment, transportation, and construction equipment.
As a really interesting aside, Rob Painter mentioned in the financial call that SketchUp and Viewpoint have seen notable growth. He said, "… the SketchUp business ARR grew almost actually 50%—more than 50% year-over-year." And that's clearly coming from an expansion of the addressable market and winning new logos seeing the same thing in the Viewpoint business.