Partnerships are key to creating digital twin systems.
Bentley Systems is a company best known for the large projects of its customers. Bentley provides software tools for design and data management. It has got a lot going on and by definition, its projects involve multiple companies, regulatory bodies, and government entities. The company has used its annual Year in Infrastructure conference to consolidate its news and messaging, which can result in an unwieldy torrent of information.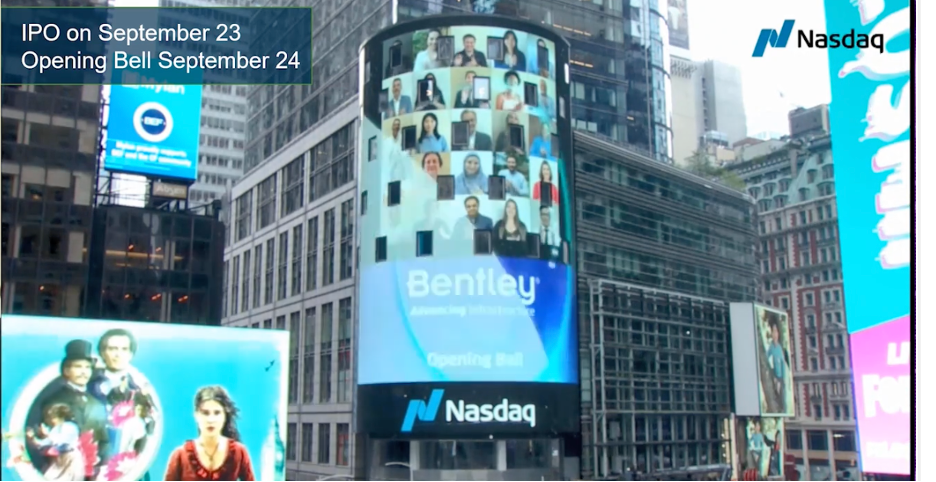 This year, of course, is different. What has normally been a giant international celebration, bringing together Bentley's customers with the press and the company's partners, was held online this year.  The material was immediately available online so anyone can go back and see the presentations. The one blessed thing we're learning from the pandemic is that it is a very good idea to let people deal with huge amounts of information in their own time and in smaller bites. Thank you, pandemic.
Bentley has been one of the biggest design and engineering software companies that people haven't heard of. With 2020, that changes.
In September,  the company finally went public after threatening to do so for years.  Bentley first announced plans for an IPO in 2002, but pulled back when economic conditions looked unfavorable, but the question of when Bentley would go public has hung in the air since then. In 2015, the company ramped up its IPO messaging again and in 2019 started pulling the levers and pushing the puzzle pieces around to make it official. What happened? They pulled back, this time because of COVID-19.
The company apparently read the augurs correctly this time because the September 2020 IPO was successful. The initial stock price was $22 giving the company a value of $5.7 billion at the opening. It rose to $8.7 by the end of the day. Bentley Systems, which has the symbol BSY, raised more than $235 million in its IPO.
The company did not issue stock. Instead, it sold shares owned by its employees. According to the Philadelphia Business Journal, CEO Greg Bentley said they wanted to reward their more than 4000 employees with liquidity. The Bentley family is hanging on control of the company, which, says Greg Bentley, assures investors of the company's ongoing stability and continued focus on its engineering expertise.
Speculation about Bentley's IPO became more nuanced when Siemens took a $130 million stake in the company in 2016 and the two companies continued to deepen their relationship. Siemens now holds 6.1% total voting power, and the two companies are continuing their collaboration on a number of fronts. Would Siemens buy Bentley? Speculation continued right up until Greg Bentley rang the bell on Wall Street to celebrate the company's new life as a public company.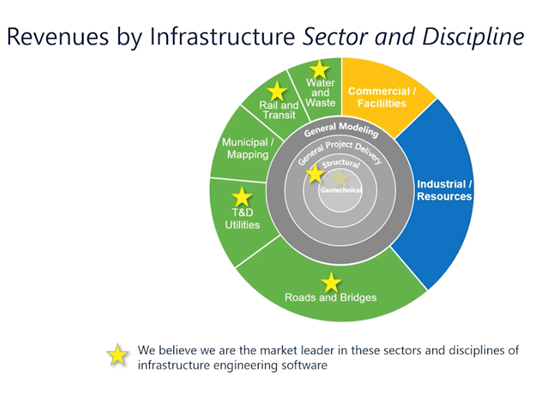 Bentley and Siemens have announced a continued collaboration in the realm of Process & Power industries. At Bentley's YII 2020 conference, Siemens Energy and Bentley have announced a new product as a result of their alliance, an intelligent analytics product for oil and gas operators built on Bentley's AssetWise. Called Asset Performance Management for Oil & Gas, or APM4O&G), the new product will enable operators to monitor and enhance the performance of their equipment. It is designed for multiple assets including onshore compressor stations, gas processing plants, offshore production platforms,  and floating production storage and offloading (FPSO) vessels. This deal is an extension of the collaboration between Siemens Energy and Bentley that produced PlantSite.
PlantSite is a good example of how Bentley is talking to customers about building digital twins because PlantSight offers tools to bring older assets into a digital workflow through scanning PP&ID diagrams, adding sensors, scanning plants, etc. Likewise, APM4O&G combines the data and service experience from Siemens Energy with new data coming out of machines to be able to predict failure, schedule maintenance, etc.
At the Year in Infrastructure conference this year, Greg Bentley told customers that the transition to digital twins didn't have to mean rebuilding, rather it makes more sense to transition incrementally, and Bentley and its partners would build the tools to help. Significantly, Bentley is often working in the built environment: on roads, rails, dams, and underground.
Bentley and Microsoft expand partnership
At this year's Year in Infrastructure conference, Bentley also highlighted its relationship with Microsoft and featured a talk with Microsoft's CEO Satya Nadella, which helps underscore the importance of the relationship between the two companies. Bentley has been developing on Microsoft's Azure infrastructure and has lately added Microsoft Teams to the mix of its collaboration and communication tools. During their talk, Greg Bentley said his company has recognized the value of Microsoft's technology to the point they have pledged to not rebuild anything that Microsoft has already built. Greg Bentley said we don't want to do anything that Microsoft can do. "We absolutely want to partner shoulder to shoulder."
For example, the companies will further combine Bentley's infrastructure digital twins expertise with Microsoft's cloud technologies for ProjectWise 365, which will be available through Microsoft's commercial marketplace. Also, Bentley's iTwins platform will take advantage of  Microsoft's Azure Digital Twins, Azure IoT Hub, Azure Time Series Insights, and other Microsoft cloud services so users can rapidly store and process operational data.
Bentley Systems' work with Microsoft reflects in software development what Bentley advocates for its customers building digital twins: is to connect, update, and sync  information and make it accessible rather than to recreate data. Microsoft will be a big part of that effort. Bentley said they are going to take advantage of Microsoft's Modern Software Stack and bring together the engineering data (ET), with information technology (IT) and operational technology (OT).
As an example of a digital twin project using tools from Microsoft and Bentley, Bentley Systems highlighted an ongoing project in Dublin, Ireland, where they are developing a large-scale digital twin to facilitate city planning, which will enable Dublin's citizens to provide input using an interactive virtual environment. Like so many services, this one has been accelerated by the pandemic to enable a system that allows people to stay home and still take an active role in the city's building and development plans. The system will be based on Microsoft Teams and Bentley's OpenCities Planner.
Microsoft has also recognized Bentley again this year with a Microsoft US Partner Award for its work with Tesla using the HoloLens 2 with Bentley's Synchro 4D modeling software to understand the project's progress.
FC Barcelona's new stadium project will have to fit into the life of the city as the team expands the stadium and retrofits the neighborhood.
In another example, Bentley's technology is being used by the FC Barcelona soccer team to upgrade its stadium to enable larger audiences. The surrounding streets in the neighborhood will also be upgraded to improve traffic flow. The stadium will continue to host matches while the work goes on. In addition to visualization using Synchro 4D construction modeling with Hololens 4D, the project will also take advantage of Microsoft and Bentley technology, including Microsoft Teams and Bentley's ProjectWise, to handle the complex scheduling required to keep the stadium open during construction.
Bit by bit and byte by byte
Bentley's argument is that digital twins evolve through collaboration and open tools. The company has introduced iTwins technology which was built on the company's iModel base that allows users to communicate via realtime, living data. In addition to supporting a range of BIM Model formats and 4D visualization tools like Synchro, Bentley and its partners in digital twin technology also support data from scans, sensors, geospatial data, related documents, and metadata from applications. Bentley has joined the buildingSmart consortium, which supports IFC, and the Open Design Association which is building bridges between a variety of formats including DWG, RVT, Bentley's DGN, and 3D PDFs. And, the company's strategic partnerships with Siemens and Microsoft also expand interoperability. Just this year, Autodesk has added support for IFC and has joined the ODA to improve Revit's interoperability with other applications.
The goal is to enable an open, living, digital twin that's attached to a real-world product. The concept of digital twins and specifically the iTwin is likely to be an evolving ideal, but as companies recognize the need for trustworthy digital models that can grow with their real-life counterparts, they open up their technology, and the digital twin becomes ever more useful.
What do we think?
2020 is the year the major design and engineering companies recognize that building digital twins is an industry-wide activity. The vendors might strike out in different directions and produce their own schemes for digital twins, but they are all recognizing there has to be common ground for collaboration.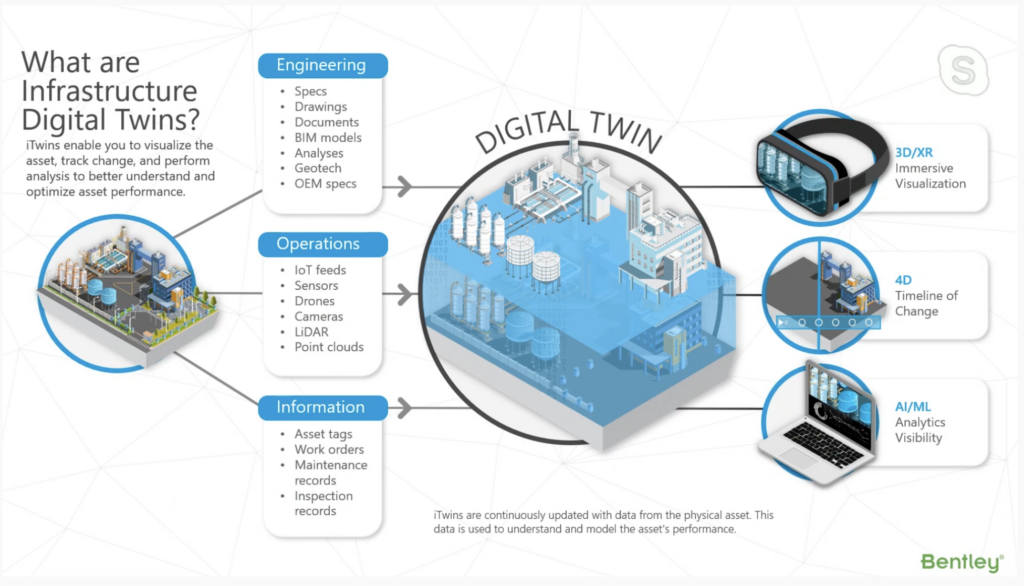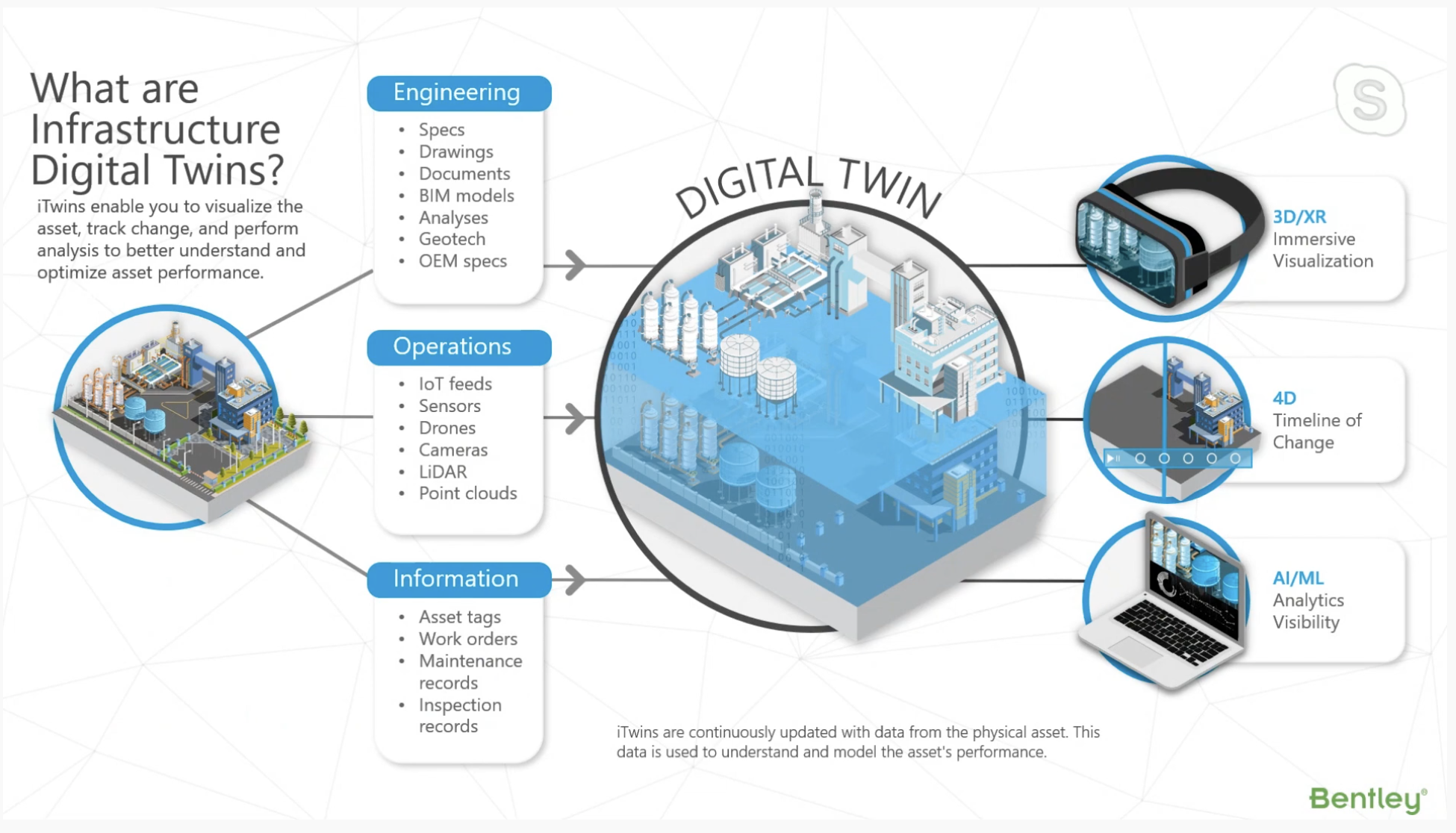 Bentley's perspective on digital twin technology is informed by the company's longstanding work in road and railways, Process & Power, and large building products. The projects they come in on are almost never green field projects so an important part of the company's job is to figure out how to do the work with as little disruption as possible. Perhaps a better way to say that is to manage disruption. The neighbors around the FC Barcelona stadium have complained about the disruption to their neighborhood and the people of Dublin likewise want to be heard. Bringing everyone affected by a project in on the details and allowing them to comment let people know what's going on and how long it will last.
Another important aspect of these projects is that they involve multiple companies working with a wide range of products. Bentley has been adopting open technologies to exchange data and information and you'll be seeing the word "open" attached to more of its products like OpenBuildings, OpenRoads, OpenFlows for hydrology projects. We haven't really talked yet about Bentley's iTwins technology but it is their platform for bringing together data from different software products into a common data environment. So again, nothing has to be rebuilt, it's a matter of bringing in the information.
Read more…