Cloud platforms will erase the lines between content creation tools.

This year's Max featured familiar tools in new packages. Last year, Adobe introduced a cloud- based version of Lightroom. At that time, we were pretty sure it was a harbinger of the future and this year, Adobe confirmed it with the announcement of Photoshop on the iPad and a new drawing tool, Project Gemini which combines raster and vector drawing tools.
Adobe has released a myriad mobile apps, so a savvy audience like the people who come to Adobe Max might be forgiven for ho-humming the news of a brand new Photoshop for mobile or YADA (yet another drawing app), but they sat up and paid attention once the demos got started.
Adobe's mobile apps run the gamut from really useful to cute, but with this generation of new cloud-based mobile apps, Adobe is building the infrastructure for a new generation of applications that are not accessories for the company's PC tools, but products that work across all platforms while critical data is managed and updated in the cloud.
The obvious message from Adobe to artists is that we know you're likely to do your most creative work away from your PC and we intend to be there with you with real tools for real work.
The future of software is in the cloud.
Adobe is building on its legacy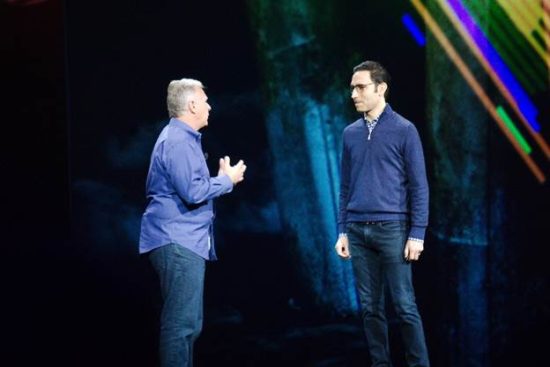 Photoshop is a critical application for many artists. To step back a bit, the introduction of digital imaging opened up a new world for creative people who have a wide range of disparate skills. Digital technology allowed people to sample, scan, paint, and sparkle in ways that would be much more complicated using analog approaches, not to mention impossible if one is not adept at drawing, or painting, etc. In the process, Adobe has helped the graphics arts community create new skills through layering.
With Project Gemini, Adobe is bringing skills back into the digital workflow and they're augmented like super powers.  All the tools and capabilities gathered up over the years are preserved but with the introduction of Project Gemini Kyle Webster showed how he could call in his favorite brushes to create simple, yet spectacular pieces. Presets, libraries, brushes are available no matter what platform you're on because the cloud is always there. The ability to combine vector for drawing but also raster textures, images, etc., is exactly the kind of breakthrough that Photoshop brought along 40 years ago, but with the evolution of the cloud those breakthroughs are magnified again. Gemini will interact with Photoshop. The act of creating on a tablet is no longer limited to the abilities of the processor on the device because all the compute is taking place in the cloud.
The shift is even more dramatic, Photoshop on iPad, especially as there have been so many variations on this theme. Photoshop is a big ol' complicated thing that's used by millions of people for very different applications. Photography is just a piece of it. The only way Adobe could get all of Photoshop out to people in an uncompromised form was by basing it in the cloud. Photoshop for the iPad is based on the same code base as Photoshop. Adobe has not provided much information about its Cloud PSD format but it's the platform for both Project Gemini and probably Lightroom CC, but no one has actually told us that. That's why users can expect to find all their content, presets, libraries, etc., on the upcoming iPad version of Photoshop just as they would expect on their Creative Cloud apps.
To celebrate the coming of Photoshop on the iPad, Apple's Phil Schiller came on to the Max stage to talk about the advantages of the collaboration between the two companies. It goes beyond support for Cloud PSD. Both Adobe and Apple are supporting USD, the Pixar Universal Scene description, which is forming a lattice work of connective tissue underneath creative software. Apple and Adobe are also collaborating through ARKit which is driving Project Aero and the future work the companies will be doing in AR.
Clearly this trend is going to work its way through the Adobe product line as much as is practical. At IBC, Adobe introduced Project Rush, a tool which allows video capture and edit on the mobile with smooth interoperability with Premiere. Again, we can't say what all Adobe is building in terms of platform to enable its products to interoperate, but it would be reasonable to expect the video products are working their ways towards a common architecture. The beauty of the cloud is that no one has to think about formats, no one has to think about files, or saving or overwriting … ideally anyway.
For artists, the new apps are long wished for tools that let artists pick up their tools and get to work in ways that are familiar and changes are updated and available no matter what platform people go to as they continue working.
In a broader sense, Adobe is using the cloud to leverage new businesses for itself. Although it's not a major theme at Max, the Adobe Marketing division has changed its name to Adobe Experience Cloud (god help us) and it is building these tools on a common platform as well. Adobe is using its leadership position in almost all phases of content creation and connecting that content to information systems for the enterprise. Artists, probably much to their surprise in some cases, are the first line in a company's development of its sales and marketing strategy because they're creating the content to be tracked, tagged, and monetized.
What do we think?
Adobe has the clearest vision on where they want to go, but they are not the only ones. Autodesk and Dassault are building their own cloud-based infrastructures. We have written here about the Foundry's work in building a cloud infrastructure. And finally, Epyc is building a content creation environment while the players and the builders will interact.
We've been talking about content creation in the cloud for some time now. Meanwhile, operations in the cloud, CRM, the back office are all evolving to enable a business to flow more efficiently. Adobe is probably the leader in bringing art and commerce together in a relationship that becomes symbiotic.
See related stories:
Adobe takes Premiere and After Effects into new territory