Neorealism rising; love twisting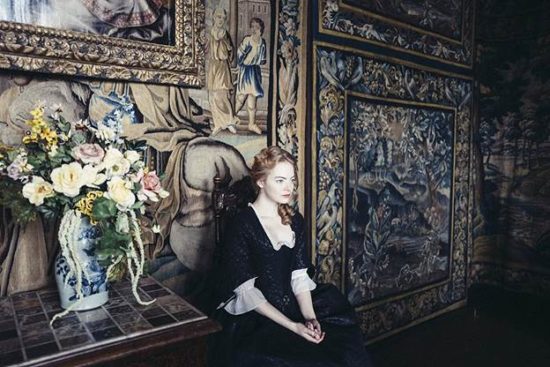 The Telluride film festival is a rarified festival. It's a place physically hard to get to. Likewise, the festival organizers pride themselves on presenting movies that require a little extra work on the part of the audience. Not that every movie is tough, but if a festival goer isn't careful, it's pretty easy to wind up staring at the ceiling of a cold, dark mountain condo with a bad case of altitude sickness and existential angst.
Luckily, for the delicate, the favorites this year were generally uplifting. Literally, in the case of jock-thriller Free Solo about free solo phenom Alex Honnold; and reverential First Man about Alan Shepard's trip to the moon. Alfonso Cuaron's Roma was probably the winner at Telluride if there were such a thing, but there's no judging at Telluride—only the occasional glance askance for loving or hating the wrong movie. Of the movies I saw, The Favourite by Yorgos Lanthimos (The Lobster) was among my favorites with wonderful full-tilt acting from the three leads: Olivia Colman, Rachel Weitz, and Emma Stone.
VR at Telluride
Eliza McNitt's labor of love, the VR movie experiment Spheres is the first VR film to be shown at Telluride. It had a continuous screening throughout the festival. Lines were often long because there were only three VR stations for the three-part piece. Each piece is 15-minutes long, which is generally considered the maximum length of time people want to spend in VR. At Telluride, once installed into a headset, visitors could watch as much as they wanted of the pieces. According to an informal poll of the line, most people watched one at a time, and many were in line for a second go. According to that same poll, part 2 Songs of Spacetime, narrated by Jessica Chastain, seemed to be the most popular episode of the three. This is a pretty tiny poll, however. I didn't meet that many people who got to see all three. The challenge of Telluride is that if you're standing in line for one movie, you might be missing some gem playing in some tiny ad hoc movie theater around the corner, so it was pretty hard to justify a half hour or more wait for a 15-minute VR experience. There really isn't a good reason why there couldn't have been more than three stations. Each person in a headset had a keeper to make sure no one strangled themselves in wires or swallowed their tongue, which probably was an unnecessary amount of overhead.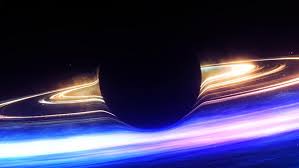 McNitt has done a remarkable job using data, sounds, and images for ideas to create Spheres and her earlier VR piece a Fistful of Stars. Still, the piece is, at first, disappointing. The graphics are not spectacular and in fact, McNitt has told a story about showing Spheres at CES where a lady took off the headset after a few seconds and snapped, "it's not amazing!" McNitt says that after she coaxed the woman back into the headset and the woman watched the entire episode, she had tears streaming down her face. I had a similar initial response (but no tears) as episode three, Pale Blue Dot started up. Hey! It's not amazing, but we are still in the early days for VR. There's only so much compute power available to present two screens of 360-degree content at 60 fps, which is absolutely necessary to prevent people from getting sick. So pixels are visible and images are relatively coarse. That drawback is probably a big reason why McNitt has relied so heavily on sound to help sell the pieces.
More important, after a minute or two of experiencing Spheres, mind, body, and emotion take over and there are moments of awe and wonder. And, it is amazing. There are also moments, of I'm tired of this, can I sit down? After standing in line for 30–45 minutes, that extra 15 minutes or more gets tiring. The experience would be immensely aided by the addition of a swivel chair. Though, to be fair, the second installment, Songs of Spacetime gives the participant more opportunity to move around and interact.
McNitt has spent a long time in the creation of Spheres and her work is evident, so is the investment she has managed to raise. The narration, the audio, and the video are skillfully intertwined and effective, but, and I know this sounds crazy, Spheres already feels a little behind the times. There is some interaction using hand controls, but the interaction feels minimal in Pale Blue Dot and most of the action seems to take place right in front of the viewer. Oh, there's the occasional planet that sneaks up from behind but it almost feels as if it's an afterthought. The whole 360 world does not feel like it has been fully populated for much of Spheres.
What is probably significant is that Spheres has come out of the movie world rather than the game world. Game developers have been thinking in 360 since the first days of Castle Wolfenstein.
Technology at Telluride
It's significant that Spheres came to Telluride because the festival is not about technology. There aren't a lot of big effects movies and screenings are just as often held in marvelously intimate little hotel theaters and meeting halls as well as the school gym and hockey arenas. However, that doesn't mean the organization stints on technology for screenings. In fact, the enormous Werner Hertzog theater at Telluride, also known as the Hockey Rink in the winter, has been outfitted with a sound system built by Meyer Sound supporting Dolby Atmos. It hosted early US screenings of the Cuaron's Gravity, and audiences came out of that enormous space every bit as moved and ashen-faced as they did the small, fine-tuned Dolby house theater in San Francisco where I first saw the movie.
The fact that Spheres came to Telluride, suggests that the programming board believes that VR is a storytelling medium and therefore cannot be ignored. It also helps that the film gives filmmaker Darren Aronofsky producer credits and recognized stars like Patti Smith and Jessica Chastain are in the credits. Film folks can be snobby folk and Spheres, with names familiar to the film community has a leg up.
The 2019 film year as seen through the lens of Telluride
Neo-realism never really goes away, and Cuaron's Roma revives the form with a lover's touch. The open credits run over black and white scenes of soapy water washing across a brick floor. The camera pulls back and we see a young maid cleaning dog poop from the floor of the garage. Those very first scenes tell us exactly where we are—we're in a place in the director's memory in the 70s at a time of unrest in the Mexican countryside, government repression, and student uprisings. Supposedly, Cuaron did the cinematography himself because collaborator Emmanuel Lubezki (Gravity, Y Tu Mamá También) was already committed to another production. However, Roma is such a personal production, it also makes sense that Cuaron was behind the camera as well.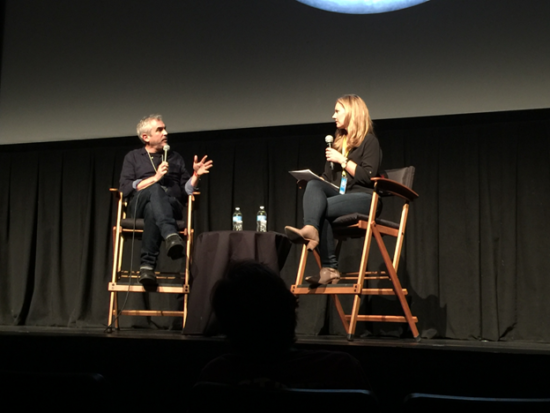 At Telluride, Cuaron told the audience that he had been preparing for this movie for over a decade. He talked to his relatives, and the people working in the house when he was growing up about that time. He even collected furniture from their houses to rebuild his memories. Cuaron has clearly drawn on the influences of Italian neo-realism, but not just the clear-eyed reportorial style of Rossellini (Rome, Open City, Paisa), but also the soulful long views of Vittorio de Sica (Bicycle Thief, Umberto D) and also the whimsical curiosity of Federico Fellini (La Strada).
A loving view of the past comes with traps. Cuaron remembers the maid who worked in his household as a loving surrogate mother and in the movie this character is Cleo played by first-time actor Yalitza Aparicio. Cleo is always at work, living with the other maids in the small rooms at the top of the house and on call 24 hours a day. As her story is told, it's hard not to wonder where the limits of love really lie. Cuaron doesn't ignore the uncomfortable, but the audience isn't asked to worry too much about it. We don't want to. Roma is a lovable movie. It's a gift that Cuaron has made as best he could.
The neorealist aesthetic is also evident in Cold War by Pawel Pawlikowski whose earlier film Ida won the Academy Award for Best Foreign Language film. Like Roma (and Ida for that matter), it too is in black and white. It takes on the cold war years in Europe. Pawlikowski has said Cold War was inspired by his parents. They apparently had a tumultuous relationship and the audience's first question at the end of the film has to be, how the director ever managed to come to exist. The characters carry on from Poland to Paris and in the background modern-day Europe goes through its painful evolution. The lovers pull together and push apart as if driven by mysterious forces, no less mystifying than political ebbs and flows.
In both Roma and Cold War, the political and the personal are inextricably entwined. The characters do not have the luxury of analyzing the forces acting on them; they are caught in their time. It's a useful reminder that none of us really have control over our lives given the external forces that shove us along certain paths.
And now, for something completely different
Stylistically, The Favourite exists at the opposite end of the scale from anything that could be described as neo-realist, or realism for that matter. It's lush, it's colorful, and it holds nothing back. Directed by Yorgos Lanthimos, a challenging director who last presented the world with The Lobster and The Killing of the Sacred Deer. At Telluride, Lanthimos told the audience The Favourite was the first script he worked with that he had not written with collaborator Efthymis Filippou, and he was at first hesitant. For people who are leery of Lanthimos's uncompromising filmmaking, that's kind of an endorsement. The thing Lanthimos has going for him is a crazy sense of humor and a love for the bizarre which drives The Favourite like a funhouse bumper car.
The three lead actors—Olivia Colman as the sad, dissolute Queen Anne; Rachel Weisz as Sarah Churchill, the Queen's capable and loving best friend and advisor; and Emma Stone as Abigail Marsham, who is competing for the favor and favors of the queen—skillfully juggle the movie between them. They're generous with each other in a way that keeps all three at the center of the story. It's been described as All About Eve with sex and bunnies and useless noblemen in frilly clothes. Do fasten your seat belts, won't you?
Stylistically, Roma and The Favourite are the pole stars of the awards season. Caught in between are First Man directed by Damien Chazelle (La La Land), with Ryan Gosling as Neil Armstrong and Claire Foy as Janet Armstrong; Jason Reitman's (Tully) Front Runner with Hugh Jackman as Gary Hart, the last politician to be brought down by something so mundane as an affair; and Yann Demange's (Top Boy) White Boy Rick, with Matt McConaughey and Richie Merritt, a father and son struggling to make it as Detroit collapses around them in the 80s; and Paul Greengrass' 22 July about the murder of 77 young people by Anders Behring Breivik at a youth camp in Norway.
As always there's plenty of competition as the film industry rolls into awards season. Something to keep an eye on is the expanding role Netflix is playing in the film industry. Not content to be a player in TV land, Netflix has funded Roma, 22 July, and The Ballad of Buster Scruggs. The movies are getting theatrical releases in the U.S. to ensure they are eligible for Oscar nominations and Netflix is determined to win a statuette or two. There's not much doubt they will.
There is resistance. The venerable Cannes film festival refused to include the Netflix movies because they did not have a theatrical release in France. The French film distributors protested the inclusion of Netflix movies. Netflix was willing to play their films in French theaters, but according to an article in Variety, movies can't go to home distribution for 36 months after their theatrical release and of course, that's too high a price for the home-market-oriented Netflix.
The Toronto, Venice, and Telluride film festivals had no such problem. The way forward looks pretty obvious.
Never the same again
It feels like the film industry is leaving behind its fascination with high tech effects. The major movies of 2018 are wonderful stories with real people at the center.
That's not to say there might not be another Mad Max Fury Road or Pacific Rim in our future; that would be a bleak future indeed. But, the digital explorations and excesses of the last ten years have also enabled movies like The Shape of Water, La La Land, and Gravity. These are movies that can be told more effectively with the boost of digital magic.
Also, there is new money coming from the rebirth of television thanks to streaming technology. Netflix and Amazon are pouring money into the film industry so that new chances can be taken and new stories can be told.
I love this year's crop of movies and I can't wait until next year.