At IBC, digitalization is a done deal and 4K becoming the norm; 8K is coming in with new screens, cameras, transmission systems, CODECS, and lenses all built to satisfy increasing demand. UHD is at home in living rooms around the world and the discussion now is around HDR. All of that adds to the heavy workloads for workstations and servers, as well as online storage systems.
For AMD these days, the Threadripper processor is a headliner. Not everyone needs 32 cores, but for those who do, Threadripper is a killer for the right jobs, which in the case of IBC's audience is rendering and transcoding. AMD is also promoting AMD's processors for servers for behind the scenes.
The company demonstrated the Threadripper 2990WX going to work on AMD's ProRender in Cinema 4D rendering using all 32 CPU cores. The company also demonstrated a workstation provisioned with Threadripper and 4 Radon Pro GPU boards for applications like DaVinci Resolve, which relies on both GPUs and CPUs and supports OpenCL. At IBC, AMD was showing off the new Vega-based WX 8200 with HBCC allowing fast access to memory and stuffer-free performance. The new processor is a Vega 14 nm FinFet design with 56 compute units and 3684 stream processors.
AMD is just getting up to speed for its return to professional graphics and high-end processing. The company feels it has made considerable progress with Adobe, which supports OpenCL for its Mercury Engine. Adobe's Mercury Engine for After Effects and Premiere accelerates work using layers and masks, compositing, and rendering. Security is obviously another important issue at IBC and the new WX 8200 features the AMD Secure Processor, a separate processor which creates a secure space for IP sensitive tasks.
At IBC, AMD was showing a setup running Premiere on the Radeon Pro SSG, an AIB designed for 4K and 8K video workloads. It too has with HBCC and 2 TB of SSD. HBCC which allows the graphics processor to seamlessly access VRAM and system memory as needed with intelligent paging.  The Mercury Engine with OpenCL support recognizes the system memory. As a result, the system provides seamless video interaction with no stutter. We were told at IBC that video professionals have become inured to dropped frames as they scrub through content, so the performance they can get thanks to the HBCC is an eye-opener for them. To get similar performance from a competitors system, says AMD, you'd be using a system with a high-end Intel processor and expensive Nvidia boards that runs about $25K, or that's what AMD tells us. The system AMD was showing at IBC comes in at $6K.
In addition, the Adobe Media Encoder (AME), with support for OpenCL and GPU acceleration, automates the production of multiple encoded versions of source files, sequences, and compositions in Premiere Pro CC. With the GPU-accelerated AME and AMD graphics technology, editors can quickly encode projects and output files for any format or platform.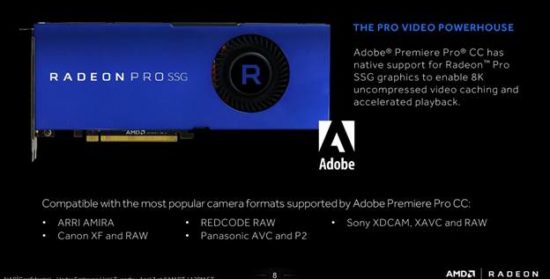 For Macs, AMD was showing a new iMac Pro relying on external GPUs in the Sonnet external boxes. The arrival of Thunderbolt 3 has enabled external boards without connection overhead. The company says Sonnet boxes are currently in short supply as Mac-based creatives snap them up.
What do we think?
AMD has great arguments on the cost/performance front and given the features of the Threadripper, AMD's WX 8200 with HBCC, and the Radeon Pro SSG it is making that argument with no compromise. We liked how AMD tailored its message for specific video workflows at IBC. It's hard to get through the noises, and AMD has to do that above all else.
The equation for Apple users who have sleek systems with no internal access is a little easier. The addition of multiple graphics boards for applications that support them including Adobe and DaVinci would seem to be a no-brainer for Mac users.
One of the arguments around 8K at this relatively early stage is its necessity for most production. However, content creators like having the added option and room to work. We were told by a cynical lens maker that the ability to capture in 8K to produce 4K content lets cinematographers be lazy in their composition. The same thing was said in the transition to 4K. But, so what? If the pixels are there, why not use them.