AMD's latest workstation lineup includes the W6800, and a W6600 for desktop and mobile.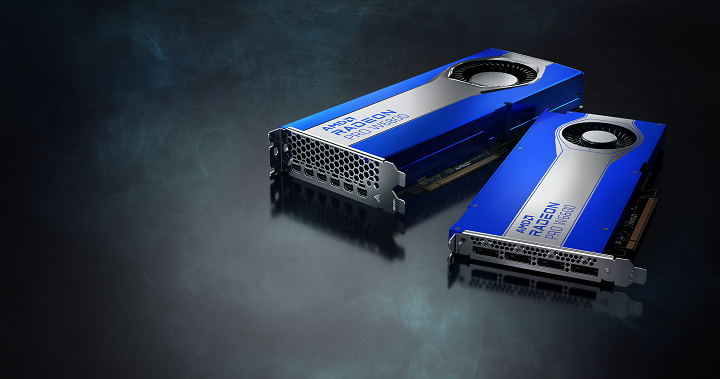 AMD has been rolling out its RDNA 2 across all its product lines first shipping in the fall of 2020. That in itself is noteworthy because AMD has a good story to tell with its broad-based product line. All the products are taking advantage of AMD's 7-nm process technology, and AMD even has their RDNA 2 technology in the new generation of consoles, as well as mobile graphics, desktops, and servers. The story gets better as AMD has privileged its Ryzen 3 CPUs working with GPUs through its Advantage program and RDNA 2 features such as ray tracing through RA hardware accelerators, Infinity Cache to boost performance, FidelityFX for improved graphics quality, and support 4K workloads.
The Zen 3, RDNA 2 juggernaut fueled a triumphant Computex for AMD this year where the emphasis was primarily on gamers and laid the groundwork for AMD's return to the workstation market with three new workstation boards in the AMD Radeon Pro W6000 series: the Radeon Pro W6800 which carries 32 GB of GDDR6 ECC memory for large models, and the W6600 and W6600M boards with 8 GB of memory for high performance in desktops and mobile machines. All three boards are placed fit in a price-performance slot that challenges its competitive counterparts.
AMD says its new RDNA 2 workstation boards are significantly quieter than Nvidia's comparable boards. AMD provides a fairly tortured analysis of its advantages over Nvidia in the accompanying chart.
Most important for AMD's rollout of its workstation graphics boards is that the company focuses on what it does best and what most people want a professional graphics board for. The company says they've been tested and verified for stability and reliability and AMD's software verification program includes a broad lineup of professional software applications. AMD has provided an interactive list of certified drivers for software applications here.
AMD says their new workstation boards meet the expectations of modern users. In their presentation of the new boards, Scott Jackson, director AMD workstation graphics, says they've identified the features professionals using workstation graphics need across industries, and that includes hardware ray tracing and more dedicated memory as models get bigger and ray tracing becomes part of more workflows rather than for specialists. Jackson also noted that time frames are compressing as workloads grow.
The key features of AMD's Pro Radeon W6000 lineup are:
Enhanced Compute Units with real-time hardware-accelerated ray tracing—Enhanced Compute Units (CU) with Ray Accelerators offer up to 46% faster rendering than Radeon PRO graphics AIBs based on previous-generation architectures. Support for Variable Rate Shading (VRS) delivers real-time photorealistic viewports and rendering.
AMD Infinity Cache—Up to 128MB of last-level data cache integrated on the GPU die can reduce latency and power consumption.
Smart Access Memory—Unlocks higher performance for key professional workloads by giving AMD Ryzen 5000 Series Desktop Processors or select AMD Ryzen 3000 series Desktop Processors access to the entire high-speed GDDR6 graphics memory.
AMD Radeon PRO Viewport Boost—Designed for today's professional workloads and compatible software to help viewport frames-per-second performance increase with project file sizes.
Certified for leading professional applications—AMD works with leading professional software application vendors to ensure AMD Radeon PRO graphics AIBs are built for 24/7 environments and tested for the level of stability and reliability required by workstation professionals.
Thanks to the 32 GB of onboard memory and 128MB of Infinity Cache, the W6800 is designed for very large models, large video files, and for ray tracing large models. More of the model can fit in memory and Infinity Cache keeps the active processing in memory close to the GPU. Likewise, the improved performance within the viewport enabled by AMD's Viewport Boost enables customers to smooth interaction even in 4K resolutions. AMD claims up to 214% navigation FPS with Viewport Boost enabled.
AMD is also ready to take on Nvidia on ray tracing with AI accelerated denoising. The company claims faster ray tracing but also higher quality, which is going to be an argument the users will decide for themselves. The details of AMD's FidelityFX universal ray tracing (that can work on any AIB) are slowly being released by AMD, and we'll have a more though report on it as we learn about it.
AMD featured third-party video proceeding software company Topaz Labs in their announcement. Topaz Labs provides a toolkit of AI-powered applications for image and video enhancing. The hardware-accelerated video and image editing tools cover the most essential needs of amateur and professional workflows. It includes such things as noise reduction, intelligent sharpening to RAW-like JPEG processing, photo and video upscaling. Based on deep learning AI algorithms, Topaz Labs Video Enhancement AI (VEAI) software runs on Windows and macOS systems.
The board features 60 enhanced compute units for ray tracing. The AMD Radeon PRO W6800 graphics AIB is available now for an SEP of $2,249 USD.
Along the lines of features that AMD can do best is to improve interoperability between its CPUs and GPUs and that has been a big focus of this RDNA 2 rollout season.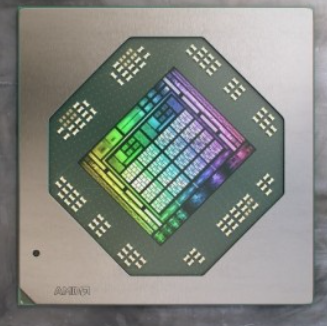 While the W6800 is specialized for users with big jobs, the AMD Radeon Pro 6600 and Radeon Pro 6600M are workhorses.
Model
Stream Processors
TFLOPS
GDDR6 ECC Memory
Memory Bandwidth
Memory Interface
Display Outputs
MSRP
AMD Radeon PRO W6800
3840 (60 CUs)
Up to 17.83 (FP32)
Up to 35.66 (FP16)
32GB @ 16 Gbps
512 GB/s
256-bit
6x Mini-DisplayPort 1.4
$2,250
AMD Radeon PRO W6600
1792 (28 CUs)
Up to 10.4 (FP32)
Up to 20.8 (FP16)
8GB @ 14 Gbps
224 GB/s
128-bit
4x DisplayPort 1.4
$649
AMD Radeon PRO W6600M
1792 (28 CUs)
Up to 10.4 (FP32)
Up to 20.8 (FP16)
8GB @ 14 Gbps
224 GB/s
128-bit
OEM choice
NA
AMD's specs for new workstation board lineup. (Source: AMD)
AMD describes the W6600 as "optimal price-to-performance" for mainstream workloads such as CAD, 3D modeling and animation, video, interactive rendering, etc. The AMD Radeon Pro W6600 is coming in Q3 2021 and has a SEP of $649. AMD says the W6600M GPUs are coming soon in the HP Fury ZBook G8 mobile workstation in starting of July 2021.
The AMD Radeon PRO W6600 graphics AIB is expected to be available from etailers/retailers in Q3 2021 with a SEP of $649 USD. AMD Radeon PRO W6600M GPUs are expected to be available in the HP Fury ZBook G8 mobile workstation in select countries starting July 2021.
AMD made the point that its pricing has gone up incrementally compared to its previous generation. For instance, the GDDR6 with 32GB ECC, and 17.83 TFLOPS performance at $2250 is only 18% higher than its last-gen Radeon Pro VII with 16GB ECC, 13.10 Peak TFLOPS at $1899. Compared to Nvidia's A5000 priced at $2600, the AMD W6800 looks good with 32GB to the 16GB on the RTX 5000 and AMD's 17.83 TFLOPS compared to the RTX 5000 11.20 TFLOPS. The truth will come out in testing, but AMD says they can't lay their hands on an RTX 5000 due to the shortages.
What do we think?
AMD's workstation market share hovered around 20% until Q3'17 and then started dropping, and in Q1'21 was down to 3.8%. So, the company needs a Hail Mary to make itself relevant in the workstation space again. When AMD's Scott Jackson and team presented the new boards to press and analysts, they were asked, what took you so long to update the boards. The AMD reps laughed ruefully and answered a tad lamely that it took a while to revamp the cooling. Okay, but they lost momentum.ATI entered the X86 workstation AIB market segment in 2001 following its acquisition of FireGL Graphics from Diamond Multimedia. After ATI company got acquired by AMD and the parent company slipped into trouble AMD dropped their workstation offering for a while. Probably their biggest hit was in the Apple MacPro which had two AMD AIBs, and is still delighting folks here at JPR.
The company has done a good job of shaking off its 15-year history of shoddy drivers, but they still have a lot of work to do to convince VARs, SIs, and OEMs that they are a serious, long-term workstation supplier.
AMD may not have lost much by being behind on hardware-assisted ray tracing and AI-enhanced denoising. It could be argued they let Nvidia spend boatloads of money to build the market and educate a recalcitrant gamer market. Only now are we really seeing awareness and acceptance of ray tracing in and throughout design and engineering. But, they have to build on any momentum they may get this round. That's something AMD has not been able to do.
Every AMD WS AIB we've tested has been an excellent and reliable product, so we know they can do it. But end-users are not asking for AMD when they spec out a WS. So, AMD has to market it and make some long-term commitments. The OEMs and the VARs/SIs will go where the money is. They don't lead, they follow. If they see RFQs with AMD's name in it (for WS, not CPU), they will become AMD's biggest fans and talk up the company.