Expanding Pixar's USD across industries.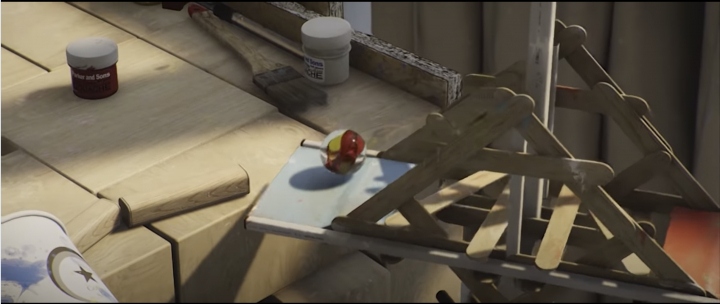 It hasn't been too many years since the siloed effects of specialists in the graphics production pipeline drove up a studio or company's costs, and delayed projects because they used incompatible programs. At GDC 2020, Nvidia introduced Omniverse, its open collaboration platform to simplify workflows for realtime graphics. Nvidia has built its Omniverse platform on top of Pixar's Universal Scene Description (USD), which was developed for production pipelines to enable people to work with content from different programs. Omniverse includes a portal, two-way tunnels, to enable live connections between industry-standard applications. Early contributors include Autodesk, Adobe, Epic Games, Trimble, McNeel & Associates, Teradici, and Unity.
It's a new world. The work being done with USD and Omniverse enables people to work interactively with large datasets across software platforms and the work originally done to improve pipelines for digital content creation is now being extended to broader markets including AEC and manufacturing.
The work began in 2010 with the development of Alembic by studio professionals from Lucasfilm and Sony Pictures Imageworks. It was essentially a workaround, in the absence of meaningful tools from the software developers to enable professional file exchange and collaboration. The next step has been USD, Universal Scene Description, developed by Pixar, which enables content creators to bring content into a common environment so people can work with all the components. With a single scene graph and consistent API, USD delivers a rich toolset for reading, writing, editing, and rapidly previewing 3D geometry and shading.
In May 2020, Nvidia announced USD would be the foundation for its Omniverse, a live collaborative platform that connects a wide variety of content creation tools to each other and to the company's realtime Nvidia RTX ray tracer.
Nvidia says it has expanded upon USD by developing new tools, integrating technologies, and providing samples and tutorials. And Nvidia says its RTX technology, when used with Omniverse, promises to allow people to work with applications and collaborate simultaneously with colleagues and customers, using rendered models in realtime.

Omniverse makes it possible for artists to work seamlessly in realtime across software applications on-premises or around the world via the cloud. It is now available for early access customers in the architecture, engineering, and construction (AEC) market.
Omniverse can provide simulation and realtime GPU rendering, and during the GTC keynote, Nvidia's CEO Jensen Huang showcased Marbles, a playable game environment displaying real-time physics with dynamic lighting and rich physically based materials, as well as the platform's latest "AEC Experience" feature set, which provides seamless connectivity between CAD applications with real-time visualization.
Nvidia developed the Marbles game to demonstrate Omniverse with realtime physics, dynamic lighting, and physically-based materials. (Source: Nvidia)
Collaboration in realtime
Nvidia has built extensions and added software layers on top of the open-source USD distribution that allows DCC tools and compute services to communicate with each other through its Omniverse Nucleus DB. Those extensions and additions and the application plugins that make use of them are collectively known as Omniverse Connect.
The broad acceptance of USD in the industry has helped enable Omniverse, which benefits from the flexibility and consistency of the USD interchange format and builds upon it with synchronized workflows. Entire studio teams around the world can collaborate in realtime as they create, with version control support needed to ensure production stays on track.
In Omniverse, the Portals connection module joins software tools into a collaborative space, allowing users to work in realtime doing modeling, shading, animation, lighting, visual effects, and rendering including Nvidia's open-source Material Definition Language (MDL), which is widely supported by software vendors.
USD has provided the architecture for sharing 3D data including entire environments and characters, but Nvidia has contributed the horsepower to see all that data in realtime via Omniverse View, which relies on multiple RTX GPUs in an array to provide realtime rendering. The computer resources for Omniverse are accessed remotely. In the first implementations, Teradici's PCoIP protocol provides the connection to remote resources.
Nvidia GM Richard Kerris, is a veteran of Lucasfilm and SGI. He says, "I've been in this industry for 30 years and Omniverse is the realization of a dream many of us had back in the days of SGI." He says after Jensen Huang's presentation of Omniverse at GDC this year, the team started hearing from people all over the world of 3D content creation. Mark Sylvester, a co-founder of Wavefront Technologies, one of the original 3D software tool providers for the film industry wrote to the Nvidia team. He said, "This may be one of the best examples of what we dreamed possible in computer graphics over 30 years ago. The perfect realization of the physical world in all its complexity and brilliance."