One year later, the ecosystem has exploded.
This year at Siggraph, Nvidia showed a lineup of RTX Studio Laptops and Mobile Workstations that the company said were purpose-built for creators, and coming from every major OEM—10 new designs from Dell, HP, Lenovo and Boxx, raising the number of RTX Studio models to 27. Various ISVs were represented in demos including Adobe, Autodesk, and Blackmagic Design.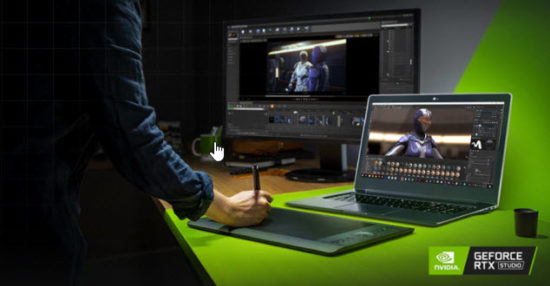 Nvidia also announced the availability of a new Nvidia Studio Driver, which provides optimizations for popular creative apps including Octane Render, Blender, Autodesk Arnold, Maxon Cinema 4D, Substance Painter by Adobe and Magix Vegas Pro. The latest Studio Driver adds an often-requested feature—support for 30-bit color in OpenGL apps such as Adobe Photoshop and Premiere for all GPUs. With this feature, content creators can work with their HDR photos and videos and avoid the banding typical of 24-bit color.
The new configurations, which range from consumer laptops with GeForce RTX 2060 GPUs to professional-grade mobile workstations with Quadro RTX 5000 graphics, include:
Boxx GoBoxx SLM mobile workstations are available with a Quadro RTX 3000 GPU in the 15-inch system and either Quadro RTX 4000 or 3000 in the 17-inch system.
Dell Precision 7540 and Dell Precision 7740 mobile workstations, available today, are configurable with up to Quadro RTX 5000 GPUs.
HP ZBook 15 and 17 mobile workstations feature Quadro RTX GPUs, with the 17-inch model configurable with up to a Quadro RTX 5000.
Lenovo Legion Y740 Laptop Studio Edition features up to GeForce RTX 2080 GPUs within 17- and 15-inch laptops, available later this fall.
Lenovo ThinkPad P53 and P73 mobile workstations support up to Quadro RTX 5000 GPUs within 17- and 15-inch systems. The ThinkPad P53 is available now; the ThinkPad P73 will be available starting August.
RTX Studio laptops and mobile workstations are part of the Nvidia Studio platform, which combines RTX GPUs with the Nvidia Studio Stack of specialized SDKs and dedicated Studio Drivers. They meet the hardware and software requirements needed to receive Nvidia's RTX Studio badge, allowing users to easily identify the systems.
The systems and drivers get rigorous hardware and software testing for top creative applications and workflows. RTX Studio mobile workstations based on Quadro RTX GPUs supply enterprise-level benefits, such as ISV certifications, IT management tools and advanced video and display features.
RTX Studio systems feature GeForce RTX 2080, 2070, and 2060 GPUs, as well as Quadro RTX 5000, 4000, and 3000 GPUs. The RTX GPUs accelerate content creation from video editing to 3D rendering, with performance up to 7× faster than that of the MacBook Pro. Quadro RTX 5000 GPU-based models include 16 GB of graphics memory, the largest available in a mobile form factor, enabling advanced multi-app creative workflows and the use of large 3D models that are otherwise not possible on the go.
Many of these laptops feature 4K precision displays and Nvidia Max-Q technology, enabling incredible performance and longer battery life in sleek, thin-and-light designs.
RTX Studio models available now include Acer ConceptD 7, Gigabyte Aero 15 OLED and Aero 17 HDR, Boxx GoBoxx SLM 15 and 17, Dell Precision 7540 and 7740, HP ZBook 15 and 17, Lenovo ThinkPad P53, MSI P65 Creator, P75 Creator, WS65, WS75 and WE75, and Razer Blade 15 Studio Edition. Other RTX Studio laptops are shipping later this year from Acer, ASUS, Dell, HP, Lenovo, and Razer.
Nvidia extends RTX reach
One year after unveiling its RTX technology at Siggraph 2018, Nvidia has been able to demonstrate significant progress in gathering support for its hardware-assisted approach for a wide range of applications including product design, architecture, gaming, effects, and scientific visualization. Nvidia says companies such as Pixar, Renault, New Balance, Woods Bagot, and Siemens Healthineers are now using ray tracing in their workflows.
At Siggraph, seven top ISVs debuted new applications with support for Nvidia RTX, including:
Adobe Substance Painter is relying on RTX ray tracing to accelerate baking performance up to 192× faster than CPUs according to Nvidia.
Autodesk Flame: RTX Tensor Cores improve visual effects and compositing workflows by accelerating Autodesk's new machine learning technology in Flame v2020.1 helping artists isolate, extract, and change common objects in moving footage.
Blender Cycles: Nvidia OptiX 7 with CUDA accelerates Blender's open-source renderer.
Dimension 5 D5 Fusion: RTX ray tracing via UE4's implementation of DXR allows architects and designers to simulate ground truth lighting and shadows.
Daz 3D Daz Studio: Nvidia Iray allows creators to assemble scenes with interactive RTX accelerated ray tracing to quickly build their artistic composition and render out in full fidelity.
Foundry MODO: RTX performance through OptiX in the completely redesigned MODO path-traced renderer offers a significant performance boost over CPU rendering.
Luxion KeyShot: RTX accelerated ray tracing and AI denoising for photorealistic visualization of 3D data for product design reviews, marketing, animations, illustrations and more via OptiX support in KeyShot 9.
Popular apps like Adobe Dimension CC and Chaos Group V-Ray provide users the ability to create fluidly, with great realism powered by RTX technology's RT Cores. Nvidia says Adobe Substance designer can deliver speed increases of up to 200% compared with earlier CPU-based technology by integrating RTX through DXR for light baking.
In addition, BlackMagic and Nvidia say DaVinci Resolve with DaVinci Neural Engine has implemented AI using the Nvidia AI libraries and is getting acceleration from Tensor Cores found on Nvidia RTX GPUs to accelerate inferencing.
In under 12 months, RTX has become widely available seemingly everywhere. Nvidia's vice president of corporate marketing and developer programs Greg Estes claims every major 3D design application in the world has committed to supporting RTX by year's end.
The gaming industry is on board through a robust ecosystem that includes industry-standard APIs such as DirectX 12 and Vulkan, as well as leading game engines like Unity and Unreal Engine.
In the data center too
Nvidia RTX Servers, says Nvidia, include fully optimized software stacks available for OptiX RTX rendering, gaming, VR and AR, and professional visualization applications.
Nvidia's Omniverse is a collaboration platform for 3D production pipelines and it streamlines workflows for studios. Creative professionals can share assets across a range of industry-standard applications. The Omniverse Viewer allows them to interact with those assets in a realtime ray traced viewport accelerated by Nvidia RTX RT Cores, CUDA cores, and Tensor Cores available with Nvidia RTX Server with Quadro vDWS.
Nvidia has also unveiled an RTX server for cloud gaming. The Nvidia RTX Server packs 40 Nvidia Tesla GPUs with ray tracing technology into an 8U blade server form factor.
The RTX Server with Nvidia GRID vGaming accelerates game streaming and gaming PC deployment applications, designed and optimized for cloud operators. Nvidia's server technology is also applicable to Mobile Edge Computing (MEC), where it can deliver AR and VR apps and game streaming with low latency and high concurrency.
And a little AR R&D too
Also, at Siggraph, in the Emerging Technologies section, Nvidia showed some R&D work it is doing in AR for eye-tracking and fovea rendering on smart glasses.
The research demonstration, "Foveated AR," was a headset that adapts to your gaze in realtime using deep learning. It adjusts the resolution of the images it displays and their focal depth to match wherever you are looking and gives both sharper images and a wider field of view than any previous AR display.
To do this, it combines two different displays per eye, a high-resolution small field of view displaying images to the portion of the human retina where visual acuity is highest, and a low-resolution display for peripheral vision. The result is high-quality visual experiences with reduced power and computation.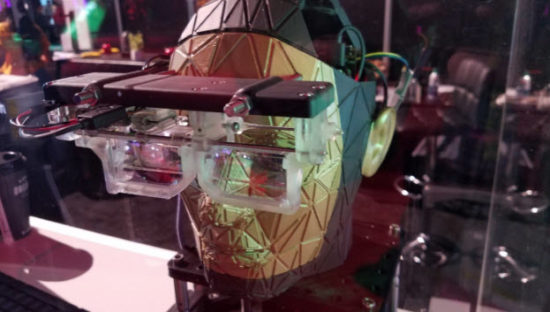 Nvidia also showed a method of changing the display image of AR glasses to compensate for one's optical prescription.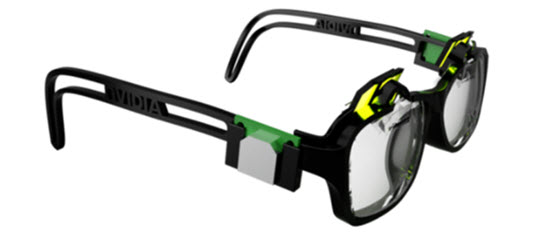 The display is many times thinner and lighter and has a wider field of view that current-generation AR devices. Virtual objects appear throughout the natural field of view instead of clustered in the center, and it has your prescription built right into it if you wear corrective optics. This brings us much closer to the goal of comfortable, practical, and socially acceptable AR displays than anything currently available.
AI lets you be a great artist too
Nvidia GauGAN is an interactive paint program that uses GANs (generative adversarial networks) to create works of art from simple brush strokes. Now everybody can be an artist.
GauGAN, named for post-Impressionist painter Paul Gauguin, creates photorealistic images from segmentation maps, sketches that depict the layout of a scene.
People can use paintbrush and paint bucket tools to design their own landscapes with labels including river, grass, rock, and cloud. A style transfer algorithm allows creators to apply filters, changing the color composition of a generated image, or turning it from a photorealistic scene to a painting.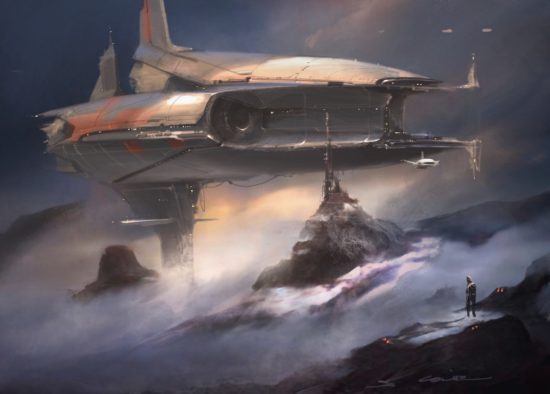 "Realtime updates to my environments with a few brush strokes is mind-bending. It's like instant mood," said Wertz, who uses Nvidia RTX GPUs for his creative work. "This is forcing me to reinvestigate how I approach a concept design."
Developed using the PyTorch deep learning framework, the researchers trained the neural network behind GauGAN on a million images using the Nvidia DGX-1 deep learning system. The demo shown at GTC ran on an Nvidia Titan RTX GPU, while the web app offers Nvidia GPUs through Amazon Web Services.
"As researchers working on image synthesis, we're always pursuing new techniques to create images with higher fidelity and higher resolution," said Nvidia researcher Ming-Yu Liu. "That was our original goal for the project."
Liu developed the deep neural network and accompanying app along with researchers Taesung Park, Ting-Chun Wang, and Jun-Yan Zhu.
GauGAN was a hit at Nvidia's GPU Technology Conference (GTC) in Silicon Valley. The latest iteration of the app at Siggraph lets users upload their own filters to layer onto their masterpieces—adopting the lighting of a perfect sunset photo or emulating the style of a favorite painter. They can even upload their own landscape images. The AI will convert source images into a segmentation map, which the artist can then use as a foundation for his or her artwork.
The team has publicly released source code for the neural network behind GauGAN, making it available for non-commercial use by other developers to experiment with and build their own applications. GauGAN is available on the Nvidia AI Playground for visitors to experience the demo firsthand.
Users have created more than 500,000 images with GauGAN since making the beta version publicly available just over a month ago on the Nvidia AI Playground.
Nvidia's viral realtime AI art application, GauGAN, won two major Siggraph awards: "Best of Show" and "Audience Choice" awards.
Open problems in realtime rendering
The company also revealed late-breaking research results in the 'open problems in realtime rendering' course at Siggraph. Nvidia researchers showed the first realtime rendering of scenes from a short film, Zero-Day. Commented on researcher, "Amazing what is possible when you can render more than 7,500 moving lights in realtime."
"I was blown away by the demo I saw and I'm excited to see where this goes," said Mike Winkelmann, aka Beeple, the digital artist who created Zero-Day.