Nvidia reports its Q4 FY23 results. The good news is that the numbers fared better than analysts had anticipated. The bad news is that the total revenue is down by more than 20% from last year. One of the biggest declines came in the gaming segment.
Nvidia's fourth quarter of fiscal 2023 saw the firm beat analysts' estimates for both revenue and net income, despite a 20.8% year-over-year decline in total revenue and a 46% drop in gaming revenue.
GAAP earnings per diluted share for the quarter were $0.57, down 52% from a year ago and up 111% from the previous quarter. Non-GAAP earnings per diluted share were $0.88, down 33% from a year ago and up 52% from the previous quarter.
For fiscal 2023, revenue was $26.97 billion, flat from a year ago. GAAP earnings per diluted share were $1.74, down 55% from a year ago. Non-GAAP earnings per diluted share were $3.34, down 25% from a year ago.
"AI is at an inflection point, setting up for broad adoption reaching into every industry," said Jensen Huang, founder and CEO of Nvidia, in a statement. "From start-ups to major enterprises, we are seeing accelerated interest in the versatility and capabilities of generative AI. We are set to help customers take advantage of breakthroughs in generative AI and large language models. Our new AI supercomputer, with H100 and its Transformer Engine and Quantum-2 networking fabric, is in full production.
"Gaming is recovering from the post-pandemic downturn, with gamers enthusiastically embracing the new Ada architecture GPUs with AI neural rendering," he added.
During the fourth quarter of fiscal 2023, Nvidia returned to shareholders $1.15 billion in share repurchases and cash dividends, bringing the return in the fiscal year to $10.44 billion.
Nvidia will pay its next quarterly cash dividend of $0.04 per share on March 29, 2023, to all shareholders of record on March 8, 2023.
Nvidia's revenue has been on a steady downward slope throughout 2022, peaking in the May quarter at $8.29 billion. For the year, revenue was $26.9 billion, even with fiscal 2022. Gross margin dipped from 66% in FY22 to 59.2% in FY23. Operating expenses rose 31% to $6.9 billion, and net income fell 26% from FY22 to $8.36 billion.
Gaming revenue took the biggest hit, down 46% year over year to $1.83 billion, the lowest quarter since Q1 of FY21 nearly three years ago. For the year, revenue of $9 billion was down 27% over the prior year.
It sure looks bad, but you'd never know it by the way CFO Colette Kress painted things on the earnings call with analysts, as she focused on the 16% sequential growth over Q3. "Sequential growth was driven by the strong reception of our 40 series GeForce RTX GPUs based on the Ada Lovelace architecture. The year-on-year decline reflects the impact of channel inventory correction, which is largely behind us. And demand in the seasonally strong fourth quarter was solid in most regions. While China was somewhat impacted by disruption related to Covid," she told analysts.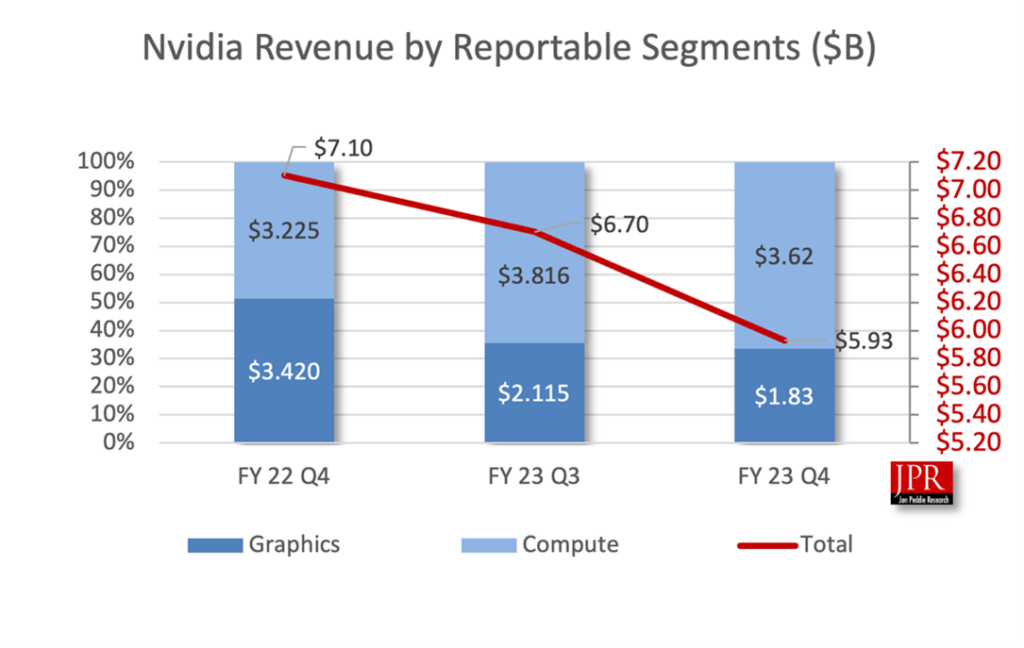 Fourth-quarter data center revenue was $3.62 billion, up 11% from a year ago and down 6% from the previous quarter. For the year, data center revenue rose 41% to a record $15.01 billion. The data center market has been soft for chipmakers and server vendors alike, so Nvidia is in line with everyone else. On the earnings call, Jensen said the company expects sequential growth quarterly and yearly for its data center business. "We actually expect a great year because our year over year in data centers has been accelerating these past few months," he said.
The Professional Visualization business in the fourth quarter was $226 million, down 65% from a year ago and up 13% from the previous quarter. Fiscal-year revenue was down 27% to $1.54 billion.
Automotive revenue was the bright spot, with a record $294 million for the quarter, up 135% from a year ago and up 17% from the previous quarter. Fiscal-year revenue rose 60% to a record $903 million.
OEM and Other revenue were down 69% from a year ago and down 48% sequentially. The sequential decline was driven by lower Jetson and notebook OEM sales. Cryptocurrency Mining Processor (CMP) revenue was nominal in the current and prior quarter, and $105 million in the third quarter of fiscal 2022.
The Other/IP market was down 56% year over year to $84 million. Nvidia gave no detail or guidance on the dwindling business.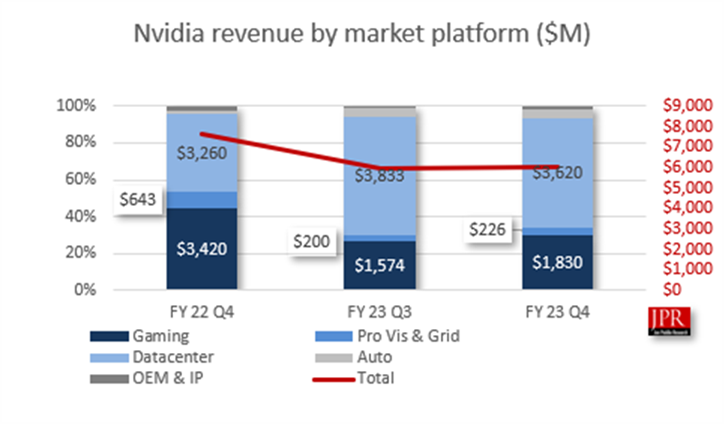 Nvidia launches AI cloud
Huang also made some news with the announcement of DGX Cloud, an AI as a service offering available through cloud service providers like Microsoft, Oracle, and Google. He was pretty stingy on the details, and more will be forthcoming at next month's GTC show. What he did say is that it would offer generative AI as a service, accessible through your Web browser.
"AI supercomputers are hard and time-consuming to build, and today we're announcing the Nvidia DGX Cloud, the fastest and easiest way to have your own DGX AI supercomputer," Huang told analysts on the call. "Customers can engage Nvidia AI cloud services as the AI supercomputer acceleration library software or pre-trained AI model layers. Nvidia DGX is an AI supercomputer and a blueprint of AI factories being built around the world."
That's about all he said on the subject, and Nvidia doesn't have anything more to offer except to tune in next month at GTC.
First quarter of fiscal 2024 outlook
For its first quarter of fiscal 2024, Nvidia is projecting revenue to be $6.50 billion, plus or minus 2%. GAAP and non-GAAP gross margins are expected to be 64.1% and 66.5%, respectively, plus or minus 50 basis points. GAAP and non-GAAP operating expenses are expected to be approximately $2.53 billion and $1.78 billion, respectively. GAAP and non-GAAP other income and expenses are expected to be an income of approximately $50 million, excluding gains and losses from non-affiliated investments. GAAP and non-GAAP tax rates are expected to be 13.0%, plus or minus 1%, excluding any discrete items.