To promote the powerful Z8 Fury G5 desktop workstation that was just announced, HP went to extreme measures by showcasing just how critical rendering speed can be, using a promotional high-flying action short film to make that point.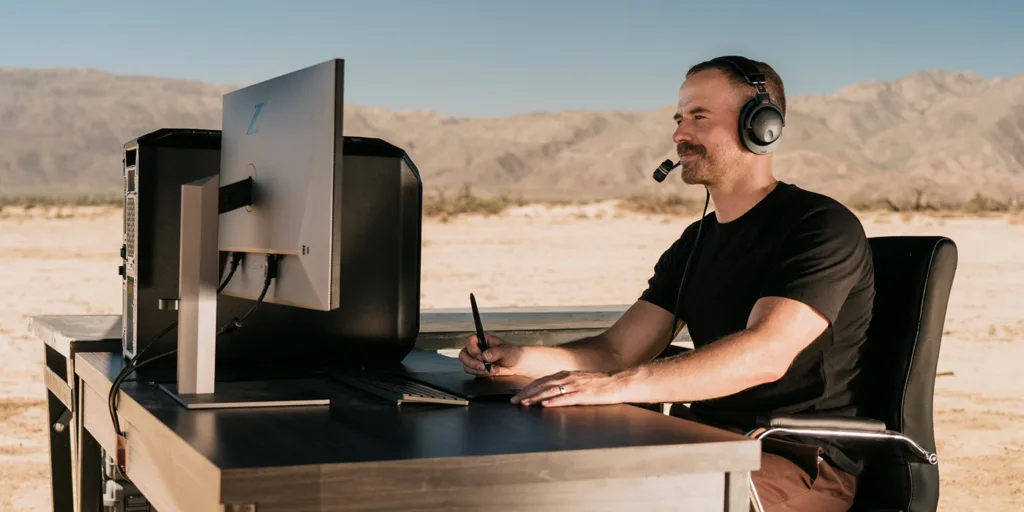 Sometimes a person has to go to extreme measures to make their point. That was certainly the case in a spot for HP's new Z8 Fury G5 high-performance desktop workstation, one of four new Z workstations HP announced recently.
The new offerings—the Z4 G5, Z6 G5, Z8 G5, and Z8 Fury G5—are built to handle extreme performance including machine learning and fast, accurate rendering, among other compute-intensive tasks. The Z8 Fury G5 sits at the top of the quadruplet and is extreme in its own right. Its cutting-edge, single-socket technology enables up to 56 cores in a single Intel Xeon w9 CPU. And, in a first for a Z by HP desktop workstation, the machine can handle up to four high-end GPUs (Nvidia RTX A6000s) or, alternatively, two AMD Radeon Pro W6800s. As a result of the single-processor compute architecture design, the CPU and GPU performances are purposely balanced, taking advantage of both types of processors.
What can be done with this type of workstation? Plenty. For instance, those working in Media & Entertainment can seamlessly build environments and render them in real time, and drive render nodes in virtual production studios for in-camera VFX on an LED stage.
To hit home the concept that these new machines, in particular, the Z8 Fury G5, can tackle demanding applications with jet-propelled speed, HP opted to do so with a short film: an extreme-action short film.
The Z by HP team worked with ad agency Giant Spoon and production company Unit 9 to create the spot; working with them was The Mill LA's Tim Kafka, head of CG at the creative/VFX studio.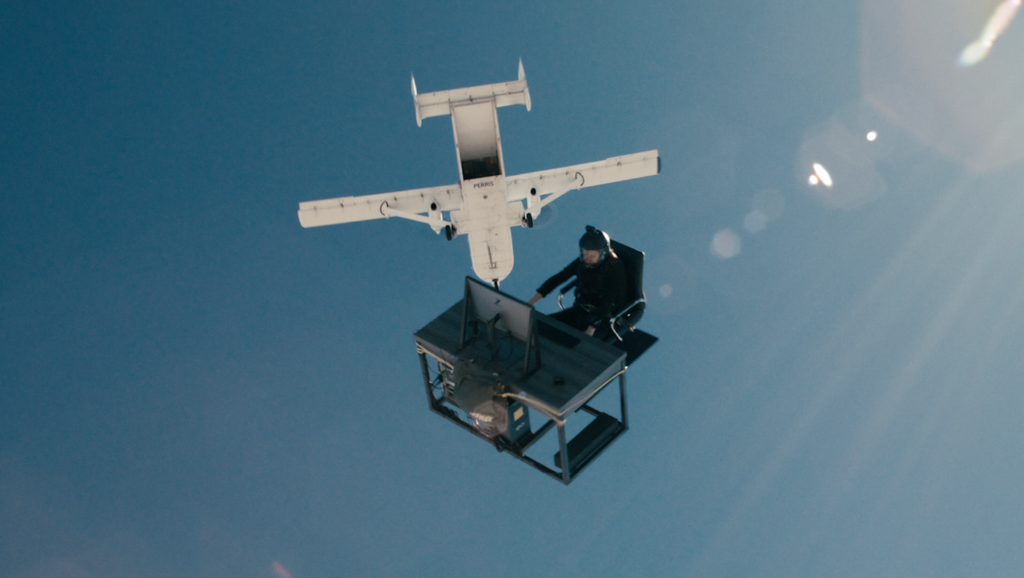 The live-action spot starts off with a long shot of Kafka sitting at a desk, surrounded by a stark, barren landscape. On the computer screen in front of him is a complex simulation of the landscape around the Anza-Borrego Desert State Park in Southern California. The sim was created by Kafka and his team using SideFX's Houdini, which is able to utilize the four GPUs in the Z8 Fury. Then we hear a voice-over of Kafka noting, "A scene like this would normally take 5 minutes to render. Today, we're giving the new Z8 Fury 30 seconds. At 14,000 feet, that's all the time we've got."
Sometimes it is difficult for the human mind to process what 30 seconds really means. So, the spot puts it into heart-pounding perspective.
While Kafka monitors the in-process render at his desk safely on the ground, the camera cuts to a stunt operator who does likewise—kicking off the render of the simulated scene while sitting at the Z8 Fury bolted to a desk as computer, desk, and "artist" are launched out of a cargo plane over the actual Anza-Borrego Desert State Park. Will the Z8 Fury process the scene in time or will it fail and smash to the ground? Spoiler alert: Yes, it does complete the render in time, at which point the stuntperson in free fall separates from the desk and a parachute deploys, allowing the desk and machine to land safely on terra firma.
As the production illustrates, seconds (and minutes) matter.
Full disclosure: Kafka started to work on the project before the HP Z8 Fury was fully ready, thus using his older workstation. "When I got my hands on the Z8 Fury, I was blown away by how much faster it was rendering. I was able to add even more detail and still be below the time limit," he says.
"The spot is an extreme example of what a drastic rendering speed improvement means, but it is a revelation in your day-to-day work. When an artist is lighting a scene or running FX simulations, their workstation's speed is going to determine how many iterations they can do in a day," Kafka points out. "And that means they can refine their work faster and move on to the next task sooner. When you look at all the time you could save on the hundreds or thousands of renders you need to complete a project—that's incredibly significant."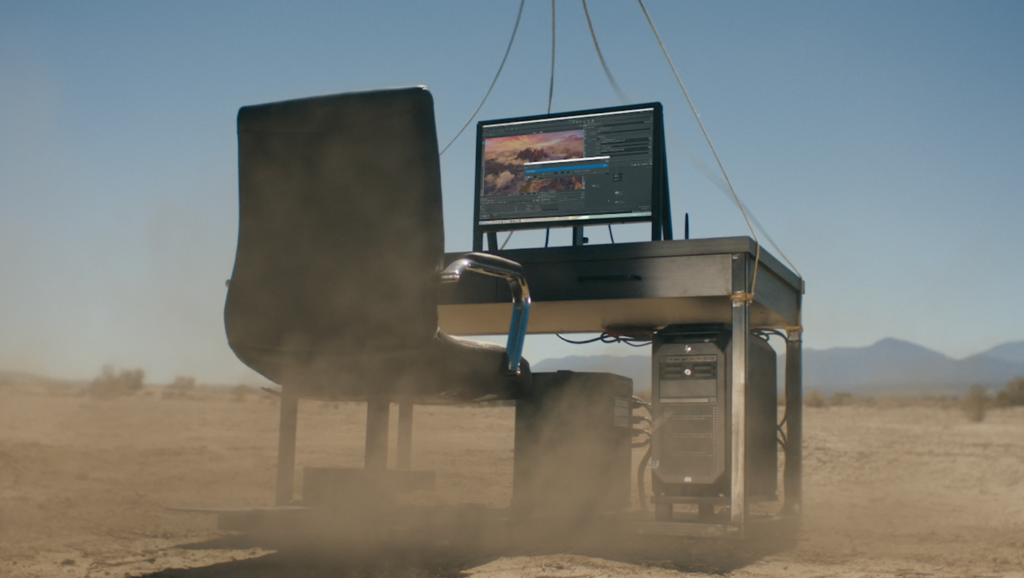 What do we think?
All too often when innovation is discussed, the reality of the innovation gets lost in a litany of words, terms, and numbers, and we lose some (or even most) of the excitement. With years spent in the M&E industry, for me, visuals speak louder than words. The new HP Z announcements are exciting, but they are made all the more so with this short film in which they made every second count to the fullest.