Targets the silent majority: Creators.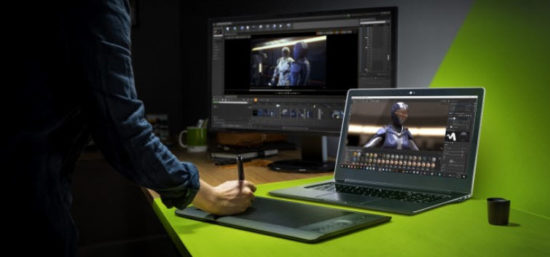 Nvidia's Executive VP Jeff Fisher delivered Nvidia's message to Computex this year and gave a short lesson in building markets using the Red Ocean Blue Ocean market strategy defined by W. Chan Kim & Renée Mauborgne. Blue Ocean strategy tells companies to create opportunity through differentiation and price and build where there are no competitors. Fisher says Nvidia's development of the 3D gaming market for GPUs is an example of the Blue Ocean strategy at work. The company has continued to fish in those seas with the creation of the gaming monitor, and gaming products like the Shield. Nvidia also broke into the automotive autonomous market with specially designed GPUs.
Sure, there can be some argument about Nvidia's pioneering role in gaming and other markets, but history belongs to the guy who's on stage, and it is inarguable that Nvidia has played a huge role in the creation markets for GPUs.
At Computex, Fisher told the audience that Nvidia sees plenty of running room in the game market and promised worried parents everywhere that their children are going to grow up to be gamers. The silver lining in that prediction was that they're also going to be creators and that's the ocean Nvidia is diving into at Computex.
Nvidia is already deeply involved in content creation through its interaction with the gaming community and game development. Last year at Siggraph, Nvidia staked its claim to ray tracing and AI with hardware acceleration from dedicated RT cores and Tensor cores. The follow-on to those advances this year is realtime rendering in games. To start, Quake II has been remastered using Vulkan API to add ray tracing, Wolfenstein: Youngblood has been remastered with ray tracing and Nvidia Adaptive Shading, and Chinese RPG Sword and Fairy 7, which is currently in development by Softstar will also get realtime ray tracing.
Nvidia's close association with Unreal is driving realtime rendering in content creation. Raytracing is enabling real-time viewport views of work in progress for tools like Max, Maya, Cinema4D, Black Magic Resolve, and more.
Nvidia's Tony Tomaso offers a tutorial on ray tracing and the difference gamers will see using the upcoming remastered Quake II.
Nvidia is estimating that there are at least 40 million creatives who can benefit from the additional power Nvidia's GPUs bring to creative workloads. We believe that's a conservative estimate, considering that there are around 18 million Adobe subscribers for the Creative Cloud products and many more are hanging on to their perpetual licenses because they're unwilling to subscribe. There are a wealth of low-cost video editing software tools out there from Cyberlink, Corel, Nero, and more. One of the most widely used tools is Microsoft's Movie Maker which is free. The opportunity Nvidia is targeting is when video publishers want to improve the quality of their work, and they're going to hit walls when they go up in resolution, or add effects, and that's just one segment of opportunity in the workstation market today. Graphic artists who rely on Photoshop, Illustrator, and Corel Draw are also hitting bottlenecks as their software overwhelms their hardware.
As software companies like Adobe, Black Magic, Autodesk take advantage of AI and rendering, the demand for hardware acceleration is going to go up.
Nvidia Studio
To reach a broader market of content creators, Nvidia is introducing the Studio line of workstations that are being built in conjunction with ODMs including Asus, Acer, Dell, Gigabyte, HP, MSI, and Razer. The plan is to offer products optimized for the leading creative software tools at reasonable prices. The focus is on mobility and performance.
The basic spec for the Nvidia RTX Studio laptop goes this way:
Core i7 (H series) or higher
GeForce RTX 2060, or Quadro RTX 3000 or higher
16 GB of RAM or more
a 512 GB SSD or more
1080p or 4K display
Nvidia took aim at the field of creators and looked at the market they don't have, namely Mac users whose machines are running AMD Radeon Pro graphics. These mobile laptops shape up well against the MacBook Pros. Just out of curiosity, I spec'd a MacBook Pro with the features that I'd like to have:
2.6 GHz 6-core 9th-generation Intel Core i7 processor Turbo Boost up to 4.5 GHz
Radeon Pro 555X with 4GB of GDDR5 memory
16 GB 2400 MHz DDR4 memory
256 GB SSD storage1
Retina display with True Tone
Touch Bar and Touch ID
And that baby came out to $2399, and truthfully I'd like to bump up the storage to 512 GB, which would take it up to $2600.
A comparable Asus machine looked like this:
Intel Core i7-975H, Hexa-core 2.60 GHz
Nvidia GeForce RTX 2060 with 6 GB memory
15.6 4K UHD (3840×2160) 16:9 IPS
16 GB, DDR4 SDRA
1 TB SSD
The grand total is $2299.99.
So, we got 8 cores against 6 (but at a lower clock speed), a terabyte of storage, and more graphics memory on the Acer. Nvidia definitely has a point. In addition, Nvidia says it has developed a software stack especially for creatives, which will be "integrated into the ISV ecosystem," says Fisher. There will be a Studio stack with SDKs, drivers, and customizations for the leading software. Within the Computex time-frame Studio, branded machines will have optimizations for Autodesk Arnold, Clarisse, DaVinci Resolve, Lightroom, Adobe Substance Designer, Unreal, and Unity. And the promises optimizations for Adobe Dimension, Daz 3D Octane Render, Nvidia Iray, Redshift, Renderman and V-Ray are on the way.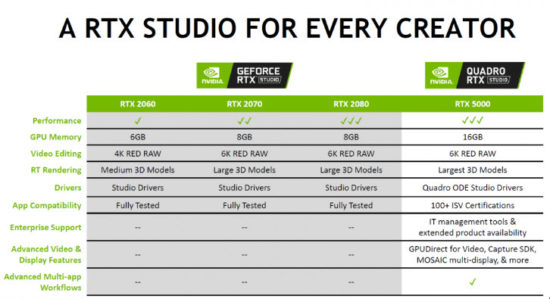 Nvidia points out that the typical workflows for these apps involve multiple applications with the content being exchanged between them or apps processing in the background. Creative apps use GPUs and they can put additional RAM to good use. Intel and AMD have similar arguments for their multi-core processors. The one constant of our digital lives are multi-app workflows.
Nvidia promises to update the software stack regularly, but they promise to do it in line with major software upgrades. This is where the company is particularly sensitive to the creative workflow as distinct from gamers. People don't want to upgrade their machines in the middle of a project, while gamers may upgrade their driver with every new game they buy. Creatives want meaningful updates.
Nvidia's strongest argument right now is its specialized RT and Tensor cores, and the company has made that argument stronger by highlighting the optimizations it has made to specific software. Styling and mobility will also come into play, but Nvidia has made a very strong case at Computex.
What do we think?
Seems to us like everywhere Nvidia goes, there's blood in the water. By going after Apple so directly at Computex, the company took a big risk. They knew, like everyone in the industry knows, that Apple was planning to come to WWDC with a serious workstation contender. In the event, Apple let it be known its future is firmly planted in its past with a revamped box that's more like the old cheese grater of Mac Pros past than the unfortunate, un-upgradeable Mac Pro trash can model. The new machine is easier to upgrade and is paired with a killer display.
When it comes to laptops, Nvidia wins against Apple on every point, and still, it finds itself in a sticky position. Great new mobile workstations are coming from all of the vendors and they all understand what professionals in the higher realms of the market need and will buy. With its very expensive workstation, Apple will be able to regain its place in the high end. The company has little interest in compromise for those markets.
Nvidia's mobile laptops are supposed to appeal the creator in all of us, but the company has a hard time really understanding that market. In the Computex presentation, it showcases users doing video effects, and color grading looked a lot like Nvidia's professional users from last year and the year before. What Nvidia needs to do is reach users further into the creative mainstream, but the company didn't really talk to those specific people at Computex.
It's up to Nvidia to win creative users with a message tailored to them.